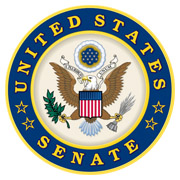 Parons, TN – United States Senator Lamar Alexander (R-Tenn.) said Jim and Janet Ayers discovered the "secret sauce" for raising college graduation rates.
"Jim and Janet Ayers wanted to give more rural Tennesseans more educational opportunities – so in 1999 the Ayers Foundation started giving out scholarships, and they had counselors too, but what they learned over time is that if they really wanted to improve graduation rates, counselors are the solution," Senator Alexander said.
"It's not just about money – consider that many rural students don't know what is expected when they get to college, or what steps they have to take to stay in school so they can graduate – they need help. Counselors not only help students find scholarship money, they also help first-time students prepare for college so they can be successful," stated Senator Alexander.
"According to the foundation, in 1999, the scholar's program had 84 students who received $1 million in scholarships from Jim and Janet. This means the foundation was spending about $11,900 per student on scholarships. Twenty years later in 2019, 2,000 students went to college, but only needed $1.4 million in scholarships from the foundation, which is about $700 per student. So they've been able to help nearly 25 times more students, and they've figured out that what make the difference is counselors instead of scholarships," Alexander continued.
"Counselors help high school students stay in school when they get to college. According to the Tennessee Higher Education Commission, the average graduation rate at Tennessee public 4-year institutions is 60.4 percent. According to the Ayers Foundation, the graduation success rate for students in their scholars program is 82 percent. Jim and Janet have figured out the 'secret sauce' that has changed the lives of thousands of Tennessee families."
Alexander concluded, "In West Tennessee more students are going to college, graduation rates are up, and graduates are finding more good-paying jobs. Congratulations to Janet, Jim and thank you for continuing to ensure future generations of Tennesseans will have even more opportunities to succeed."
Alexander spoke today at the Ayers Foundation 20th anniversary and dedication of its new headquarters, along with Governor Bill Lee, Governor Phil Bredesen, Governor Don Sundquist and Governor Winfield Dunn. Alexander referenced how each of Tennessee's governors have tried to improve graduation rates and keep students in school.
Sections
Politics
Topics
Ayers Foundation, Bill Lee, Don Sundquist, Lamar Alexander, Phil Bredesen, Tennessee, Tennessee Governor, Tennessee Higher Education Commission, U.S. Senator, West Tennessee