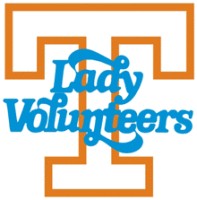 Knoxville, TN – In the first meeting between the teams, No. 20/25 Tennessee Lady Vols basketball team defeated Air Force, 81-54, Sunday afternoon in Thompson-Boling Arena to open the season 7-0 for fifth time in the past 10 years.
With a season-high crowd of 8,032 looking on, nine different players scored for the Big Orange. UT tallied 56 points inside the paint, had 23 points created from 22 Air Force (1-7) turnovers and shot a season-high 54.8 percent from the field. UT knocked down a sizzling 66.7 percent of its shots in the second quarter and 64.7 percent in the third period.
Junior Rennia Davis just missed her fifth double-double, recording 18 points and nine rebounds to share leading scorer honors with sophomore Rae Burrell, who posted a scoring career high for the second straight game.
Three other Lady Vols scored in double digits, including junior Kasiyahna Kushkituah, sophomore Jazmine Massengill and freshman Tamari Key, who contributed 13, 11 and 10, respectively. Massengill added a game-high six assists.
Air Force was paced by sophomore Riley Snyder, who scored 20 points and recorded six rebounds. Kaelin Immel finished with 13 points. The Falcons shot only 29.6 from the field, but out-rebounded Tennessee, 40-39. It marked the first time all season UT has been beaten on the boards.
Key scored the first points of the day after being fouled underneath the basket, nailing a pair of free throws. Davis followed that up with the first lay-up of the game and a bucket from beyond the arc, tying the game at 8-8. With two lay-ins from Key and Massengill, the Lady Vols led 12-11 with 3:58 left in the quarter.

UT started pulling away shortly afterward. The Lady Vols tallied four lay-ins in a row, with three of those coming from Kushkituah and the other from Burrell. Later, Burrell finished off the Lady Vols' scoring in the opening stanza with a jumper, making it a 24-15 lead for the Big Orange after one.

Kushkituah led the Lady Vols with seven points, while Burrell and Key had three rebounds a piece after the first 10 minutes.

Freshman Jordon Horston started to create havoc for the Falcons in the second quarter by forcing a handful of turnovers that led to fast breaks and points for the Lady Vols, extending UT's lead to 30-20 with 5:07 left in the half.

Burrell had quick back-to-back buckets with 3:34 left, giving UT its then-largest lead of the game at 34-20. Davis contributed a lay-up and was followed by two free throws from Massengill to pad Tennessee'sa advantage. Burrell closed out the second quarter with a lay-in on a fast break after senior Kamera Harris forced a turnover. Overall, the Lady Vols shot a blistering 66.7 percent in the second stanza and recorded four steals.

At the intermission, Burrell led the team with 10 points and four rebounds. Massengill was right behind her with nine points, while Key recorded five rebounds and eight points. Defensively, UT forced 14 turnovers and held the Falcons to a 31.3 shooting percentage.
Davis scored the opening points in the second half and was followed by a lay-up from senior Lou Brown, making it a 47-27 advantage for the Lady Vols. UT went on a 7-0 scoring run from that point, as Key contributed a lay-in, followed by a Burrell jumper and three-point bucket – both on fast breaks – to make it 56-32. Kushkituah and Davis scored the rest of the points in the third, giving the Big Orange a 22-point lead heading into the final frame.

With nine points, five rebounds and four assists, Davis led the team in all respective categories in the third quarter. The Lady Vols also out-rebounded the Falcons 13-8 and caused two more turnovers.

Freshman Emily Saunders came off the bench to score the first points in the fourth quarter, giving UT a 69-45 lead. Massengill scored next, adding a lay-up right before the shot clock expired with 6:05 left in the game. Saunders recorded an offensive rebound on UT's next possession and scored another bucket followed by a three-point score from Burrell, boosting Tennessee to a 76-51 advantage.

Freshman Jessie Rennie also recorded her first points of the game with a three-point bucket with less than two minutes left in the contest. Davis closed it out with a jumper to give UT the 27-point win.
On The Break
UT recorded a season-high 15 steals against Air Force, converting those into a season-high 21 fast-break points. The Lady Vols had previous season highs of 12 and 20, respectively, vs. Arkansas-Pine Bluff in the last game.

Consistent Bench Play
Sophomore Rae Burrell and Kasiyahna Kushkituah each finished the day in double figures with 18 and 13 points, respectively. It marks the fourth-straight game the pair have come off the bench to contribute double-digit points.

Rae Heating Up
Sophomore Rae Burrell has improved her career high in two straight games, recording 17 against Arkansas-Pine Bluff and 18 against Air Force. Her previous career high was 14 points, initially set against Florida A&M on November 18th, 2018, and tied earlier this season against Tennessee State.

Balanced Attack
UT finished the day with five players in double digits (Davis, Key, Massengill, Kushkituah, Burrell) and nine of 10 active Lady Vols contributed at least one bucket.
Point Guards Dishing

Freshman
Jordan Horston
and sophomore
Jazmine Massengill
lead the team in assists with 33 and 32, respectively. If the season ended today, Horston's average of 4.7 apg. would rank second all-time for Lady Vol freshmen behind only Ariel Massengale who averaged 4.9, while Massengill's average of 4.6 apg. would rank fifth all-time for Lady Vol sophomores.
500th Game For Harper
Today marked the 500th game of Kellie Harper's head coaching career. The first-year UT skipper is 292-208 in her 16th season on the sideline.
Next Up For Tennessee Lady Vols Basketball
Tennessee Women's Basketball continues its home stand, hosting Texas on Sunday at 1:00pm. The game will be televised on ESPN2 and broadcast on Lady Vol Network radio stations. Fans can buy tickets at AllVols.com.