Downtown Commons Ice Rink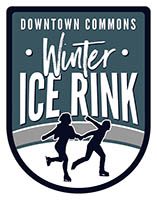 Montgomery County, TN – On January 15th, 2020, the public is invited to attend the second annual Broomball match between Montgomery County Mayor Jim Durrett and U.S. Army Fort Campbell to a backyard broomball game at 6:00pm-7:00pm at the Downtown Commons Winter Ice Rink.
Broomball is a variation of ice hockey played on ice without skates and with brooms and a ball instead of sticks and a puck. Running around in shoes on ice while trying to "sweep" a ball into a goal presents a unique challenge that includes a lot of slipping, sliding and falling.
Broomball is sweeping the nation! Come out to the Downtown Commons and watch America's most entertaining sport.
Fort Campbell will challenge the reigning champions, Montgomery County, for their third annual showdown on the ice.
Show up early to see the Clarksville Police Department take on the Clarksville Fire Rescue at 5:00pm and the 911 Dispatchers to try their hand in a short match.
The Downtown Commons is located at 215 Legion Street in Downtown Clarksville Tennessee.

For more information go to www.downtowncommons.org or visit the Downtown Commons Winter Ice Rink Facebook Page.