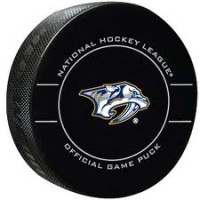 Nashville, TN – The Nashville Predators showed the affects of the Christmas break tonight, as they were completely outplayed by the visiting Pittsburgh Penguins, 5-2.
Pekka Rinne started in net for Nashville, but was chased from the game with a little over five minutes remaining in the opening frame.
This is the first of a back-to-back series with the Pens, as the two teams will travel to Pittsburgh for tomorrow night's game.
Dominik Simon got things started for Pittsburgh at 2:17 of the first period firing a shot that beat Rinne between the legs and the Pens took the lead, 1-0.
Nashville would come right back at 4:30, when Craig Smith crashed the net and redirected a shot from Juuso Rikola to tie the affair, 1-1. But that's when this game would jump the rails.
At 14:16, Alex Galchenyuk grabbed a loose puck in front of the Predators' net and slipped it past Rinne for the 2-1 lead. Then 34 seconds later, Teddy Blueger fired the puck into the back of the net after taking a pass from Zach Aston-Reese and suddenly the game was getting out of hand, 3-1.
Head coach Peter Laviolette would then make the goalie change, putting Juuse Saros in net, sending a message to his players that they needed to tighten up their defense.
In the second period, it was much of the same.
At 4:38, Pittsburgh's Bryan Rust took a feed from Jake Guentzel and fired a shot into the open net and the Pens lead was now, 4-1.
Juuso Rikola would extend the Pittsburgh lead to 5-1 lead at 18:04, taking his own rebound and firing a shot into the top left corner, his first goal of the season, and Pittsburgh had put their foot on the neck of the Predators.
Nashville's Viktor Arvidsson would give us our final score of 5-2 when he deflected a Roman Josi shot into the net at 9:18 of the final period.
Late game penalties would send Nashville's Mattias Ekholm to the locker room when he was called for a game misconduct after a brief altercation with Pittsburgh's Evgeni Malkin.
Several injuries on the night for the Predators as Colton Sissons left in the second period with a lower body injury and Dan Hamuis took a puck to the face and never returned. No official word on the status of the two players.
The two teams square off again tomorrow night in Pittsburgh. Puck drop at 6:00pm.