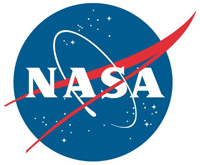 Washington, D.C. – NASA's aeronautical innovators this past year worked diligently in their mission to explore safe advances in atmospheric flight that directly benefit all of us, meet the rapidly evolving needs of industry, spark economic growth, and ensure the nation remains the world's leader in all things related to flight.
Based on our strategic research plan, NASA's flight team during 2019 was widely focused on conducting scientific and engineering investigations in three broad areas.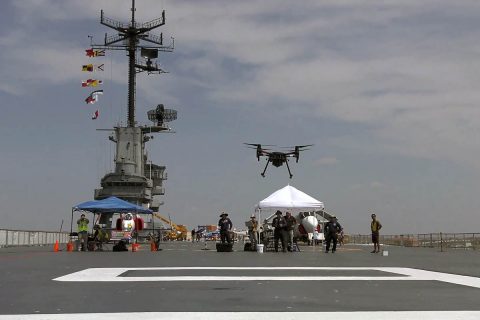 Three Areas
Enabling a new market for commercial supersonic air travel over land with the help of data gathered by the X-59 Quiet SuperSonic Technology (QueSST) airplane, which made great progress in its construction and remains targeted to make its first flight during 2021.
Leading industry in developing the technology and systems to safely enable Urban Air Mobility – the use of small delivery drones and other new aircraft within the National Airspace System over anywhere from small communities to large metropolitan areas to conduct missions including civic resource management, package delivery, and transporting passengers on-demand.
Reducing emissions, minimizing noise, and shrinking reliance on fossil fuels in large part by studying electrically driven methods of propulsion on aircraft, including the X-57 Maxwell, which is serving as a testbed for solving the challenges of integrating a fully electric propulsion system on a general aviation-sized airplane.
In pursuing these goals and many others – including supplying technical solutions to the Federal Aviation Administration (FAA) for its Next Generation Air Transportation System – NASA's air traffic management experts joined their talents in partnership with the brightest aviation experts within government, industry and academia.
Quiet Supersonic Flight Over Land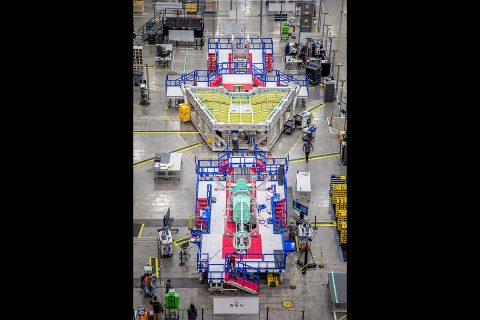 Project teams during 2019 made steady progress with the Low-Boom Flight Demonstration mission, which seeks to enable the possibility of boarding a commercial supersonic airliner and flying across the United States in half the time.
To support this goal, NASA is building the X-59 QueSST airplane, whose unique shape and technology is designed to turn the annoying sonic booms associated with faster-than-sound flight into barely perceptible sonic thumps.
The X-59 will be flown above select U.S. communities to measure and record public response to its noise while flying supersonic. The resulting statistically valid data will be presented to rule makers, who will then consider lifting the ban on supersonic flight over land that has been in place since 1973.
Construction of the X-59 by Lockheed Martin Aeronautics Company in Palmdale, California, continued in earnest as the project passed its Critical Design Review in October and another key program management review in December. By the end of 2019 the airplane was literally taking shape on the factory floor.
The unusual design of the X-59 airplane required to quiet a sonic boom heard on the ground to a sonic thump – if it can be heard at all – results in the cockpit being farther back and lower in the fuselage.
This prevents the pilot from having a forward-facing window. To solve this problem, NASA designed and during 2019 successfully tested an eXternal Vision System (XVS) using a Beechcraft UC-12B research aircraft.
The XVS relies on cameras and custom image processing software to generate an augmented reality view on a high-definition monitor mounted directly in front of the pilot.
Urban Air Mobility
As the proliferation of drones, both commercial and recreational, continued to fill the skies and dominate discussions about the future of aviation not only in the United States but around the world, NASA Aeronautics during 2019 kept pace with their role as leaders in the area of Urban Air Mobility.
A key accomplishment took place over the cities of Corpus Christi, Texas and Reno, Nevada as NASA and its government, industry and academic partners wrapped up the final of four aerial demonstrations of the Unmanned Aircraft Systems Traffic Management (UTM) system.
These demonstrations – known as Technical Capability Levels – began in 2015 and involved increasingly complex scenarios under which pilots operated their drones and coordinated their activities with others using UTM.
For this final set of demonstrations (TCL-4) pilots during 2019 flew their drones in and around the dense urban environment of the two cities, successfully exercising the systems required to support the activity.
After hosting an industry conference and seeking input from a number of sources throughout the year, NASA during 2019 also laid the foundation for conducting a series of UAM-related events known as the Grand Challenge, the first of which is targeted for 2022.
The purpose of the Grand Challenge events is to promote confidence in advanced air mobility systems, and help organizations and companies learn what it really takes to operate air vehicles safely in an urban environment.
The Grand Challenge will be a series of increasingly complex field demonstrations that will support the FAA in developing an approval process for UAM vehicle certification; develop flight operations guidelines, evaluate requirements for communications, navigation and surveillance; characterize vehicle noise levels; and define airspace operations management activities.
Electrified Aircraft Propulsion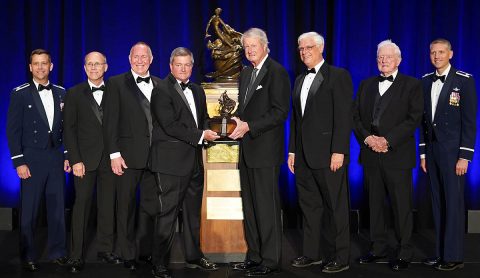 With global interest in reducing aviation's impact on the environment, NASA Aeronautics during 2019 contributed to understanding potential solutions to that concern with a research focus on developing technologies and systems that could be incorporated into future airplanes whose propulsion is powered by electricity.
Much of the research into electrified aircraft propulsion centered on testing and preparing the all-electric X-57 Maxwell for its initial flight tests still ahead.
For example, during 2019 engineers studied an innovative way to cool the heat generated by the electronics associated with the X-57's electric motors.
This was done by designing an engine covering, or nacelle, for the airplane's motors that could do the job without affecting the X-57's overall aerodynamics. The nacelle was successfully tested by powering up an X-57 motor inside a wind tunnel.
Systems that would someday support deploying electric propulsion in larger airliners also were investigated during 2019. The first megawatt-scale test of an aircraft powertrain concept took place at NASA's Electric Aircraft Testbed, a repurposed hypersonic wind tunnel at NASA's Plum Brook Station in Sandusky, Ohio.
Other NASA Aeronautics Highlights from 2019
We made headlines in other areas throughout the year. Here are some quick highlights:
When the Mars 2020 lander lifts off from Cape Canaveral in 2020, it will be carrying an experimental helicopter. NASA aeronautics experts contributed to ensuring the vehicle technology demonstration has every chance of being a complete success. Read more.
NASA during 2019 wrapped up an effort that used 3D printing as a research tool to generate new data that will help airplane makers and operators more efficiently deal with icing. Read more.
NASA researchers, along with the Federal Aviation Administration, intentionally crashed a Fokker F-28 mid-size transport aircraft during 2019 to help better understand the forces exerted on the human body from an explosion underneath a vehicle. Read more.
NASA during 2019 logged the second successful year of a three-year exercise in Charlotte, NC known as Airspace Technology Demonstration-2. The focus of the research is on enabling the coordination of schedules among those who manage the movement of aircraft on the ground, from airport gate to takeoff. Read more.
During 2019 the NASA-developed technology behind the Automatic Ground Collision Avoidance System won aviation's highest award, the Collier Trophy, for its life-saving impact on flight. Read more.
Testing of the wing that will be integrated into the final configuration of the X-57 Maxwell all-electric aircraft was completed during 2019. NASA's first all-electric X-plane is intended to demonstrate the benefits electric propulsion may have for efficiency, noise and emissions. Read more.
NASA during 2019 signed contracts with three industry partners in a bid to demonstrate progress in the use and eventual certification of Detect and Avoid and Command and Control systems critical to the safe operation of Unmanned Aircraft Systems in the National Airspace System. Read more.
Three teams of student researchers representing colleges in Pennsylvania, Wisconsin and Illinois were selected during 2019 for participation in NASA Aeronautics' ongoing University Leadership Initiative. Read more.