Clarksville, TN – After posting a runner-up finish last weekend at the South Alabama Jaguar Challenge, the Austin Peay State University (APSU) softball team will face arguably the toughest in-season tournament slate in program history this weekend, as they travel to Athens, GA, to participate in the 17th Annual Georgia Classic, where they will face two nationally teams among its three opponents.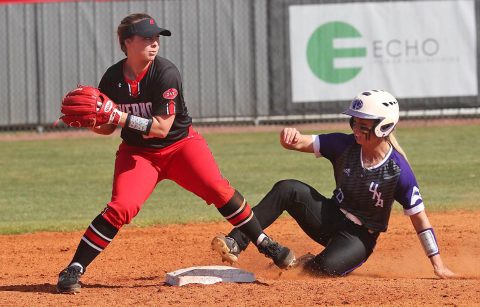 The Govs will open play at Jack Turner Stadium on Friday versus Central Michigan at 9:30am, followed by a first-ever meeting with No. 21-ranked James Madison at noon.
Saturday will see the Govs having a rematch with its day-one opponents, with James Madison facing the Govs at 9:30am and Central Michigan at 5:00pm.
Austin Peay State University will wrap-up the classic with a noon Sunday contest versus tournament host No. 18/19-ranked Georgia.
After their first six games, APSU has three players hitting over .400 offensively, led by sophomore third baseman Lexi Osowski's .450 batting average, which includes three doubles among her nine hits.
Osowski is followed by redshirt sophomore utility player Emily Harkleroad, who is hitting at a .444 clip (8-for-18) and junior outfielder Bailey Shorter at .435 (10-for-23).
In the circle, freshman Shelby Harpe leads the Govs with a 2-2 record and a save in 22 innings of work so far this season, while sophomore Harley Mullins comes into the weekend with a 1-1 record, after working 14.1 innings this season.
Scouting the opponents
Central Michigan
The Chippewas, of the Mid-American Conference, enter this weekend still looking for their first win under new head coach McCall Salmon, after going 0-5 in their opening weekend of play at The Spring Games in Clearwater, FL. Offensively, Tala Dean led CMU with a .385 average last week, along with three walks, while Kaitlyn Bean led the pitching staff with 13.2 innings pitched in going 0-2 with a 9.22 ERA.
#21 James Madison
The #21 nationally ranked Dukes come into this weekend's action with a 3-1 record this spring, after defeated North Carolina, 6-3, in a mid-week game on Wednesday. Offensively, they have two players hitting over .500 after their first four games, led by Sara Jubas' .667 average, with three doubles, two home runs and six runs batted in. In the circle, Odicci Alexander has all three of their victories, while posting a 2.86 ERA, with 27 strikeouts in 22 innings pitched.
#18/19 Georgia
The #18/19 nationally ranked Bulldogs enter their home tournament with a 9-3 overall record this spring after shutting out Samford on Wednesday, 8-0. At the plate, two Bulldogs are hitting over .400, led by Jordan Doggett at .467, with a double, three triples, a home run and 11 RBIs. In the circle, the Bulldogs have a pair of pitchers with four wins each, with Lauren Mathis currenting at 4-0, with a 1.93 ERA and Mary Wilson Avant at 4-2 with a 1.54 ERA.
APSU Govs Hit-and-Run
For the first time in the program's 35-year history, Austin Peay State University will play three games versus nationally ranked opponents during the same weekend.
This is the second time the Govs have played in the Georgia Classic, having also played in the 13th Annual Georgia Classic back during the 2016 season.
The games versus Central Michigan and James Madison will be the first-ever meetings between APSU and those two programs.
Bailey Shorter and Emily Harkleroad each enter the weekend with six-game hitting streaks.
This weekend marks the 18th time in the APSU Govs program history where they will play an in-season tournament in the State of Georgia, the most of any state.