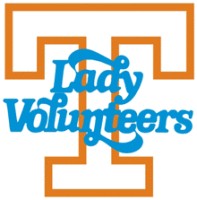 Fayetteville, AR – Rae Burrell poured in 15 points in the fourth quarter to pull UT within four in the final minutes, but it wasn't enough to overcome No. 22/25 Arkansas on road in an 83-75 setback Thursday night at Bud Walton Arena.

Burrell led Tennessee (17-9, 7-6 SEC) in scoring and rebounding with 21 points and nine boards, narrowly missing a double-double. Rennia Davis was also in double digits, finishing with 18 points and eight rebounds.

Amber Ramirez was Arkansas' (21-5, 9-4 SEC) high scorer, posting 29 points, and Alexis Tolefree was close behind with 22.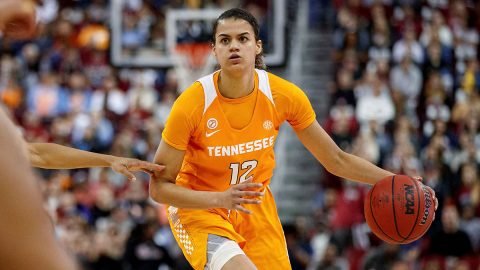 Davis got off to a quick start, driving in for a layup after
Tamari Key
won the tip. UT built up a 6-0 lead before Ramirez got the Razorbacks on the board with a 3-pointer two minutes in.
By the 6:53 mark Tennessee led 10-5, but back-to-back buckets by Ramirez cut the lead to one before Key knocked down a jumper just before the media timeout to push the score to 12-9.
Immediately following the timeout Ramirez hit a long-range trey to tie the score at 12-all. The teams would swap baskets through the end of the quarter until a Tolefree jumper at the buzzer put Arkansas up 18-16 at the end of the first.

Tolefree struck again in the second quarter, hitting a 3-pointer to stretch the Razorbacks' lead to five. Tennessee struggled to score, going more than three minutes without a bucket before Lou Brown found Davis cutting to the basket for a layup.
Taylah Thomas converted on an old-fashioned three-point play on the other end to put Arkansas up 24-18 midway through the period. The Razorbacks maintained their six-point lead until Jessie Rennie hit a three to cut it to 26-23 with just under three minutes remaining in the half. UA responded with a 5-0 run to take an eight-point lead into the intermission.

Tolefree was first to score in the second half, stretching Arkansas' lead to 11 with a 3-pointer before Davis answered with a jumper for UT, setting off a 9-2 run that pulled Tennessee within four six minutes in. With 3:58 left in the quarter the Razorbacks went up 48-38, scoring five quick points off a Makayla Daniels jumper and a Ramirez 3-pointer after Tolefree stole the inbounds pass. The 10-point deficit would hold until the final seconds when Chelsea Dungee knocked down a 10-foot jumper at the buzzer to push the score to 58-46 heading into the final stanza.

The Razorbacks opened the fourth quarter with four unanswered points before Burrell and Rennie scored a combined 13 points in the first four minutes to pull UT within 11 at 70-59. Jordan Horston followed it up with a jumper and Burrell converted on a 3-point play to move Tennessee within six with 3:59 to play.
Arkansas bounced back with four quick points off a pair of Ramirez jumpers. Burrell responded by knocking down a three and following it up with a layup to make the score 75-69 with 1:15 remaining. Davis hit a three-pointer to pull the Lady Vols within four with 15 seconds left in the game, but that's as close as they would get, as Arkansas went on to hit free throws and win 83-75.

Starting Suits Her
In her four career starts, Rae Burrell is averaging 15.5 ppg. and 7.3 rpg. She led the team in both scoring and rebounding in three of those contests.

Rennie Sniping
Freshman Jessie Rennie hit 3-of-4 3-point attempts against Arkansas. She is averaging 62.1 percent from behind the arc over her last 17 games, and her season average of 47.7 leads the team.

Davis Climbing The Charts
Rennia Davis' 18 points against Arkansas moved her career points total to 1,312, passing Tonya Edwards (1,309 pts) to rank 30th among Lady Vol scorers. She is closing in quickly on No. 29 Alexis Hornbuckle at 1,333 career points.
Next Up For Tennessee Lady Vols Basketball
The Tennessee Lady Vols basketball team returns home, hosting Vanderbilt at 11:00am CT on Sunday in UT's Live Pink, Bleed Orange game. The contest will be broadcast on ESPN2 and Lady Vol Network radio stations.