Kim Smith and Robert Lewis were awarded top honors for their service to the Montgomery County Democratic Party during a ceremony and holiday event held at the Smith Trahern Mansion Tuesday. The party's Lifetime Achievement Award was presented to Robert Lewis, vice-chairman of the MCDP. The Major Nathanial Carter Award for "Volunteer of the Year" was presented to Kim Smith.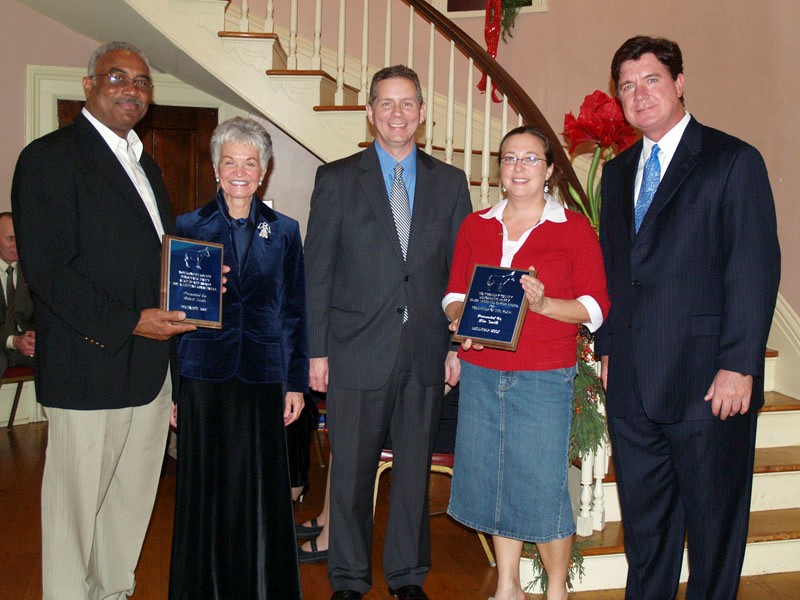 From left, MCDP Vice-Chair Robert Lewis, Senator Rosalind Kurita, Rep. Joe Pitts, Kim Smith, and House Majority Leader Gary Odom at Tuesday's MCDP holiday celebration and annual awards ceremony.
State House Majority Leader Gary Odom addressed the group, summarizing the legislative achievements of the year while citing a need to continue to "build up our majority" in the State House. Odom tossed a question to the audience in an impromptu forum centered on the Hope Scholarship. Odom said the past year in state government "was one of the best" in his 21 years of public service.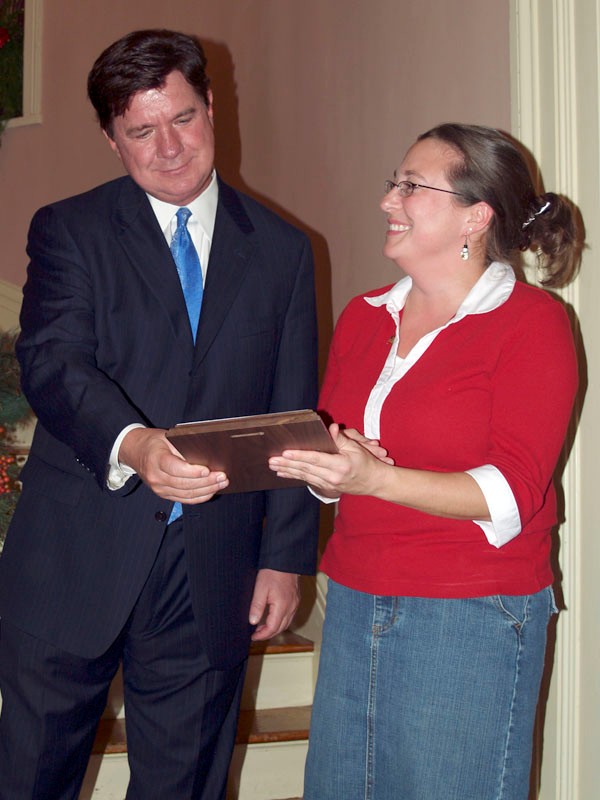 Citing fiscally conservative practices that have led to a substantial "rainy day fund," Odom (pictured at left with Kim Smith) sought opinions on whether standards for maintaining the merit-based HOPE Scholarship, which is funded by lottery monies, should be lowered. Currently, students are required to maintain a 3.0 GPA to retain this $4000 scholarship; Odom fielded the idea of dropping that benchmark to 2.75, or even 2.5 (the later is a C+), stating that this scholarship incentive would motivate more good students to pursue higher learning. The proposal drew a substantially favorable response from his listeners, which included several faculty members from APSU.
Odom also voiced a deep concern over an escalating crime rate, citing the increased violence that in Tennessee is most visible in cities like Memphis, and surprisingly, Jackson. He referenced the passage of Jessica's Law, which mandates a minimum 25 sentence and lifetime GPS monitoring of 25 years in prison and lifetime electronic monitoring of adults convicted of lewd or lascivious acts against a victim less than 12 years old.
State Senator Rosalind Kurita and Representative Joe Pitts spoke briefly prior to the awards presentation.
Photos from the MCDP holiday party:
Rep. Gary Odom chats with legislators and MCDP members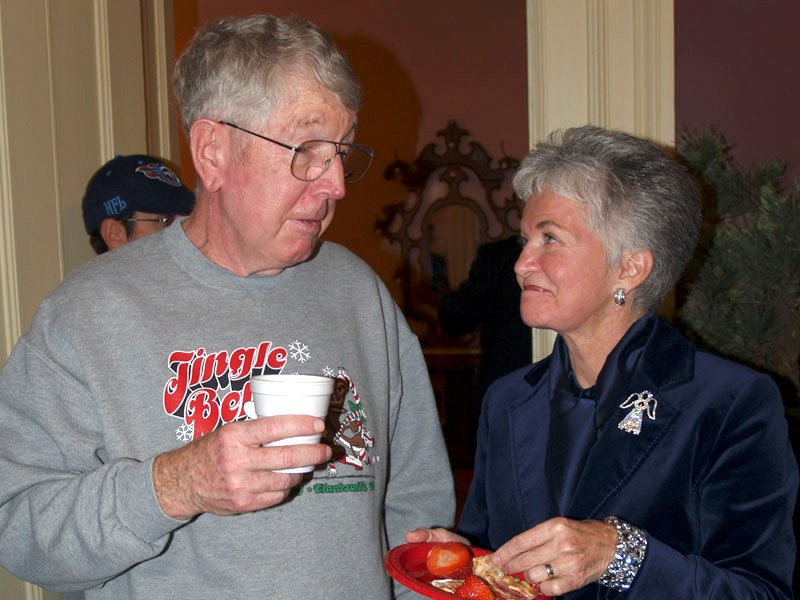 Charles Moreland and Senator Kurita
Among The Guests: