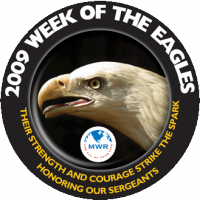 Soldiers give everything for our country, but seldom do we find any meaningful way to give something back to them. That was not the case with Friday and Saturday night's Budweiser's Salute to the Troops concert which was presented by Fort Campbell MWR. The two day event is part of the ongoing Week of the Eagles. The  star-studded concert featured Carrie Underwood, Hank Williams Jr, Jake Owen, John Rich, Rodney Atkins, and SGT Rodney Watts, all giving something back to the troops.
The organizers were expecting approximately 30,000 people to attend the free concert Friday evening, over 75,000 showed up.
Jake Owen
Jake Owen provided the first interview with the media, during which he highlighted his commitment to supporting our citizen soldiers, "Any chance I get to be able to come out here to show my respect and support for these folks I will always do that."
A video used to be embedded here but the service that it was hosted on has shut down.
Hank Williams Jr.
Hank William Jr. who was added late to the schedule, was adamant about doing this show. Speaking with reporters he said that someone told him that they did not know if he would be able to do this concert. The man commonly known as Bocephus responded, "…What do you mean, you don't know! You don't don't make the decisions, I am doing this show Cousin."
A video used to be embedded here but the service that it was hosted on has shut down.
Carrie Underwood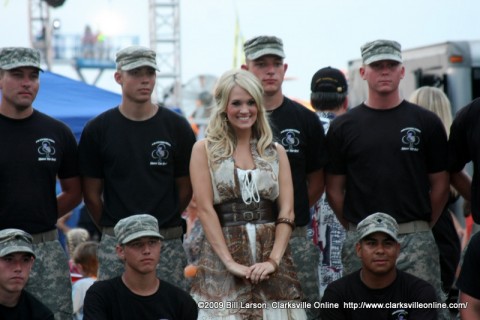 Carrie Underwood came over after she wrapped up a meet and greet with VIP guests at the concert. She spoke about her trip to Iraq to play for the troops, and how it influenced her decision to headline this concert. "I got to go to Iraq a couple of years ago and that was definitely an eye opening experience. So its kinda like any opportunities that come up…. I am there"
A video used to be embedded here but the service that it was hosted on has shut down.
Following the interview with Carrie Underwood, the media headed out in front of the stage to take photographs, and take in the show.
The Performances
A commentator on the Hank Williams JR web site had this to say about the Hank Williams Jr. performance:
I met a cool and collected Bocephus backstage while his staff was handing out bottled water to an over-heated media blitz. Little did I know he was about to take to the stage in front of 75,000 and put on one of the best shows of his storied career. Billed as "the opening act", Hank ripped through hit after hit for more than an hour and a half and left the crowd completely stunned with his cover of "Walk This Way" Again, proving he's a hard act to follow and a living example to those younger "headliner" acts that performed much later. Indeed, he did stop the show by all accounts.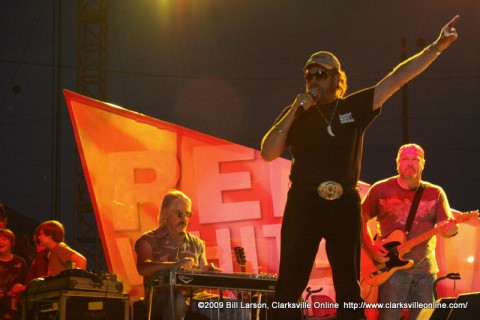 I agree, his show was indeed spectacular! As a member of that over-heated media blitz, I want to say thank you to him, and his staff for their kindness in providing the bottled waters.
Following Hank Williams Jr, John Rich came on stage and gave another stirring performance. His show expressed a level of disgust with politicians in Washington D.C., asking the attendees, if the Speaker of the House Nancy Pelosi had ever come to Fort Campbell.
During a break in the performance, Maj. Gen. John F. Campbell, the new commander of the 101st Airborne Divison came up on stage and recognized John Rich for his support of the troops and the 101st Airborne Division. After accepting his awards, John Rich presented Maj Gen John Campbell with one of his tour shirts with the General's name on the back.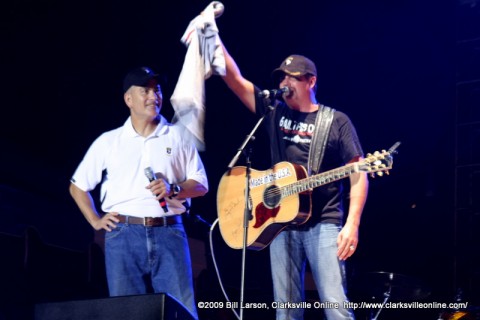 When John Rich finished, it was time for Jake Owen. The most memorable part of his concert besides his wonderful singing, was when he left the stage and went out interact with the crowd, and when he climbed up to the top of the scaffolding at the front of the stage.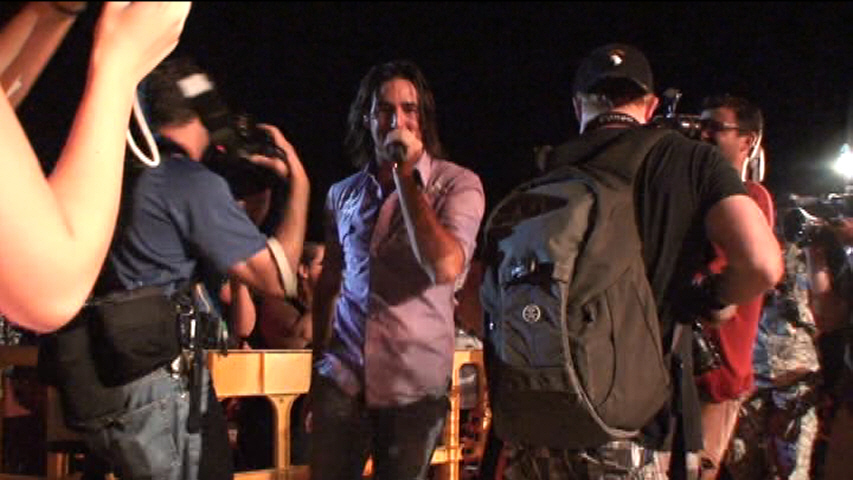 The final performer of the evening was Carrie Underwood. Having gotten to meet her during a media event earlier in the day, I can tell you that television cameras do not do justice to the beauty of this stunning performer. She took the stage well over an hour after her scheduled starting time, however her performance was well worth the wait. The songs were upbeat, and selected to fully utilize her amazing vocal talents.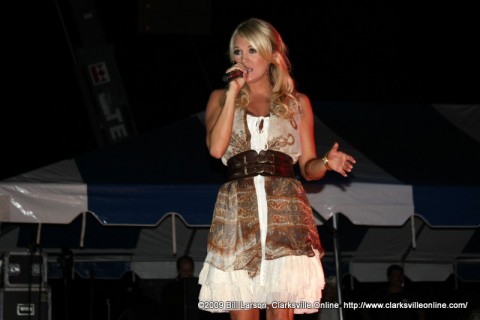 I want to take a moment to thank the 101st Airborne Division's Command Staff, Fort Campbell's Directorate of MWR, the PAO Office and their staff, and of course the serving soldiers of the 101st Airborne Division (Air Assault), who made our coverage of the Week of the Eagles events down right painless. Thank you for all that you do.
Photo Gallery