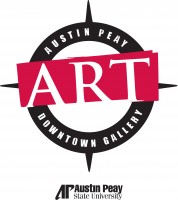 The Austin Peay State University Department of Art working together with the Center of Excellence for the Creative Arts (CECA) opened a new art gallery in the heart of historic Downtown Clarksville Thursday evening during the Monthly First Thursday Art Walk.
The new facility provides a much needed exhibition space for APSU faculty and alumni in what has rapidly become the focal point of the Arts community in our town. "It's a way to help our alumni who are out there trying to build their careers," said Gregg Schlanger, APSU professor of Art. "It gives them a line on their resume and allows us to brag about our program."
Downtown Clarksville is the home to several exceptional Art Galleries, the Customs House Museum, and of course the wonderful Roxy Regional Theatre. Downtown Businesses which prominently showcase the arts include Hodgepodge, ARTifacts, Rogate's Boutique, Visions Metaphysical Boutique, The Front Page Deli, and Ingredients. Professor Schlanger noted that  their Downtown Art Gallery will become a major contributator "We're going to add to what's going on around here."
The gallery opened with "Whatever," an exhibition of work by APSU art alumni. Artists featured in this exhibit include Chip Boles, Marc Pewitt, Miranda Herrick, Betsy Wynkoop, Kelly Kerrigan, Ally Reeves, Bill Eilliot, Scotty Peek, Young Kim, Donna Stack, Travis Childers and Melody Shipley. The exhibit runs through Nov. 28.  For those interested in visiting the gallery, it is located at 116 Strawberry Alley. They are open from noon to 4 p.m., on Tuesdays through Saturdays. However, they will be closed on Thanksgiving day.
Also featured at the First Thursday Art walk was Ashley Richardson, John Glass & Ginger Murvey-Beirus at ARTifacts;  Steven M. Walker at Hodgepodge; Heather Bowker, and  Gabriele Wardeiner at Ingredients;  Lyn Jellison at Rogate's Boutique; Cliff Whitakers at the Downtown Artist Co-op with his new show "Visions of My World;  Charles Bennet at the Peg Harvill Gallery in the Roxy Regional Theatre;  and Amanda Harrison and Afton Chandler  at Visions Metaphysical Boutique.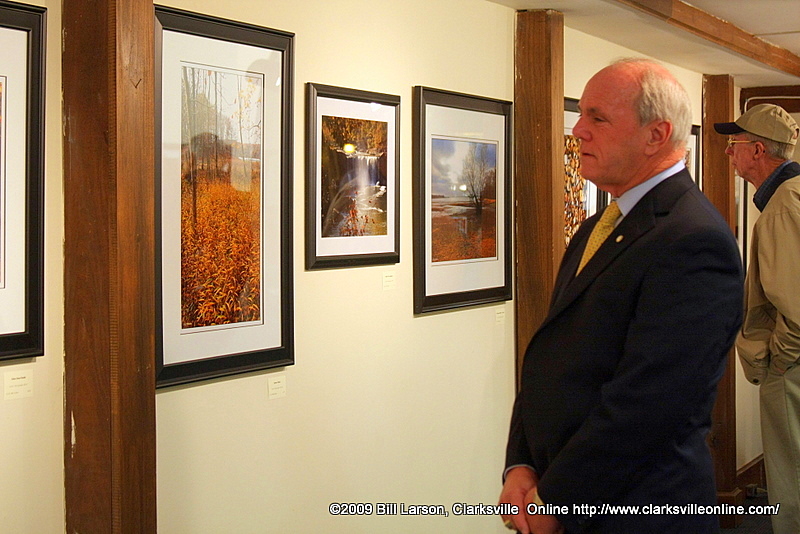 Photos Gallery