November 13th, 2010 • 1:00pm CDT • Clarksville, Tennessee • Governors Stadium (10,000)
APSU Men's Football

Clarksville, TN – Thirteen seniors will be honored prior to kickoff on Senior Day.
Since rejoining the Ohio Valley Conference the Governors own a 1-2 record against Murray State. The Govs lost in Murray, 27-17, in 2009.
Austin Peay enters the contest on a six-game losing streak. The Govs have endured at least a six-game losing streak five times since the new millennium, the longest losing streak (eight games) coming in the 2003 season.
Senior running back Terrence Holt made his first career start at running back against UT Martin. Even though he has shared the running back duties with Ryan White for the past two seasons, the latter always has drawn the starting nod until last Saturday.
Austin Peay comes into the game ranked 110th (out of 117 teams) or higher in four defensive categories–rushing defense (112th/229.00 ypg), total defense (112th/446.22 ypg), scoring defense (111th/38.00 ppg) and sacks (110th/.89).
Austin Peay has allowed 28 or more points in all seven losses this season, including 28 by UT Martin The Govs are permitting 39.25 points per game.
APSU is ranked 99th out of 117 teams in time of possession, averaging just 28:00 minutes per game.
The Govs are ranked 114 out of 117 teams in first downs permitted (23.33 per game).
Austin Peay is ranked last in FCS rankings for third-down defensive efficiency, allowing the opposition to convert 48.78 percent of opportunities.
Austin Peay enters Saturday's contest with a 93-166-2 OVC record (35.8 percent).
Austin Peay has enjoyed only 18 winning seasons in 73 years of football and only two winning seasons since the turn of the century–a 7-5 mark in 2002 as a non-scholarship program and a 7-4 record in 2007 in Rick Christophel's first season.
Racers To Watch
Junior running back Mike Harris rushed for 242 yards against Tennessee Tech and one TD. He has 880 yards for the season and 10 TDs. Quarterback Casey Brockman, who started his career's first game against the Govs a year ago, has completed 153 of 230 passes for 1645 yards and 11 TDs. Wide receiver Marcus Harris is his favorite target with 62 catches for 782 yards and seven TDs. Arthur Brackett has 54 more (493 yards) while Rashad Daniels (413 yards) has 42.
Defensively, free safety Brandon Wicks has 54 stops while linebacker Zach Kutch has 9.0 tackles for loss. Nose tackle Joe Gamsky has 3.5 sacks and 8.0 tackles for loss. Cornerback Nathan Brinkley has recorded a team-best three interceptions. Kicker/punter Kienan Cullen has connected for 13 field goals, including four field goals against Tennessee Tech last weekend. He is averaging 40.5 yards per punt on the season, including five 50-yard-plus kicks.
Setting The Scene
The Series: APSU trails the series, 13-20
Last Meeting: November 7th, 2009: Murray State 27, Austin Peay 17

The Govs rejoined the OVC for football in 2007 after returning to scholarship football in 2006. The Govs finished sixth in the OVC a year ago with a 3-5 league mark and were 4-7 overall. The Govs are picked to finish tied for seventh in 2010. Meanwhile, the Racers were picked to finish last in the preseason poll. However, under first-year coach Chris Hatcher the Racers already have captured three OVC victories in six outings. Hatcher is 1-0 against the Governors, serving as head coach for Georgia Southern two seasons ago when APSU lost, 34-20.
Offensive Notes
Senior Trent Caffee could get the start at quarterback in his final Govs appearance. A part-time starter during his career, he replaced the injured Jake Ryan (thumb) in the second half against UT Martin.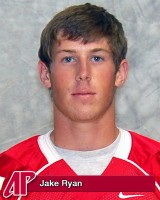 When Jake Ryan hit Robert Lemon with a five-yard TD pass with three seconds left in the first quarter, it was the fourth time in eight games the Governors scored first. It was only the second time, however, the Govs grabbed an opening lead with a TD.
Lemons' five-yard TD reception from Ryan was the first scoring catch of the former walk-on's career.
Three different Govs lined up at quarterback against UT Martin. Sophomore Jake Ryan started at quarterback Then late in first half former quarterback T.C. Jennings lined up at quarterback in the "Wildcat" formation and ran for seven yards. After Ryan suffered a second-half thumb dislocation, senior Trent Caffee, who opened 2009 as starter, came into the game.
With center Tim Schmid out with an illness, Saturday, the Govs did some shifting on the offensive line. Senior guard Kelvin Little moved from left guard to center. Jacob Langston, who began the season as starter at right guard, was inserted into the lineup at Little's left-guard position.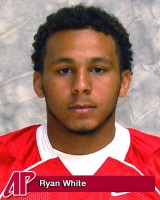 When both Terrence Holt (132 yards) and Ryan White (107) each rushed for 100 yards against Eastern Illinois, October 30th. It was the ninth 100-yard rushing game in White's career and fifth in Holt's. It also was the second time each rushed for 100 yards this season.
At Eastern Illinois, Austin Peay lost for the first time when Terrence Holt rushed for 100 yards and only the third time when White did such.
Running back Ryan White, the 2009 OVC rushing leader, was held to 18 yards on 10 carries at Jacksonville State. However, he bounced back with his second 100-yard rushing game this season at EIU.
Sophomore wide receiver Devin Stark has been nothing but versatile this season. At Tennessee State, September 18th, he carried the ball on a reverse for 13 yards. In the season opener, he threw the Govs' first TD pass of the season, a 30-yard strike. He also had five catches for 109 yards, including a 41-yard catch at TSU. After catching five passes against Tennessee Tech, he had three catches for 35 yards against Southeast Missouri. He had two catches for 26 yards against JSU but failed to record one at EIU.
Adrian Mines, the Govs' leading receiver the previous two seasons, will miss the season's remainder after suffering a dislocated ankle against Jacksonville State. He finished the season with 16 receptions.
Quarterback Jake Ryan, after setting career highs for TD passes (2), yards (224), and completions (16) at Middle Tennessee, enjoyed a strong performance against Tennessee State. He completed 13 of 21 passes for 178 yards and one TD. He was a perfect 4-for-4 for 49 yards on the game-winning drive, including the TD pass to Adrian Mines. Ryan broke his own personal best for completions with 17 (25 attempts) against Tennessee Tech.
After not allowing a sack in the season's first two games, the Govs offensive line permitted two sacks to Tennessee State and two more at Wisconsin. However, the Govs failed to permit a sack to Tennessee Tech and Southeast Missouri. Jacksonville State did record a sack against a Govs' reshuffled line. With the line back in tact at EIU, the line prevented any quarterback sacks. The Govs are ranked seventh in FCS for fewest sacks allowed.
In throwing two TD passes at Middle Tennessee, it represented the first time in Jake Ryan's career that he tossed multiple TD passes in a game. He matched it with two scoring tosses against Tennessee Tech.
When Terrence Holt scored on a 28-yard fourth-quarter TD run against Tennessee Tech, October 29th, it was the 23rd touchdown of his career. It gave him 138 points for his career and allowed him to move past kickers Steve Munnell (134 points/1990-93) and Tom McMillan (135/1986-89) into sixth place all-time in scoring. He now has 25 TDs and 150 points.
Running back Ryan White, who wore 29 his first two seasons as a Governor, is sporting No. 21 in 2010. He changed because "21 always has been my favorite number," White said.
Defensive Notes
After forcing just three turnovers in the last six games, the Governors came up with a pair against UT Martin, collecting a fumble (Tyreon Clark) and an interception (Steven Ragin) The Govs are ranked 99th nationally in turnover margin (-.78).
Sophomore free safety Antwaun Majors, who took over the position after JayR Harper tore his Achilles tendon during summer practice, finished with 17 tackles against Southeast Missouri, October 16th. He became the first player to have more than 16 tackles in a game since Daniel Becker had 19 tackles against Tennessee State, September 15th, 2007. He had 10 tackles against UT Martin and owns a team-leading 74 for the season.
Sophomore linebacker Darrick Dillard collected 10 tackles against UT Martin. It was his third contest this season with double-digit tackles, with Cumberland (10) and Eastern Illinois (11) the others.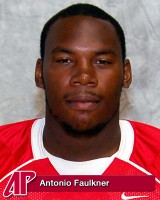 Defensive tackle Antonio Faulkner continues to have a strong season up front for the Govs. He has been credited with 10 tackles for loss, tied for 56th in FCS in that category. He has four games this season where has been credited with at least two tackles for loss.
Freshman defensive end Iosua Siliva became the first APSU defender other than Antonio Faulkner to be credited with more than one tackle for loss when he collected 1.5 tackles for loss (seven yards) at Jacksonville State
Austin Peay was credited with two quarterback sacks at Eastern Illinois, and both came from freshmen–defensive end Iosua Siliva and defensive tackle Reese Bulmash.
APSU entered the EIU contest as the FCS's worst against the run (260 yards per game). Then Govs limited Eastern Illinois to only 100 yards rushing. However, the Govs permitted 219 yards passing, including two long late first-half TDs. Then against UT Martin, the Governors limited the Skyhawks to 141 yards rushing, but permitted 346 yards passing.
Defensive tackle Steven Johnson returned to the starting lineup against Tennessee Tech after sitting out the Wisconsin contest with shoulder issues. However, Johnson re-injured his shoulder in the second half against Tennessee Tech. He recently had shoulder surgery and his college football career is completed.
In two games against FBS teams, the Governors permitted 654 yards to Middle Tennessee and 618 to Wisconsin.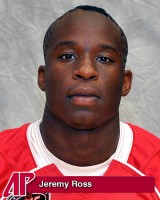 Safety Jeremy Ross was named the OVC Co-Defensive Player of the Week for his three fumble-recovery performance at Middle Tennessee, Sept. 11. He returned one of the fumbles 16 yards for a touchdown. Ross also was named the College Football Performance Awards Co-Defensive Performer of the Week for his work against MTSU.
The 654 yards total offense by Middle Tennessee was the most yards allowed by the Governors since Morehead State rolled up 681 yards, Oct. 28, 2000, during the program's non-scholarship era. The 654 yards also were the most yards allowed by the Governors during the scholarship era since Middle Tennessee rolled up 629 yards, Oct. 20, 1999.
Reserve safety Delton Teeter was named College Football Performance Awards (CFPA) Defensive Back Performer of the Week during the season-opening week. The Clarksville native, who missed much of 2009 with a wrist injury, made a spectacular third-quarter interception against Cumberland and raced 66 yards for a score.
Defensive tackle Antonio Faulkner was named honorable mention Defensive Line Performer of the Week by the same organization in Week 1 after being involved in eight tackles, including three for loss against Cumberland. He was credited with a quarterback sack and forced fumble. He also made a key extra-point block against Tennessee State.
Austin Peay's two starting cornerbacks were playing high school football a year ago. Tyreon Clark played at Bowling Green (Ky.) High School while Steven Ragin played at Olympia High School in Orlando, Fla.
Starting defensive tackle Steven Johnson came to Austin Peay as a walk-on. He was voted as the Govs' only defensive team captain by his teammates.
Projected free safety starter JayR Harper tore his achilles tendon in preseason and is out for the year.
Special Team Notes
Senior Terrence Holt returned a kickoff 95 yards for a TD against UT Martin, marking his first kick return TD for 2010 and the fourth of his four-year career. The 95 yarder represented the second longest of his career behind the 99 yarder he had at Murray State. He was named Football Championship Subdivision (FCS) College Football Performance Awards (CFPA) Kick Returner Co-Performer of the Week for his effort.
Sophomore kicker Stephen Stansell suffered through one of his worst kicking performances against UT Martin. He missed a 36-yard field goal in the first quarter and the missed his first extra point of the season later in the quarter–it also was his career's second miss. He now is 17-of-18 on extra-point attempts and 11-of-17 on field goal attempts so far this season, including three field goals of 50 yards or more to become APSU's first kicker in history to record three 50-yard field goals in a season.
Senior punter Ryan Key opened the season with five straight games of averaging 40 yards or more punting. However, entering the UT Martin contest, he had endured two weeks averaging less than 34 yards per punt, including only a 32.0 average in extremely windy conditions at Eastern Illinois. He bounced back against UT Martin , averaging 42.7 yards per punt, allowing him to move from 19th-best FCS punting average to 13th at 41.86 yards per boot.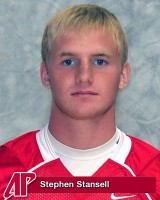 Sophomore placekicker Stephen Stansell is one of 32 kickers who received September and October recognition for the Fred Mitchell Award. The annual Fred Mitchell Outstanding Place-Kicker Award (also known as the Fred Mitchell Award) is provided to the nation's top collegiate place-kicker among more than 600 Football Championship Subdivision (FCS), Division II, III and NAIA football teams.
Stansell booted three kickoffs against Eastern Illinois–all aided by the wind–and all three went through the end zone for a touchback.
Kicker Stephen Stansell, who tied a school record with four field goals as the Govs rallied for a 26-23 win against Tennessee State, September 18th, was named FCS College Football Performance Awards (CFPA) Placekicker Co-Performer of the Week. The 5-11, 183-pound sophomore from Athens was a perfect 4-for-4 on the day against TSU at LP Field, scoring 14 of APSU's 26 points. The four field goals tied the school record originally set by Tom McMillan, September 5th, 1987, at Kansas State.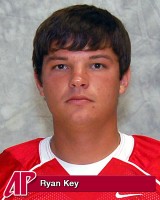 Earlier this season senior punter Ryan Key boomed a career-best 70-yard fourth-quarter punt at Middle Tennessee. It was the Govs' longest punt since Jaime Iracheta booted one 65 yards against Morehead State, September 4th, 1997.
College Football Performance Awards (CFPA) named Ryan Key honorable mention Punter Performer of the Week after he averaged 44.7 yards per punt, including a 70 yarder, at Middle Tennessee. Sept. 11. The 44.7 average was the second best of his career.
Terrence Holt, with his eight returns against Wisconsin, set the career FCS record for kickoff returns. He now has 181 for his career
With his eight combined returns at Wisconsin, Holt set the FCS record for total kick (kick + punt) returns. He now has 230.
All-America kick returner Terrence Holt has chalked up at least 1,100 yards in kickoff returns in each of his three previous seasons. He has 862 yards in kick returns entering this week's game.
Senior linebacker Ricky Thomas has blocked seven kicks during his career, including a punt at Eastern Illinois.