APSU Men's Basketball

Clarksville, TN – If ever a team was in a must-win situation it is Eastern Illinois.
The Panthers come to town for Thursday's 7:30pm, meeting with Austin Peay needing to win both road games this weekend at APSU and Tennessee State. The Panthers are currently ninth at 4-12 (9-18 overall) in the Ohio Valley Conference standings.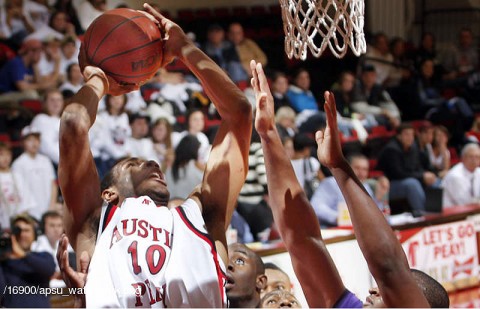 And wins don't even guarantee the Panthers an OVC tourney spot. In addition, EIU also needs UT Martin (5-11) to lose both home games this weekend against Eastern Kentucky and Morehead State for the door to be cracked open.
For most, it is hard to believe the Panthers could be on the brink of elimination from OVC tourney play. Eastern Illinois was picked to finish third in the preseason OVC poll, but the Panthers season began falling apart when preseason All-OVC guard Tyler Laser went down with a back injury in mid-December. The Panthers have struggled finding their way since.
In fact, before defeating Toledo, Saturday, in its Sears BacketBusters game, Eastern Illinois had lost eight straight. Almost inexplicably they lost every game since defeating Morehead State and Murray State in back-to-back late January games.
The Panthers possess one of the league's top point guards in Jeremy Granger (14.5 ppg., 3.3 apg) while fellow guard Curry McKinney (8.5 ppg) offers complimentary support along with sophomore forward Shaun Pratl (9.3 ppg, 4.4 rpg).
Meanwhile, the Governors must win out if they are have any chance of a top-two OVC tourney seed and an accompanying bye into the semifinals.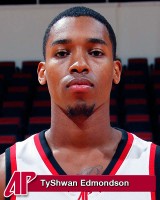 The Govs are coming off an exasperating 76-69 loss at Fairfield in the BracketBusters contest, a game that saw APSU commit an unseemly 25 turnovers. And despite all their ball-handling woes, the Governors rallied from a 54-41 second-half deficit to tie the game at 56-56. APSU, in fact, had two opportunities at the free-throw to take the lead. The Governors, however, could not maintain that momentum. And in the end, five more turnovers led to the Govs' undoing down the stretch.
The good news from Fairfield was the resurgence of junior guard TyShwan Edmondson, who scored 29 points on 10-of-18 shooting. In addition, freshman forward Will Triggs recorded his career's first double-double with 12 points and 10 rebounds.