APSU Men's Basketball

Clarksville, TN – TyShwan Edmondson and Josh Terry combined for 33 points as Austin Peay State University defeated Southeast Missouri, 75-52, Saturday night in Ohio Valley Conference basketball action played in Dave Aaron Arena.
The victory allowed the Govs to finish the OVC season at 13-5, good enough for a second-place tie, and 19-12 overall. The Govs will be the OVC tourney's No. 3 seed. The tourney will begin Wednesday with the Governors playing 8:00pm, Thursday against the winner of the No. 6 seed Eastern Kentucky-No. 7 seed Southeast Missouri contest.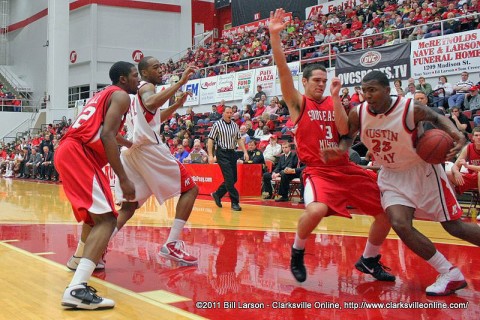 Southeast Missouri ended the regular season at 9-21 overall and 6-12 in the OVC.
A junior guard, Edmondson, the OVC's leading scorer entering the contest, finished with 17 points while Terry, a junior forward, added 16 points on 8-of-10 shooting.
Austin Peay never trailed in the contest, opening the game with an Edmondson three pointer and built as much as an 18-point, 29-11 first-half lead before settling on a 33-21 margin at intermission.
The Governors never led SEMO get back into the contest in the second half, scoring the half's first eight points, four points apiece from Caleb Brown and Marcel Williams, who enjoyed his season's best performance with seven points and eight rebounds.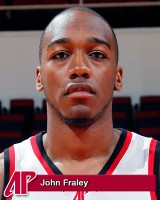 Junior center John Fraley recorded his second straight double-double with 10 points and 11 rebounds for the Governors.
The Redhawks would not get closer than 17 points the game's remainder as the Governors dominated defensively, holding SEMO to just 32.7 percent shooting (18 of 55) while holding a decisive 47-36 rebound advantage.
Marland Smith led SEMO with 12 points, but did it on 5-of-17 shooting. Marcus Brister and Lucas Nutt each added 10 points.
Senior Night
Austin Peay honors the Governors Senior Basketball player Caleb Brown.
Photo Gallery
Box Score
Southeast Missouri vs Austin Peay
2/26/11, 7:30pm at Clarksville, TN (Dunn Center)
Southeast Missouri 52
 
 
 
Total
3-point
 
Rebounds
##
Player
p
fgm-fga
fgm-fga
ftm-fta
off-def
tot
pf
tp
a
to
blk
stl
min

01 

BUTLER, Cameron 

f 

2-3 

0-0 

1-3 

1-3 

4 

3 

5 

0 

2 

1 

0 

27 

42 

POWELL, Leon 

f 

4-7 

0-0 

1-3 

3-6 

9 

4 

9 

1 

5 

1 

0 

23 

13 

NUTT, Lucas 

g 

3-8 

3-7 

1-2 

0-4 

4 

3 

10 

1 

4 

0 

0 

30 

20 

ALLISON, Anthony 

g 

0-9 

0-2 

3-4 

0-0 

0 

3 

3 

1 

0 

0 

0 

29 

23 

SMITH, Marland 

g 

5-17 

2-7 

0-0 

1-7 

8 

1 

12 

3 

2 

1 

0 

40 

02 

BRISTER, Marcus 

– 

3-9 

0-0 

4-9 

1-0 

1 

1 

10 

5 

4 

0 

1 

29 

15 

JONES, Waylon 

– 

1-1 

0-0 

0-1 

1-4 

5 

3 

2 

1 

0 

1 

2 

15 

40 

HOUSE, Zach 

– 

0-1 

0-0 

1-2 

0-0 

0 

2 

1 

0 

0 

2 

1 

7 

TM 

TEAM 

– 

– 

– 

– 

4-1 

5 

– 

– 

– 

– 

– 

– 

– 

 

Totals………….. 

– 

18-55 

5-16 

11-24 

11-25 

36 

20 

52 

12 

17 

6 

4 

200 

 

32.7% 

31.3% 

45.8% 

 
Team summary:
 
FG
3FG
FT
 
1st Half: 
 

8-21 

1-5 

4-10 

 

38.1% 

20.0% 

40.0% 

 
2nd Half: 
 

10-34 

4-11 

7-14 

 

29.4% 

36.4% 

50.0% 
Austin Peay 75
 
 
 
Total
3-point
 
Rebounds
##
Player
p
fgm-fga
fgm-fga
ftm-fta
off-def
tot
pf
tp
a
to
blk
stl
min

10 

TRIGGS, Will 

f 

0-2 

0-0 

3-4 

1-2 

3 

4 

3 

1 

1 

1 

2 

17 

21 

FRALEY, John 

c 

4-7 

0-0 

2-4 

2-9 

11 

2 

10 

1 

4 

0 

0 

30 

03 

BROWN, Caleb 

g 

2-5 

0-0 

2-4 

0-1 

1 

1 

6 

2 

1 

0 

1 

25 

12 

EDMONDSON, Tyshwan 

g 

6-15 

3-6 

2-2 

0-2 

2 

3 

17 

2 

2 

1 

2 

30 

23 

TERRY, Josh 

g 

8-10 

0-0 

0-2 

2-7 

9 

2 

16 

2 

0 

0 

2 

34 

04 

WILLIAMS, Marcel 

– 

3-4 

0-0 

1-2 

1-7 

8 

4 

7 

0 

1 

0 

1 

16 

05 

CALDWELL, Tyrone 

– 

1-4 

0-1 

1-1 

1-2 

3 

0 

3 

6 

1 

0 

0 

15 

14 

WILLIAMS, Alton 

– 

0-1 

0-0 

0-0 

0-0 

0 

0 

0 

0 

0 

0 

0 

2 

20 

BAKER, Melvin 

– 

1-5 

0-1 

2-2 

0-3 

3 

4 

4 

0 

2 

0 

0 

9 

32 

BLAKE, Justin 

– 

3-6 

3-5 

0-0 

0-1 

1 

3 

9 

3 

1 

0 

0 

19 

33 

HASSE, Matt 

– 

0-0 

0-0 

0-0 

0-1 

1 

0 

0 

1 

0 

1 

0 

3 

TM 

TEAM 

– 

– 

– 

– 

4-1 

5 

– 

– 

– 

– 

– 

– 

– 

 

Totals………….. 

– 

28-59 

6-13 

13-21 

11-36 

47 

23 

75 

18 

13 

3 

8 

200 

 

47.5% 

46.2% 

61.9% 

 
Team summary:
 
FG
3FG
FT
 
1st Half: 
 

12-25 

4-6 

5-8 

 

48.0% 

66.7% 

62.5% 

 
2nd Half: 
 

16-34 

2-7 

8-13 

 

47.1% 

28.6% 

61.5% 
| | | | | |
| --- | --- | --- | --- | --- |
| Score by Periods |  1st  |  2nd  |  Total  |   |
| Southeast Missouri   | 21  | 31  | 52  | Record: (9-21, 6-12 OVC)  |
| Austin Peay   | 33  | 42  | 75  | Record: (19-12, 13-5 OVC)  |
Officials: Gene Menees (R), Coy Gammon, Craig Murley

Technical fouls: Southeast Missouri-None. Austin Peay-None.

Attendance: 3553
OVC Men's Basketball Tournament Bracket