Written by U.S. Army Spc. Morgan McAfee
Task Force Falcon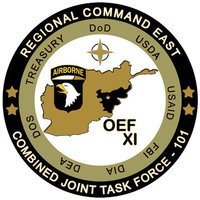 Bagram Airfield, Afghanistan – As a child looking into the sky above her hometown of Goldsboro, NC, U.S. Army Chief Warrant Officer 5 Cathy Jarrell recalls the B-52 airplanes from Seymour Johnson Air Force Base soaring overhead. It was then that she realized she wanted to be an aviator. It was around this time that the Army was beginning to open opportunities for women to become pilots.
Jarrell, currently a C-12 pilot with Task Force Condor, Task Force Observe, Detect, Identify, and Neutralize, attached to 10th Combat Aviation Brigade, 10th Mountain Division, Task Force Falcon, seized the opportunity in 1990 when she enrolled in Warrant Officer Candidate School where she was one of three females in her class of 80 candidates. 
At first, the three females had the entire first floor of the wooden World War II-era two-story barracks. But she recalled that halfway through training, they were split up so each of them would share a floor with the male candidates.
"I didn't understand what their intent was at the time, but I think now it was to prepare us for challenges down the road," said Jarrell.
In August of the same year as Jarrell was beginning flight school Iraq was invading Kuwait, the precursor to the 1991 Gulf War. By the time she graduated in May 1991, combat operations in the Gulf had ended.
"Flight school was the hardest school I've attended, it was such a long period of time and they were constantly watching you," Jarrell said. "Flight school could last anywhere between nine months and one year depending on the aircraft you are assigned to fly."
Upon graduation, Jarrell was assigned to pilot the UH-1H Huey helicopter.
"The Huey is a great aircraft, very forgiving and basic, but a great workhorse in Vietnam," she said.
Although women had been flying Army helicopters since the early '70s, it was not until 1993 when then-Secretary of the Army Les Aspin lifted restrictions and allowed females to fly combat missions.
It was during her assignment in Korea that she volunteered for AH-64 Apache helicopter training and was selected. After she completed the Apache course in 1993, Jarrell became one of the first female Attack Helicopter Pilots. Her first assignment was with the 101st Airborne Division in 1995.
"The guys in the unit were like big brothers who will pick on you, but wouldn't let anyone else (do the same)," Jarrell said of her male counterparts.
She is currently stationed in Wiesbaden, Germany, with 15th Military Intelligence Company.
With 21 years of military service, Jarrell has been on three rotations to Afghanistan and one to Iraq. During her tour to Korea she participated in Operation Enduring Freedom – Philippines where she flew a C-12 Huron cargo plane.
While deployed to Iraq in 2003 she was awarded the Combat Action Badge when she came under anti-aircraft and surface-to-air-missile attacks while flying the Longbow Apache in one of the first direct-fire engagements of the Iraq war on March 20th, 2003.
"All of my tour to Iraq was exciting, mysterious. The 'Mad Max' drive to Baghdad, all the unknowns," Jarrell said. "Even here you never know what will happen."
Jarrell's last apache flight was in 2003.
"My first year after I stopped flying Apaches I really missed the high action adventure, flying over terrain in an apache; the sensation is totally different," she said.
Jarrell has since become a fixed-wing pilot of several aircraft. Her favorite fixed-wing aircraft to fly is the Northrop Grumman RC-12X Guardrail because of its cutting-edge cockpit technology. She also likes flying the Beechcraft RC-12K Huron, even though it is reminiscent of older avionics.
Although she is now a fixed-wing pilot, her heart is still with the Apache. "If I had millions and millions of dollars, I would have an Apache in my driveway if I had a choice to buy one," she said.
Jarrell said she has been afforded fair equitable experiences.
"As an aviator, I have been given a lot of opportunities, which I am happy with," she said.
Jarrell is qualified as an instructor pilot and an instrument examiner. But the opportunities did not come without overcoming obstacles. The most challenging obstacle she says is balancing family and her career.
Jarrell is married and a mother of a teenager.
"Megan likes being a 'military brat'. She loves to travel and loves the lifestyle so far. First Korea and now Germany; she loves it."
She credits her success in the military to her husband.
"He has always been there, been supportive of me and a great person to talk to, he gives me guidance," she said. "He had to give a lot to allow me to stay in."
She offered the following advice to women in the military, "Keep a positive attitude and strive to do your best and study hard. Know all you can and find the good leaders in your unit, whether it be officers or NCOs, and gravitate toward them."
Her plans include to stay in the military in an operational flying position and to have her family near.
"To be my age and still go out and fly, it's every aviator's dream."