APSU Women's Golf

Dickson, TN – Senior Austin Peay State University golfer Chelsea Harris has selected first-team All-Ohio Valley Conference for a third straight year.
Her selection was announced Thursday night at the annual banquet following first-round OVC tournament play, for a second straight year being played at GreyStone Golf Club.
Murray State's Delaney Howson has been named the 2010-11 Ohio Valley Conference Freshman of the Year for women's golf. That award, along with the All-OVC and All-Newcomer squads, were announced Thursday. The OVC Player and Coach of the Year awards will be announced Saturday afternoon following the final-round play at the championship.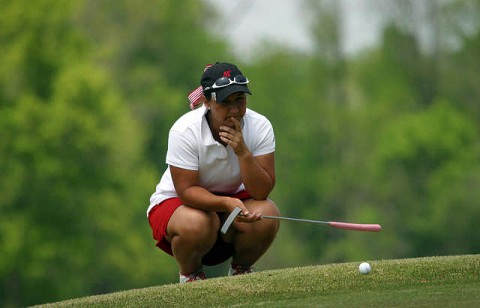 Harris, the 2010 OVC Golfer of the Year and 2010 league tournament medalist, becomes the first Lady Gov to earn All-OVC recognition for four years-she was second-team as a freshman before earning first-team honors the last three seasons. In fact, Amanda Phillips (2000-02) is the only other Lady Gov golfer in history to earn All-OVC for three seasons.
"It is a great honor for Chelsea to be chosen first-team All OVC," APSU coach Sara Robson said. "She has received this honor each of her four years. What a great accomplishment. We are so proud of what Chelsea stands for and I appreciate the hard work and determination she has brought to our program.
"She is very deserving of this award and we are looking forward to a great championship."
In 2010-11, Harris owns a career-best 75.9 strokes-per-round average even as APSU played its most challenging schedule and courses. The Metropolis, IL, native has recorded seven top five finishes, including medalist honors last fall at the SIUE Intercollegiate-her third career medalist honor-and second place at the EKU Lady Colonel Classic, the SIU Intercollegiate and F&M Bank APSU Intercollegiate.
Harris' 54-hole 221 score at Eastern Kentucky represented the lowest in Austin Peay history. Her 224 total at both the Drake Creek Invitational and the Cincinnati Fall Classic also rank in the top five in Lady Govs history.
Joining Harris on the first team are: Jacksonville State's Lucia Fernandez Valdes and Morehead State's Marisa Kamelgarn, both repeat choices from a year ago, plus Howson and Morehead State's Paige Lausier.
The second team included JSU's Luz Armijo-Fernandez and Astrid Parsson, Morehead State's Emma Johnson, Murray State's Morgan Cross and Eastern Kentucky's Lisanne Schmidt.
APSU was shutout on the All-Newcomer team. Howson, JSU's Lourdes Lopez Caballo and Parsson earned such honors along with Morehead State's Amalie Munck and Sofia Pettersson.