The flood warning continues for the Cumberland and Red Rivers in Tennessee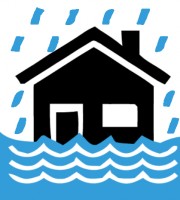 Clarksville, TN – The Cumberland River at Clarksville is expected to rise above flood stage Wednesday morning, and crest Wednesday evening near 47 feet. At 8:00pm on Tuesday the river water level was at 45.4 feet. The flood stage is 46.0 feet, at which point the left bank of the Cumberland River overflows and flooding begins in Clarksville. The river is expected to fall below flood stage by late Thursday morning.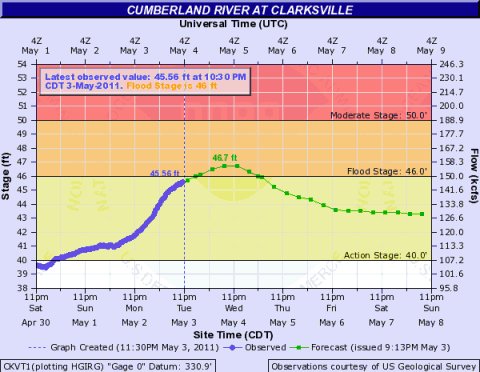 The Red River near Port Royal will continue to rise due to the recent rainfall events and crest Wednesday morning. It will remain within the minor flooding range and is expected to fall below flood stage Wednesday evening. At 8:00pm on Tuesday the stage was 32.2 feet, minor flooding is occurring. The river will continue rising to near 33.8 feet by tomorrow morning. The river is expected to fall below flood stage late tomorrow evening.
At 1:42pm CDT water levels on the Tennessee and Cumberland Rivers continue to rise . The Cumberland River level at Dover was at 372.5 feet and rising. Water levels behind Barkley Dam are expected to peak at 373.0 feet… Which would cause the river level at Dover to reach near 374.0 feet Wednesday. The river is expected to slowly fall to 373.0 feet on Friday. The Cumberland River at Dover crested at 374.0 feet during the May 2010 floods.
City of Clarksville Road Closures
Spees Drive
Freestone Drive
North Woodstock Winding Way at Briar Cliff
Glenhurust Way – between Northfield and Meadow Knoll
Montgomery County Road Closures
Hematite Road
Dog Hollow Road
Lock B Road South
Powers Place
Shelton Ferry Road
Southside Road
Wyle Brown Road
Lock C Bottoms – including Lylewood Road, Kirkland Road and Levi Road
North Liberty Church Road – between Hwy 79 west and the city limits
Palmyra Road – between Vernon Creek Road and Cunningham View Road
Fort Campbell
Flooded Roads
West end Road & Old Clarksville
Boil Springs & Jordon Springs
POW Camp Road & Boiling Springs
Angels & On the Line Road
Kilabrew & Angels ( Unpassable on new bridge on Kilabrew)
Angels & Garretsburg
Oriental Village & Jordon Springs
Oriental Village & Pleasant Mill
Palmyra & 79
Smith Road (Washed Out At Range 42)
Gate 7 closed
Gate 7 remains closed to non-commercial vehicle traffic.  Commercial traffic will continue to use Gate 7.  All non-commercial traffic will divert from Gate 7 to Gate 6.  The Directorate of Emergency Services will man traffic control points at the following intersections during the morning surge from 4:30am to 9:00am to assist the additional heavy traffic flow:
Polk Road and Morgan Road
Polk Road and Indiana Avenue
59th Street and Indiana Avenue
Glider Road and Morgan Road
Glider Road and Wickham Avenue
In an effort to assist Fort Campbell personnel exiting the installation, Gate 5 will open for OUTBOUND traffic ONLY between 3:00pm and 7:00pm  Once Gate 7 re-opens for all traffic, Gate 5 will return to FULL CLOSURE.