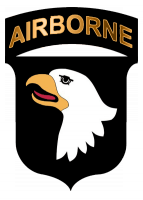 Fort Campbell, KY – After several days with no flights arriving to Campbell Army Airfield, Saturday, May 28th,  192 soldiers with the 2nd Brigade Combat Team (BCT) and 723rd Explosive Ordnance Disposal Company (EOD ) returned home as the sun set. Just as the sun cleared the tree line, the plane was in site.  Friends and family who gathered just outside hanger 3 began to cheer as the plane carried their soldier was about to land.
This is a day they have been waiting for a year to arrive.  There were many tears and cheers as the plane taxied  along the tarmac.
Once the notice was given that the plane was 15 minutes away, the hanger nearly empties as everyone made their way out to watch as the plane landed.
Along with the soldiers who returned to Campbell Army Airfield were reporter Jeff Tang and photographer Nathan Thompson from News Channel 5 in Nashville Tennessee, who have been embeded with the soldiers in Afghanistan.
Jessica Gurule and her four children were  very excited to see her husband SPC Mark Gurule.  Jessica says that now that he is home, it's time for a well deserved vacation. The couple have planned a trip to Las Vegas and then back home to New Mexico to visit family.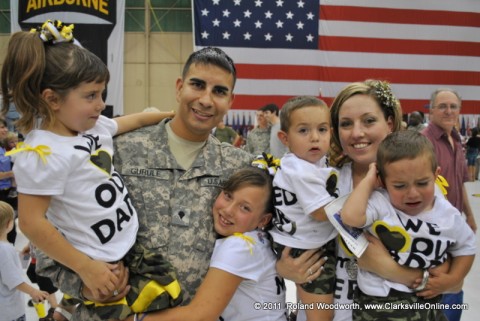 Once inside the hanger  Brigadier General Jeffrey N. Colt welcomed everyone home in a short speech to the soldiers.  Afterwards everyone was allowed 15 minutes of family time before heading back to their unit to turn in their gear.
As soldiers were released, it was a race across the hanger floor as friends and family members searched for their soldier. Although the time is short, it's only a little longer until they are released for the night to spend some quality family time together.
If you wish to attend a Welcome Home Ceremony, check the flight schedules online, as times are subject to change at anytime. When arriving to Fort Campbell, enter via Gate 7; if you don't have installation stickers on your vehicle, you will be required to get a visitor pass. From there just follow the signs to the ceremony parking. Waiting buses transport family members safely to the hanger.
Photo Gallery