Clarksville, TN – Austin Peay State University athletics director and basketball coach Dave Loos will be honored with the Ambassador's Choice Award, Saturday, during the 2011 Celebration of Unity Day at First Assembly of God.

Loos, along with Maj. General John F. Campbell, the commanding general at Fort Campbell, and Pastor Wess Morgan, a contemporary recording artist, will receive the prestigious awards during 6:00pm, ceremonies during the night's festivities at First Assembly of God, located at 1186 Fort Campbell Blvd., to unite the Clarksville and Fort Campbell communities plus celebrate the accomplishments of diverse leadership. The trio also will receive special recognition from Tennessee Governor Bill Haslam, the City of Clarksville and Montgomery County.

The Ambassador's Choice is a community service award based upon outstanding merit, achievement, service, recognition and commitment to excellence in the workplace, community and for making a difference in the lives of those they serve.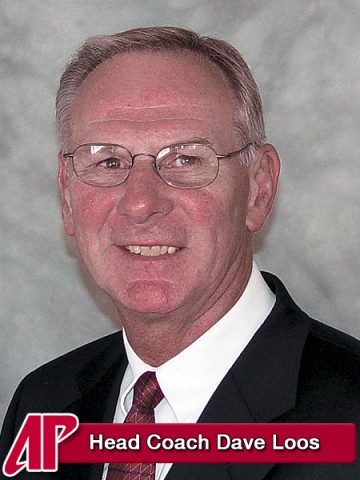 Loos recently completed his 14th year as APSU Athletics Director and 21st as Austin Peay's head basketball coach. The dean of Ohio Valley Conference athletics directors and coaches owns a 351-289 Govs record and 433-343 overall mark after 24 seasons.
Loos' 320th APSU win, December 9th, 2009, moved him past former Murray State and UT Martin coach Cal Luther (319 wins) as the OVC's all-time wins leader.
Loos also owns 223 OVC victories during his impressive tenure and is 90 games (223-133) above .500 during his 21 seasons, even after an inauspicious 16-26 mark in the first three seasons.
Under Loos, the Govs have had 13 winning seasons in the last 16 years, including the 2007-08 team's 24-11 mark–tying for the most wins in school history. It marked the Govs' fifth 20-win season under Loos.
He is the only Division I basketball coach in the country who also serves as the program's athletics director. He also served on the prestigious NCAA Division I Basketball Issues Committee.

This is the second year for Unity Day. The event was the brainchild of Treva Gordon, founder and publisher of the Convenient Shopper, an advertising supported bi-monthly magazine. Unity Day promotes unity among family as well as peace among people of all walks of life.  It was created with a focus on family values and multiculturalism.
In addition to the presentation of the Ambassador's Choice Awards, several local pastors and non-profit organizations will be recognized.
Sections
Events
Topics
APSU Athletics, APSU Athletics Director, APSU Men's Basketball, APSU Sports, Austin Peay State University, Bill Haslam, Cal Luther, City of Clarksville, Convenient Shopper, Dave Loos, Fort Campbell Blvd, John F. Campbell, Montgomery County TN, Murray State, Treva Gordon, Unity Day, UT-Martin