APSU Sports Information: APSU Soccer

Clarksville, TN – Austin Peay State University women's soccer team suffered its second-straight loss, falling 2-0 to UT Martin, in Ohio Valley Conference play, Sunday afternoon.
The Skyhawks (6-3-2; 1-0-1 OVC) took an early 1-0 lead on a header by Alyssa Curtis. An Austin Peay (6-5; 0-2 OVC) foul set up the indirect kick and Curtis managed to break free inside the box for the goal. UT Martin scored the insurance goal in the 48th minute.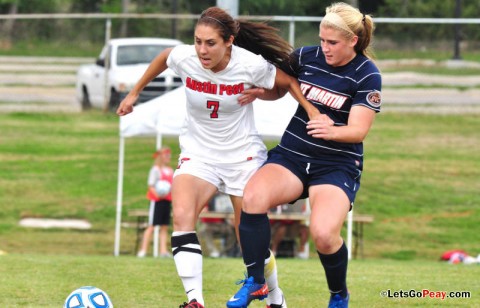 "I can't take anything away from UT Martin," Lady Govs head coach Kelley Guth said. "We didn't play our best game. I thought we played well enough to compete and be in it, but at the end of the day, we didn't execute. (UT Martin) took advantage of their opportunities and that's what you have to do to win."
A mere glance at the box score shows that Austin Peay outplayed the UT Martin in almost every statistical category. However, for the Lady Govs, it boiled down to failed execution inside the 15-yard box. The Lady Govs had 12 shots in the match, but managed to put only two on goal – a far cry from the offensive powerhouse they looked to be during non-conference action.
UT Martin, meanwhile, was efficient with its five shots, putting four on goal and scoring twice. The Skyhawks repeatedly found seams in the defense and capitalized.
Austin Peay had opportunities throughout the game, but were unable to find the back of the net. In the first half, the Lady Govs had four corner kicks which resulted in failed attacks. Sophomore Andy Quiceno had a clean shot attempt go wide in the 14th minute and moments later, sophomore Morgan Zigelsky had a one-time rocket off the post.
Four Lady Govs had two or more shots in the game, led by Quiceno. Midfielder Jocelyn Murdoch, who had two shots, was named the Copies in a Flash Player of the Game.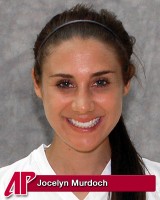 "We had opportunities to finish and we didn't," Guth said. "If you can't score, you can't win games. It's disappointing. We have to take a serious look at what we're doing inside the penalty area. We have to get back to the team we were during non-conference play."
It's all OVC play the rest of the way for the Lady Govs, with a three-match conference road trip on the horizon. Austin Peay will use the next week searching for its offensive rhythm, before playing matches at Murray State, Jacksonville State and Tennessee Tech before returning to Morgan Brothers Field.