Written by Spc. Michael Vanpool
101st Sustainment Brigade, 101st Airborne Division (AA) Public Affairs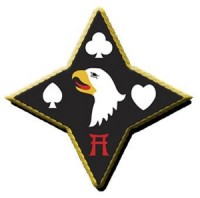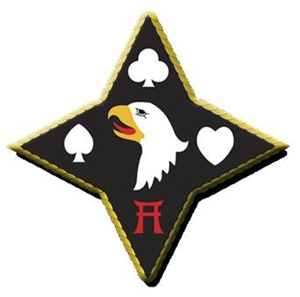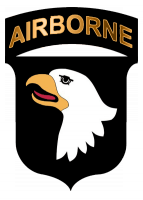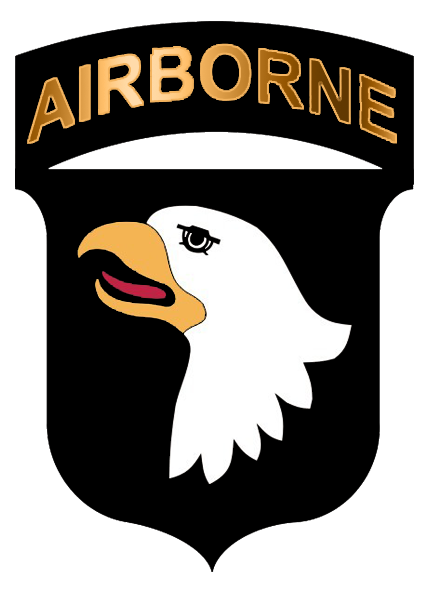 Bagram Airfield, Afghanistan – More than 50 deployed soldiers of the 101st Sustainment Brigade continued their lives in the Army and re-enlisted at several forward operating bases, October 2nd.
The Lifeliners are spread throughout northern and eastern Afghanistan for Operation Enduring Freedom, deployed to Iraq helping the retrograde of Operation New Dawn, and in Kuwait working the Theater Gateway.
"Where we have soldiers, we have people re-enlisting," said Master Sgt. Michael Bonfardine, brigade career counselor.
He credits the changes in the options for the new fiscal year that allowed the Lifeliners to re-enlist. "Because they opened up the options, it allowed more soldiers to reenlist before they redeploy," Bonfardine said.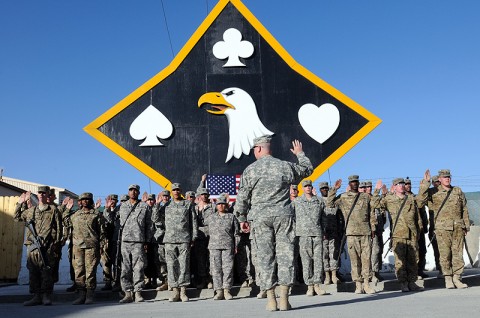 Ultimately, for each of the soldiers, the decision to sign the dotted line and continue in the Army was up to them. Motivation to remain a soldier is different for each of the Lifeliners who re-enlisted today.
"I re-enlisted because it wasn't time for me to get out of the Army and I want to take care of my family," said Spc. Carmen Poe, a human resources specialist for the 101st Special Troops Battalion, 101st Sustainment Brigade.
Most soldiers are given options when they chose to re-enlist. Even though they are far away from the gates of Fort Campbell now a lot of the Lifeliners chose to stay with the 101st.
"I got stabilization for Fort Campbell," Poe said. "I want to stay a Screamin' Eagle. My heart is there in Fort Campbell."
When the Lifeliners return to Campbell and stay in the coming years, they have plans on furthering their careers.
"I got to stay at Fort Campbell and be the senior court reporter at Fort Campbell," said Sgt. Ana Hairston, a paralegal for the 101st Sustainment Brigade, and an eight-year veteran of the Army.
Hairston said she plans on staying in the Army for 20 years.
When some of soldiers were looking through options at the reenlistment office, they found out that in order to stay Army, they'd have to change their job, or military occupational specialty.
"I had to re-class due to Army standards… I did get to choose. My current MOS I fix radio, comm. sec devices. My new MOS I'll run the network, your computers, phones, printers," said Sgt. Andrew Farnsworth, information management officer and electronic warfare non-commissioned officer for the 584th Sustainment Maintenance Company, 142 Combat Sustainment Support Battalion, 101st Sustainment Brigade.
Some of the non-commissioned officers standing among the ranks repeating the oath to their country were doing so for the last time. They reached the point in their military careers, known as indefinite, pledging to stay in until they retire.
"I love the Army. I have since I first signed up," said Sgt. 1st Class Brandon Koone, the personal security team non-commissioned officer in charge, 101st Sustainment Brigade, and 13-year veteran.
"I'd like to become a sergeant major, and try and stay in thirty years if I can."
For more information of reenlisting, go to www.armyreeyonlistment.com/ or contact your unit career counselor.