Written by Spc. Shawn Denham
PAO, 2nd Brigade Combat Team, 101st Airborne Division (Air Assault)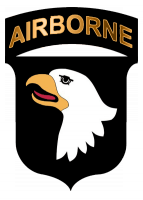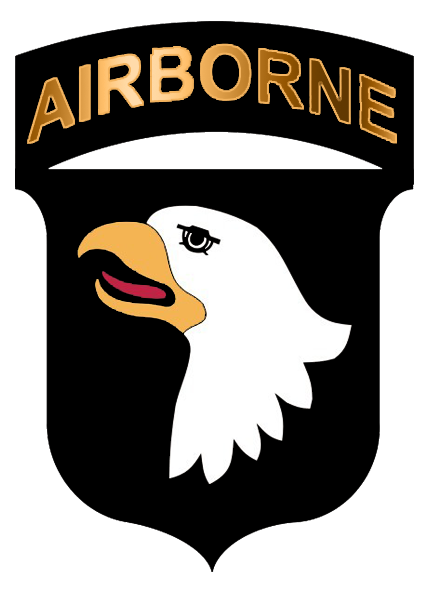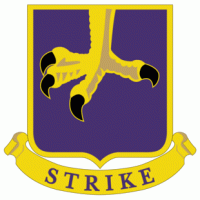 Fort Campbell, KY – A year ago the Soldiers of the 2nd Brigade Combat Team, 101st Airborne Division (Air Assault), celebrated the holiday season in southern Afghanistan, 7,741 miles away from Fort Campbell, friends and family. For this year in garrison, Strike Brigade celebrates the season at home with its Soldiers and family members together.
Soldiers of Strike Brigade were served Thanksgiving Dinner by the brigade's command staff at Strike's dining facility, at Fort Campbell, KY, November 22nd.
The tradition of the command staff serving the Soldiers shows the respect the leaders have for the Soldiers under their command.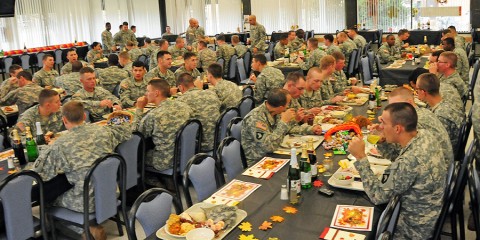 "It's important that the command staff serve Soldiers today because the Soldiers serve us every day," said Capt. Jonathan Fredericks, commander of Troop D, 1st Squadron, 75th Cavalry Regiment. "I'm glad to be here on this day."
Soldiers and family members lined up and were greeted by the friendly cooks of the DFAC, who worked long hours to provide a special meal for the Soldiers. Festive decorations such as pumpkins, orange ribbons and other trimmings combined with seasonal favorite foods like turkey, dressing and pumpkin pie helped add to the scene. Outside, a live turkey in a cage was granted pardon by the brigade from becoming this year's main course. To complete the ambiance, a live band made of Soldiers played music for the dinner crowd's entertainment.
"Knowing Soldiers would be enjoying the meal felt good," said Pvt. Jordan Duquette, a cook with the brigade's Company E, 1st Battalion, 502nd Infantry Regiment. "I worked from 5:30am every morning until 7:00pm or 8:00 o'clock every night for the last two weeks. It's a lot of work. Every detail has to be perfect. Just like when we were in Afghanistan; a lot of effort went into it."
For many Soldiers this is an opportunity to spend time with family and loved ones. A year ago, most were patrolling places called Arghandab, Zharay, Maiwand and Panjwa'i.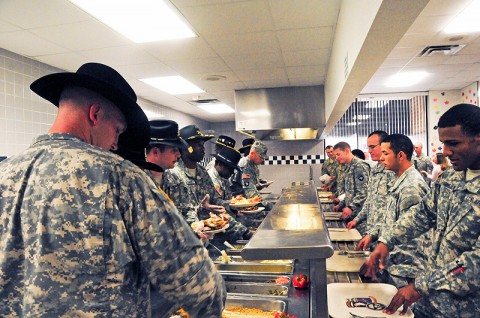 "My family is more important than anything else," said Sgt. Taylor Wellendorf, a squad leader with Company D, 2nd Battalion, 502nd Infantry Regiment, who brought his children with him to the dinner. "I haven't eaten at the DFAC in awhile and I'm looking forward to it."
Wellendorf spent Thanksgiving last year patrolling in Kandahar, Afghanistan.
"Spending time with family is very important to Soldiers," said Staff Sgt, Charles Phillips, chaplain's assistant with Strike, whose wife and children accompanied him to the DFAC. "Later we're probably going to watch some movies and play some video games together."
During deployment, Soldiers face hardships such as separation from loved-ones, daily risks from enemy fire and other challenges. The stresses of being in a combat-zone may be felt especially around the holiday season, a time when normally individuals would be gathering together with friends and family in a home. During Strike's last deployment, the DFACs served a wide variety of holiday foods combined with decorations to help bring the brigade together as a family of Soldiers. For Soldiers who were operating at combat outposts and checkpoints away from a main dining facility, special visits by command staff helped strengthen bonds and boost morale. Strike Brigade worked to include everyone in the holiday celebrations, the brigade's tradition continues.
Also serving the Strike Soldiers was Maj. Gen. James C. McConville, 101st Airborne Division's commander and Command Sgt. Major Scott Schroeder, the 101st's csm.
 "I enjoyed my Thanksgiving Eve with our Screaming Eagles by serving lunch made by our cooking professionals," said McConville.
"Thanksgiving is always important and all about being around family," said Schroeder. "Last year you were around your Strike family and this year you get to spend it with your home family."
From the sand and dust of Afghanistan to the woods and gravel of Fort Campbell, Strike Brigade understands the importance of giving thanks. This year allowed the Soldiers and their families to come together with good food, good company and good atmosphere in the spirit of the holiday.
"It's a pleasure to see Soldiers celebrating the day with their families and friends," said Col. Daniel Walrath, the Strike Brigade's commander. "The Strike Soldiers were deployed last year and away from their families; I'm glad they have the opportunity to celebrate the holiday together this year."