Clarksville, TN – This Christmas season do the planet a favor and select a natural Christmas tree from a local tree farm. Christmas tree farms grow a completely renewable and recyclable resource which contains no petroleum products and leaves a very small carbon footprint.
According to Tennessee Department of Agriculture's Pick Tennessee Products, natural Christmas trees can be found close to home, just waiting to be transported from the farm to your living room.
While they're growing, natural Christmas trees absorb carbon dioxide and other gases and emit fresh oxygen. Christmas trees are often grown on soil that doesn't support other crops, and their root systems serve to stabilize soil, protect area water quality and provide refuge for wildlife.
Grown on farms just like any other crop, one to three new seedlings are planted for every tree harvested to ensure a constant supply.
Do you have an artificial tree? Have you ever really thought about where plastic comes from? Plastic, thus artificial trees, are made with petroleum products. Lead, an ingredient in PVC (polyvinyl chloride) plastic and other metals, are also important parts of an artificial tree.
It is reported that about 85 percent of them start in China, but they'll end up sitting in our local landfills for centuries. Another benefit to using live trees is that after the holidays you can take them to local sites to be ground into mulch for hiking trails, or you can always put the old trees in ponds or lakes for fish habitats.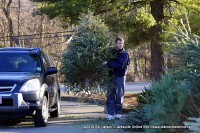 No matter what you do with it, real trees are 100 percent biodegradable. In Clarksville you can take your tree to Dunbar Cave Natural area at 401 Old Dunbar Cave Road where CDE grinds up the trees which are then used to mulch the trails. More information on that will be available after the holidays.
Another option is to purchase a living (ball & burlap) evergreen tree to plant in your landscape once the holidays are over. Buying a live tree from a farm close to you is a guarantee that the variety you choose will grow well in your area, an assurance you can't always get other places.
If you buy a live tree do so only a couple weeks before Christmas and plant outside as soon as possible. A live tree does not like the dry, indoor environment of your home and will be much happier once placed in the landscape! Make sure to water the tree while it is inside and after you plant it outdoors.
Going to the local tree farm is more than just going out to buy a tree, it's the whole experience of driving out to the country, selecting the perfect tree as a family. It's sharing hot chocolate around a fire or going on a hayride around the farm while meeting new people and enjoying nature itself.
The growers are members of this community and their livelihood depends on loyal customers. Most tree farms carry freshly made wreaths and garlands, and many have gift shops on site with all sorts of holiday décor inside. So, let's all make the effort to support Montgomery County's economy and buy local this Christmas!
RiverView Mounds Century Farm, 1715 Boyd Rinehart Road, Clarksville, TN, 37043
Lazy Spread Christmas Tree Farm, 3682 Dailey Road, Clarksville, TN, 37042
Erin's Farm, 5816 Hodges Road, Cunningham, TN, 37052
Kirkwood Tree Farm, 3792 Buck Road, Clarksville, TN, 37043
Santa's Place, 2175 Dunbar Road, Woodlawn, TN, 37191
J & J Century Farm: 1219 St Michael Road. Southside, TN 37171
Map
Have a Blessed Christmas & Happy New Year!
Karla