Clarksville, TN – On December 20th, 2011, around 12:18am, Emergency personnel responded to an explosion at 205 Lexington Drive where a man was outside screaming for help.
When officers arrived on scene they found a man outside with burns to face and upper body. The glass was blown out of the windows of apartment D and the siding had separated from the building. There was also fire inside of apartment D.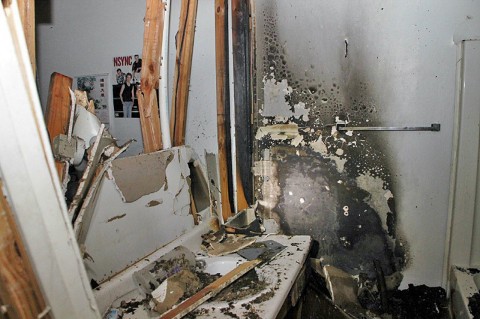 The fire department extinguished the fire and it was determined there was a possibility that there was a meth lab inside of the apartment. The 19th Judicial Task Force was notified and responded to the scene.
Director Jesse Reynolds and Agent Kyle Darnell went inside and found numerous one pots inside and extensive damage to the bathroom area. The apartment was sealed off until a search warrant could be obtained.
There are four apartments in the 205 building which are now condemned and the families displaced. In apartment A, there was a family with a one and two year old inside when the explosion took place. In apartment B, there was a woman inside at the time of the explosion; she is the person that called 911. A man who lives inside of apartment C was not home at the time. The 22 year old that sustained the burns was inside of apartment D, when it exploded.
The 22 year old man was transported to the hospital, and then transported by Lifeflight to Vanderbilt for treatment.
The Red Cross was notified and is assisting the displaced families.
The lead investigator is Agent Kyle Darnell, 19th Judicial Task Force, 931.648.5753.  Charges are pending.
Photo Gallery