Austin Peay Lady Govs (3-12, 0-2 OVC) at Eastern Kentucky (6-6, 2-0 OVC)
Monday, January 2nd, 2012 | Tipoff: 6:00pm (CT)
Richmond, KY | Arena: McBrayer Arena (6,500)

Clarksville, TN – Austin Peay wraps its Ohio Valley Conference-opening three-game road trip – and ushers in 2012 – with a 6:00pm (CT), Monday contest against Eastern Kentucky at McBrayer Arena. The two teams enter the week on opposite ends of the OVC standings.
Austin Peay fell to 0-2 in OVC play after a 74-67 loss at Morehead State, Saturday, and will be playing its third game in five days. Eastern Kentucky improved to 2-0 in conference action with its 79-59 win against Tennessee State, Saturday. The two teams split last season's series with the home team winning each contest.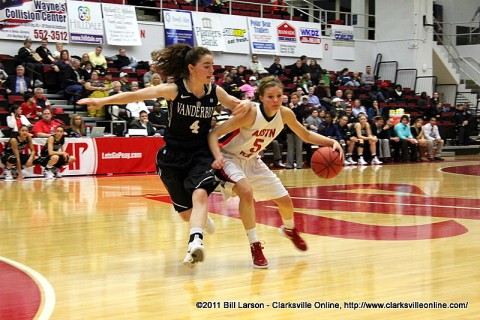 Austin Peay committed 16 first-half turnovers in its loss at Morehead State, Saturday, and surrendered 22 points off turnovers. The Lady Govs tightened the screws in the second half, surrendering only five turnovers while forcing 15 Eagles turnovers (17 points scored). Its 21 turnovers in the contest were its 5th 20+ turnover outing (nine games) in December.
Austin Peay used a 10-steal second half to tie its season high with 14 steals in the contest, its 10th double-digit steal outing this season. The Lady Govs made more than 40 percent of their field goals (28-of-61, .467) for the third time in their last four games. Senior Jasmine Rayner (10 pts/10 reb) and junior Meghan Bussabarger (15 pts/11 reb) became the first teammates to record double-doubles in the same game since Rayner and Nicole Jamen did so in the 2010 OVC Tournament Championship game.
About Eastern Kentucky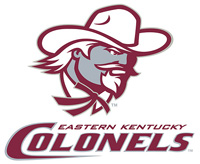 Eastern Kentucky brings a 2-0 conference mark in to Monday's contest. The Lady Colonels opened OVC play before the Christmas break with a 80-76 overtime victory at Jacksonville State, December 20th, before posting a 79-59 win against Tennessee State, December 29th.
Eastern Kentucky has won four of its last five outings, adding wins against Chicago State and Belmont to its two conference wins. Marie Carpenter leads EKU with 13.8 points per game and is one of three players averaging more than 10 points per game as the season enters its midpoint.
OVC Turns To 16-Game, Unbalanced Slate In 2011-12
With the inclusion of SIU Edwardsville in the regular-season race – it will not be eligible for postseason competition this season – the league's coaches and athletic directors elected to use an unbalanced schedule for the upcoming season. In women's basketball, the unbalanced schedule means each of the league's teams will play its two "rivals" twice this season – Murray State and Tennessee State in Austin Peay's case.
In addition, each team will play four of the remaining schools twice – Morehead State, Eastern Kentucky, UT Martin and Southeast Missouri against Austin Peay. Each school will face the remaining four teams – Jacksonville State, Eastern Illinois, SIU Edwardsville and Tennessee Tech in APSU's case – just once.
OVC Women's Action Moves To Saturday-Monday Format
In addition, OVC women's basketball contests will be played predominantly on a Saturday-Monday format. Last used during the 2002-03 season, both the men and women's teams will play Saturday with the women playing a solo contest the following Monday. Only the regular-season's final week will see a Thursday-Saturday format scheduled by the league to accommodate the league tournament the following week.
Fast Break Points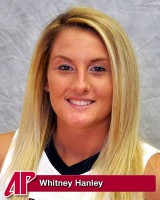 Austin Peay continues to search for the right starting five combination. The Lady Govs have used 10 different starting lineup combinations this season. In addition, no player has started every game this season, the second consecutive year that will have occurred.
Senior guard Whitney Hanley became the 14th Austin Peay women's basketball player to reach the 1,000-point plateau with her 21-point performance at Lipscomb, November 14th. Her 1,211 career points is tied for ninth with Georgie Vaughn (1991-95). Hanley needs 96 points to reach eighth on the list held by Elaine Swafford (1.307 pts, 1977-81).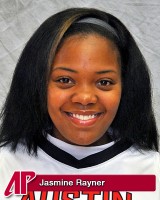 Hanley saw her school-record streak of consecutive made free throws stopped at 25 when she missed her first free throw at Tennessee State, December 29th. She made her final three attempts. She broke the record, previously held by Brooke Armistead (24 consecutive FTM), with a 4-of-4 effort against Alabama A&M, December 21st.
Senior forward Jasmine Rayner is working towards the 1,000 career point plateau – and now needs only 21 points to become the 15th Lady Govs player to reach the milestone.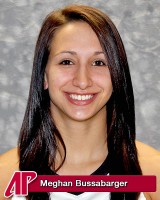 Austin Peay returns its four leading scorers from last season's team: Hanley (12.2 ppg), Rayner (10.5 ppg), junior forward Meghan Bussabarger (8.0 ppg) and sophomore guard Nicole Olszewski (8.0 ppg).
Hanley was named to the Preseason All-OVC team after receiving second-team All-OVC honors last season.
Austin Peay is 45-51 (.469) in regular-season OVC play under Daniels.
The Lady Govs are 21-22 (.488) in December under Daniels.
An Austin Peay Win Would
End its current four-game losing streak… be its third win in its last four meetings with Eastern Kentucky… end a two-game losing streak at McBrayer Arena (last win Jan 27, 2009)… improve Daniels' record to 67-107 overall… make the Lady Govs 419-578 overall since 1976-77.
An Austin Peay Loss Would
Be its fifth consecutive loss… be its second straight loss to Eastern Kentucky… be its third-straight loss at McBrayer Arena… drop Daniels' record to 66-108 overall… make the Lady Govs 418-579 overall since 1976-77.
Last Time Out
Lady Govs at Morehead State
December 31st, 2011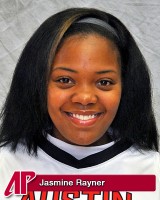 Morehead, KY – A turnover-prone first half effort doomed Austin Peay in a 74-67 loss to Morehead State, Saturday afternoon, in Ohio Valley Conference action at Johnson Arena.
Austin Peay trailed by three points, 17-14, with 9:53 remaining before the worst of its offensive woes hit. The Lady Govs would go the next 5:32 without scoring, missing four shots and turning the ball over six times on its nine possessions during that span.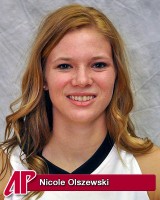 Morehead State took advantage of Austin Peay's offensive problems, piecing together a 15-0 run to take a 32-14 lead with 4:21 remaining. The Lady Eagles continued to press their momentum the half's remainder, securing a 20-point, 43-23 halftime advantage.
The Lady Govs committed 16 first-half turnovers and were limited to 23 shot attempts. Morehead State scored 22 points off those giveaways and put up 40 shot attempts.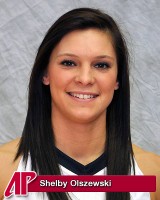 The Lady Govs made their big push with 5:15 remaining in the contest, scoring nine consecutive points. Senior Jasmine Rayner started the run with a layup and Austin Peay stole the ensuing in-bounds pass which led to a conventional three-point play by sophomore Nicole Olszewski. Morehead State couldn't get out of its own end on its next possession, freshman Shelby Olszewski picking off a pass and passing ahead to junior Meghan Bussabarger who scored the breakaway layup.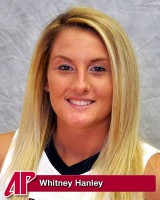 Austin Peay would have to wait a little longer to finish the run, Bussabarger scoring on a baseline jumper off a pass from Shelby Olszewski, getting Austin Peay to within eight points, 67-59, with 3:57 left. However, Bussabarger was hurt on the ensuing Morehead State possession and a timeout snafu followed that seemingly sapped the Lady Govs momentum. Austin Peay would get no closer than eight points the game's remainder.
Senior Whitney Hanley led all scorers with 21 points – her seventh 20-point effort – but was 7-of-22 shooting. Bussabarger recorded her season's second double-double with a 15-point, 11-rebound effort that included four steals.
Rayner scored her season's first double-double, finishing with 10 points and 10 rebounds.
Lady Govs Last Meeting With Eastern Kentucky
January 29th, 2011
Richmond, KY – A wounded animal is the most dangerous as Austin Peay found out the hard way in a 61-56 loss to last-place Eastern Kentucky in Ohio Valley Conference action at McBrayer Arena.
Austin Peay (7-15, 6-4 OVC) never trailed by more than seven points in the contest, but trailed for 36 minutes of the contest. The Lady Govs scored five consecutive points in the second half to take a two-point, 36-34, lead with 15:12 left. Freshman Shyra Brown extended the lead to four points, 38-34, seconds later.
However, Eastern Kentucky (5-14, 2-8) scored the game's next two baskets to tie the game, 38-38, with 13:01 left and sophomore Shakeyia Colyer's field goal at the 11:47 mark returned the lead to the Lady Colonels possession, 40-38.
The game remained a one possession affair for the next 10 minutes. The Lady Colonels finally gained a two-possession cushion on sophomore Brittany Coles conventional three-point play at the 1:36 mark, which gave EKU a 54-49 lead. Eastern Kentucky made seven of its 12 free throws in the final minute to secure the victory and end its eight-game losing streak.
Eastern Kentucky scored the game's first six points as Austin Peay got off to a slow start offensively, missing its first five shots and committing a turnover. The Lady Govs got on the board courtesy senior Brooke Faulkner's three-point field goal at the 16:51 mark.
The Lady Colonels would lead by no more than five points the half's remainder. Austin Peay gained a brief lead late in the period, scoring three consecutive points at the free-throw line on two different possessions to take a 29-28 lead. Eastern Kentucky wiped that lead away 36 seconds later on senior Cherie White's field goal with 55 seconds left that also set the halftime margin, 30-29.
Senior Dalila Thomas led Austin Peay with 13 points off the bench.
Faulkner chipped in 10 points to lead the Lady Govs starting five. Brown scored four points but grabbed a team-best nine rebounds off the bench.
Carrie Daniels Show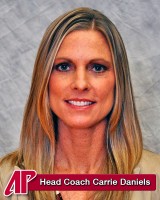 The Carrie Daniels Show airs at 6:00pm, each Wednesday, live from Edwards Steakhouse on Franklin Street in downtown Clarksville.
Hosted by Brian Rives for the fourth consecutive season, the show will air live on WVRY 105.1 FM and be simulcast over the internet at LetsGoPeay.com.
Next Game
Lady Govs Open Homestand vs. Murray State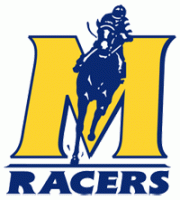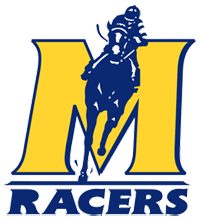 Austin Peay begins its longest homestand this season when it hosts Murray State in a 3:00pm, Saturday contest at the Dunn Center. The Lady Govs were just 1-4 at home during the 2011 portion of their schedule.
Murray State will be concluding a six-game road trip that saw it pick up its first road win in its OVC opener at Southeast Missouri, 80-75, Saturday.