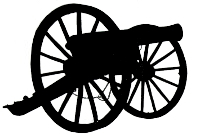 Clarksville, TN – Ladies in antebellum gowns featuring hoop skirts, frills and ruffles danced with gentlemen dressed in blue and gray uniforms. Sounds of the hammered dulcimer, fiddles and guitar accompanied the authentic dances of the Civil War era as the band, Red River Breeze played lilting reels and other music of the times.
Sponsored by the Friends of Fort Defiance, the annual Civil War Ball was held at the Emmanuel Center, 303 Fairview Lane, in Clarksville from 6:00pm to 10:00pm Saturday, January 14th. It was sponsored in part by the Clarksville Montgomery County Civil War Sesquicentennial Committee.
Special guests included Alan Robinson, executive director of the Custom House Museum and Cultural Center; Mark Tummons, Clarksville Parks director; William Parker, Fort Defiance interpretive historian; Carolyn Bowers, Montgomery County Mayor; and Bill Larson, publisher of Clarksville Online.
Roger Tinney, President of Friends of Fort Defiance, welcomed all the guests and encouraged everyone to visit Fort Defiance. Since its opening in April, 2011, Fort Defiance has already had more than 10,000 visitors.
Other officers of Friends are Bob Parker, vice president; Sheree Sykes, secretary; and Billie Nanney, treasurer.
Participants feasted on "down home Southern cooking" catered by Geneva Bell and served by six young waiters. Dinner was a choice of chicken, ham, mashed potatoes, black-eyed peas, turnip greens, cornbread muffins, biscuits, and either chocolate, coconut or white cake.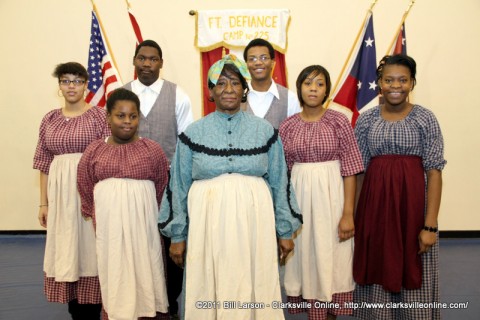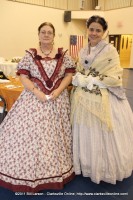 Traveling all the way from St. Louis, Missouri, caller Deborah Hyland taught interesting dances like the quadrille (now called square dancing but named for the eight participants in each group) and the celebrated opera reel. Some dances were performed with a line of men facing a line of women as they moved forward and backwards and crossed under arms held in an arch. Other steps like the scissors step that required moving right, then left as one faced a partner. She also introduced the Virginia reel as it was originally danced.
Ms. Hyland has been a caller for more than 20 years. She now teaches this skill professionally at Folk School in St. Louis after learning her expertise through many workshops throughout the country.
The music provided by Red River Breeze was soft, energetic and pleasing to the ear. Members of the group are Stephanie Taylor, hammered dulcimer; Byron Dumas, fiddle (also guitar); Melanie Beck, fiddle; and David Magers, guitar (also accomplished on the hammered dulcimer). Ms. Taylor formed the group 12 years ago in Clarksville. She had been playing the Irish whistle and decided she must learn the hammered dulcimer, quite a switch in types of musical instruments.
The group plays Celtic, Old-Time American, and Renaissance music. The group has produced two albums, "Friday Night Favorites" and "Morgan's Song." Their third album, "The Wren at the Window" is in progress. You can learn more about the group at RedRiverBreeze.com on the web.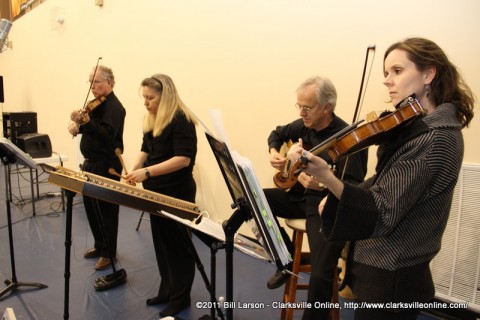 The Civil War Ball this year did not require historic dress but allowed for semi-formal clothing. In the 1800's, it was assumed that every participant in the dancing would wear gloves. In those times, ladies had to be asked to dance and would have to be escorted to the floor by the gentleman. She could not even walk to the punch bowl alone. Ordinarily, a gentleman did not dance with his wife in public, but could do so if he wished. Manners were strict and those who participated in society knew the correct way of behaving.
The Grand March opened the evenings dancing. Remember that in the movie, Gone with the Wind, it was considered scandalous that Scarlett O'Hara, then a widow (dressed all in black, as was required), danced with Rhett Butler; this was deemed a complete breech of etiquette.
One of the delights of the evening is getting to know some of the participants. Phyllis Smith is one of each year's organizers as is Don Horton and Tom Fitzgerald, one of the Board members.
I sat with Steven and Jerrie Currie of Woodlawn, and Billie Ruth Nanney. The Curries are active in many organizations including the Society for Creative Anachronism (SCA), a living history group that studies medieval times. A potter, Mrs. Currie has made authentic style cooking vessels for these meetings. She also sews her own clothing for each type of event, including Saturday's Civil War Ball.
Mrs. Nanney, fashionably dressed in an authentic Civil War black evening gown and matching mitts (lace or crocheted gloves without fingers), talked with newcomers about how to find gowns in the style of the 1860's. She related that many dressmakers will create an appropriate gown from authentic patterns and materials, or one can locate the gowns themselves over the Internet. Other gowns can be purchased from people who formerly participated in this type of event. She said that her mitts were purchased through Blockade Runner in Wartrace, Tennessee.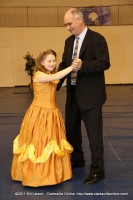 One special member of Saturday night's ball was nine-year-old Emily McCollum. Dancing with her father throughout the evening, Emily seemed to be having the most fun of all. She was a quick learner throughout all the dances and swirled her golden gown with near expertise by the end of the evening.
The Civil War Ball is a special evening in Clarksville every year. Whether you participate in the dancing or merely watch from the sidelines, it is a night to remember forever.
Photo Gallery