Austin Peay Men's Basketball vs. Jacksonville State
Wednesday, February 29th, 2012 | Tipoff: 8:00pm (CT)
Nashville, TN. | Arena: Municipal Auditorium (8,000)

Nashville, TN – Austin Peay's bid for the Ohio Valley Conference tourney championship and its seventh NCAA tournament appearance will begin 8:00pm, Wednesday, as the Governors face Jacksonville State in Municipal Auditorium.
The Governors enter the tournament as the No. 6 seed after finishing in a sixth-place tie with Jacksonville State. The Govs gained the higher seed as a result of winning the two team's earlier meeting, a 60-57 APSU decision in Clarksville Tennessee.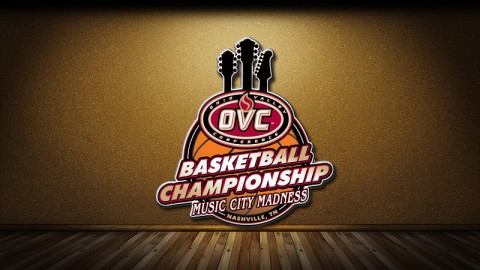 An uneven season saw the Govs end the campaign on a three-game winning streak, including a 68-59 victory, Saturday night, against Southeast Missouri. TyShwan Edmondson, who struggled with his perimeter shot much of the season, continued his late-season assault by knocking down 6-of-7 three-point attempts en route to 25 points. Fellow senior Melvin Baker scored a career-high 22 points.
That victory came on the heels of Thursday's road win that saw the bench score 47 of the team's 85 points.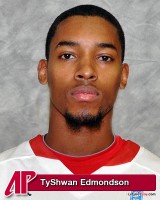 The Governors enter the tourney with four players averaging in double figures scoring-wise, led by Edmondson's 12.5 ppg. Fellow senior, forward Josh Terry, is at 12.1 ppg while center John Fraley, who missed the season's first nine games with a concussion, is at 11.9 ppg. Baker is at 11.5 ppg. Baker is shooting 51 percent from the floor on the season while the 6-8 Fraley is at 60 percent.
The Govs have received a late-season lift from freshman point guard Herdie Lawrence, who had 10 assists in two games last weekend while scoring a season best 19 points at UT Martin. He was OVC co-Freshman of the Week for his efforts.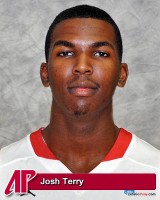 Like the Govs, Jacksonville State enters the contest amidst a three-game winning streak, including a weekend sweep of Southeast Missouri and UT Martin in Jacksonville. In fact, other than league leader Murray State, the Gamecocks may be the OVC's hottest team. Their only loss in the last five games was an overtime decision at Tennessee State.
Sophomore guard Brian Williams leads the way, averaging 13.3 ppg while 6-6 juco transfer Tarvin Gaines is at 10.9 ppg. The forward is shooting an impressive 81 percent at the free-throw line.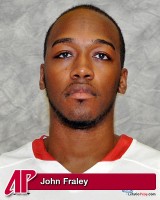 Freshman guard Darion Rackley (7.5 ppg) has emerged in the season's latter stages while transfer guard/forward Ronnie Boggs is at 7.1 ppg and 4.5 rpg. Sophomore forward Nick Cook has emerged as one of the leagues top shot blockers with 44 stuffs in 31 games.
The Gamecocks late-season evolution has come from the defensive end. In the four late-season victories, JSU permitted less than 70 points in each. Even in their loss at TSU, they permitted just 69 points even with an extra session.
Governors Pardon
This is Austin Peay's 80th season of basketball.
Dave Loos, APSU's all-time winningest basketball coach, also is the OVC's all-time wins leader with 363 career victories. He also has 455 overall coaching wins.
The Dave Aaron Arena playing floor was named Dave Loos Court, Summer 2007. Loos is believed to be one of only three current Division I men's coaches who are coaching on courts that bear their respective names–Duke's Mike Krzyzewski, and Syracuse's Jim Boeheim–are the other two.
What You Should Know
The Series: This is the 19th meeting between Austin Peay and Jacksonville State University, two Ohio Valley Conference foes, with APSU holding a commanding 17-1 lead.
The Governors have won the last 11 meetings in the series, including the January 14th game in Clarksville where the Govs outlasted the Gamecocks, 60-57. Melvin Baker led the Govs with 12 points while Tarvin Gaines came off the bench to lead JSU with 13
Deeper Meanings
What A Win Would Mean: The Govs would gain their fourth straight win and would improved to 13-19…they would advance to the OVC tourney quarterfinals…the Govs would improve to 39-32 in the OVC tournament…it would be the Govs' first win against Jacksonville State in OVC tourney play…the Governors would improve to 18-1 all-time against JSU…it would be Austin Peay's 12th straight win in the series…it would be the Govs' first neutral site victory of the 2011-12 season….it would be their fourth win in February…it would make Dave Loos 18-1 all-time against Jacksonville state..it would make Loos 8-0 against current JSU coach James Green….it would be Loos' 446th career coaching victory and his 364th APSU win.
What A Loss Would Mean: The Govs would end the season at 12-20, their first 20-loss season since the 1992-93 season…it would be Austin Peay's second opening round OVC tourney exodus in the last three seasons…it would snap an 11-game winning streak in the series…it would be APSU's first loss to JSU in the OVC tourney…it would be APSU's second straight loss in the OVC tourney…it would be Dave Loos' first loss to James Green…
Opening Tip
This is the 49th Ohio Valley Conference tournament, with Austin Peay appearing 37 times since joining the league in 1962.
This is Austin Peay's 28th straight appearance in the OVC tournament.
Austin Peay owns a 38-32 OVC tourney record.
The Governors have won four OVC tourney championships, 1986-87, 1995-96, 2002-03 and 2007-08.
Austin Peay won the 1996 and 2008 Tournament titles at Municipal Auditorium. The Governors also reached the championship game in 1989, 1995 and 2004.
The Govs are 11-6 all-time in OVC tournaments at Municipal Auditorium.
Austin Peay has reached the OVC tournament semifinals in 13 of the last 17 seasons.
Dave Loos has led Austin Peay to three of its four OVC tournament championships.
Dave Loos owns a 27-18 OVC tournament coaching record.
Austin Peay has had 40 players earn OVC all-tournament honors.
Austin Peay has watched five Governors named OVC tournament MVP–Darryl Bedford (1987), Keith Rawls (1989), Bubba Wells (1996), Josh Lewis (2003) and Todd Babington (2008).
Bubba Wells, current Austin Peay assistant coach, owns the single-game OVC tourney record for most points (43), field goals made (17) and field goals attempted (31), all coming against Morehead State in 1997.
Wells also shares the OVC tourney record for most points (99) while owning the marks for field goals made (36) and attempts (76), all coming in 1997.
Austin Peay holds the OVC tourney record for most field-goal attempts (87) vs. Eastern Illinois (2000); best field-goal percentage, .680 (34-50) vs. Tennessee State (1988) and best three-point percentage, .889 (8-9) vs. Eastern Kentucky
(1987).
Fastbreak Points
This is the 19th meeting between Jacksonville State and Austin Peay, with the Govs holding a 17-1 advantage. APSU has won 11 straight in the series, including this season's earlier meeting, a 60-57 verdict in Clarksville. No player on either team scored as much as 15 points in the defensive battle.
Dave Loos, APSU's all-time winningest basketball coach, is 17-1 all-time against Jacksonville.
Dave Loos is 7-0 all-time against current JSU coach James Green.
This is the two teams' first-ever neutral site meeting.
Streaking Govs
Austin Peay closed the season with a three-game winning streak. Improved defensive helped key the streak. Over the final three games, opponents shot just 42.5 percent from the floor and averaged just 64.7 points in the three games. Southeast Missouri, for instance, shot just 40.4 percent against the Govs, 35.7 percent in the second half. Offensively, the Govs have averaged 74.7 points per game in the three game stretch and shot 41.1 percent from three-point range.
Stats Don't Lie
In Austin Peay's 12 wins this season, the Govs shot 49.9 percent from the floor, including 41.1 percent from three-point range, as well as 70.6 percent from the line. In their 19 losses, the Govs shot just 40.9 percent from the floor, including 26.3 percent from three-point range, and just 65 percent from the floor.
In APSU wins, the Govs out-rebounded the opposition by a 1.5 rpg margin. In the losses, the Govs are being out-rebounded 3.7 rpg. In wins, the Governors are averaging 76.1 ppg while permitting 65.4 ppg. In losses, they averaged just 64.9 ppg while allowing 77.1 ppg.
Fraley Earns Madness Honor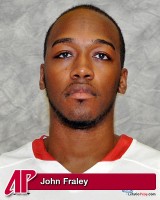 Center John Fraley was named first-team All-OVC by College Sports Madness, late Monday night, while teammates TyShwan Edmondson and Josh Terry were selected to the fourth team. Fraley enters this week's OVC tournament averaging 11.9 ppg and 8.9 rpg.
However, he is the OVC's leading rebounder (9.3 rpg) during league play and its most efficient field goal shooter (64.8 percent) while averaging a team-best 13.5 ppg. College Sports Madness is a website dedicated to covering all aspects of Division I athletics
Lawrence Honored
Herdie Lawrence, who dished out 10 assists while scoring 22 points in helping Austin Peay to a pair of victories last weekend, was named OVC Co-Freshman of the Week. The 6-0 guard came off the bench to score a career-best 19 points  against UT Martin in APSU's 85-67 road victory.
The Lawrenceville, GA, native (Collins Hill HS) finished the night going 7-of-9 from the floor, including a 4-for-5 three point effort. He also set a personal best with five assists in the game during 28 minutes. Inserted into the starting lineup at point guard against SEMO, Lawrence matched the five assists attained at UT Martin. He also went 3-for-4 at the free-throw line.
20-20
A game after placing five players in double figures at UT Martin, the Governors had just two double figure scorers against Southeast Missouri. Both TyShwan Edmondson and Melvin Baker not only reached double figures against the Redhawks, but more than 20 points as well
Edmondson finished the game 6-of-7 from three-point range to end with 25 points while Baker scored a career-best 22 points, converting 9-of-15 floor attempts. It was the first time the Govs had two 20-point performances since Edmondson and John Fraley did the trick against UT Martin, January 28th.
Baked Goods
By scoring 22 points against Southeast Missouri, senior Melvin Baker set a career single-game high in scoring, breaking his previous best of 21 set against Detroit in late November and then matched against Arkansas State, December 5th. Baker's nine made field goals also matched the career-best nine he hit versus SIU Edwardsville, January 19th.
Perimeter Prowess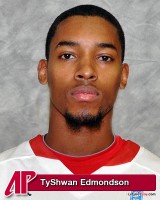 TyShwan Edmondson's six made three-point field goals versus Southeast Missouri were a singlegame high by a Gov this season. In addition, Edmondson's 6-for-7 (.857) three-point performance marked his career-best three-point field goals percentage.
His previous best this season was .667 (4-of-6) against Rochester, matching a 4-for-6 effort against Morehead State a year ago December. Edmondson's 25-point effort was his eighth 20-point game this season and 19th in his two-season career.
Three-Point High
After making as many as eight three pointers just once all season entering the regular season's final weekend, the Governors hit the mark in both games last weekend. The Governors knocked down 8-of-15 three pointers against UT Martin and two nights later they converted 8-of-16 against Southeast Missouri. It had been more than two months since they made eight three pointers against Rochester, December 17th.
Lineup No. 11
When freshman Herdie Lawrence started at point guard against SEMO, joining seniors TyShwan Edmondson, Josh Terry, Melvin Baker and John Fraley, it marked the 11th different starting lineup used by the Govs this season.
Starting Block
With Austin Peay utilizing 11 different starting lineups this season only senior forward/guard Josh Terry has started
all 31 games this season.
Free Throw Perfection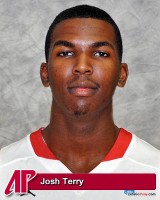 When Josh Terry went 10-for-10 at the free-throw line against Youngstown State, February 18th, it was APSU's best free-throw shooting performance since Drake Reed went 10-for-10 against Eastern Kentucky, January 5th, 2009. It also tied EIU's Joey Miller for the best free-throw shooting performance this season in the OVC.
Terry followed the YSU performance with a 5-for-6 free-throw effort against UT Martin and 2-for-2 against SEMO, making him 17-for-18 (94.48 percent) from the line over the last three games.