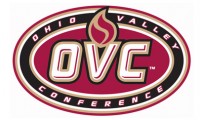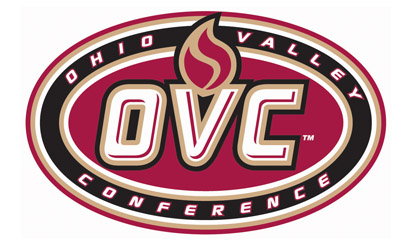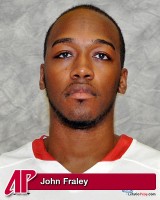 Nashville, TN – The start of John Fraley's senior season was as inauspicious as the beginning of his Austin Peay basketball career.
Fraley, who was redshirted in 2007-08 to acclimate himself to the Division I game, suffered a concussion in the 20110-12 season opening game at Middle Tennessee and proceeded to miss the Govs next nine games, a stretch that saw APSU go 1-8 without its big man. But the 6-8 local product recovered to produce the best season of his APSU career.
He was rewarded for that effort by being second-team All-Ohio Valley Conference, announced Tuesday, by the conference office from a vote of league head coaches and sports information directors.
The Clarksville Tennessee native leads the OVC in rebounding during conference games at 9.3 per game—to put his consistent rebound numbers in perspective he is second in both offensive and defensive rebounds. Fraley also leads the OVC in shooting percentage at 64.8 percent and is tied for third in blocked shots (1.8 bpg). His 13.5 scoring averaging in league games paces the Govs.
"John is really deserving and I'm happy for him to be rewarded with this after his five-year tenure," APSU coach Dave Loos said. "When John came here, he was an athletic, thin guy that couldn't play very long. The first thing he had to do was develop some endurance so he could play longer. He's always been a very good rebounder, but he's really developed an offensive game around the basket.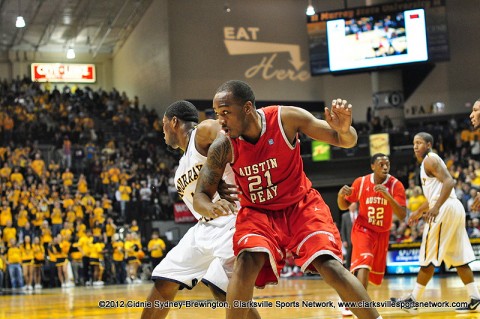 "I've not had any players that have started at one level and finished like he has and shown any more improvement than he has. It's really fitting that he's acknowledged this way."
Since Fraley's return the head injury, the Govs have claimed 11 of their 12 victories. In late January-early February, he rolled off three straight 20-point outings, including a career-best 31-point game against Tennessee Tech on a night when he went a startling 10-of-13 from the floor. He also had 17 rebounds, the most in his career. He had five double-doubles during league play, including a 25-point, 12-rebound effort in the Govs' January 12th home win against Eastern Kentucky, a contest where he was 10-of-12 from the field.
Overall, Fraley is averaging 11.9 ppg, shooting 60.1 percent from the floor, and 8.9 rpg. However, he is not listed in the overall statistical leaders because he missed too many games because of the concussion.
"He showed what I thought was true," Loos said. "That he was the player we could least afford to be without. He bounced back after missing nine games and was really an important part of our team, both offensively and defensively, but certainly on the boards."
Fraley came to APSU a project, despite his height, because he was still a basketball novice. He played for Heritage Christian Academy and put up superb numbers (23 ppg, 14 rpg) per game as a senior, but that was against lightly-regarded competition.
He redshirted his first season and worked on adding bulk and strength. As a redshirt freshman he played in only 23 games, averaging 2.8 ppg, But he moved into the starting lineup the next season and was the OVC's second-leading rebounding in 2009-10, averaging 7.8 rpg to to go with 9.2 ppg. A year ago, he averaged 9.6 ppg and 7.4 rpg.
For his career, Fraley enters this week's OVC tournament sixth all-time in rebounds with 759. Just this season he has passed a pair of APSU Hall of Fame members, Trenton Hassell and Bubba Wells. He also is ranked third all-time in blocked shots (126) behind Josh Lewis 2000-03/257) and Reggie Crenshaw (1994-98/163). His career 57.9 percent shooting ranks eighth best all time.
Murray State guard Isaiah Canaan, also, the OVC Player of the Year, and Tennessee Tech senior Kevin Murphy were repeat selections to All-OVC first team while Murray State senior guard Donte Poole, Tennessee State junior forward Robert Covington and Tennessee Tech junior guard Jud Dillard were the other first-team picks.
Due to a tie in voting six individuals were named to the All-OVC second-team. Joining Fraley on the second were:  Eastern Illinois senior guard Jeremy Granger, Eastern Kentucky senior guard Jaron Jones, Murray State senior forward Ivan Aska, Southeast Missouri State redshirt sophomore Tyler Stone and SIUE redshirt junior forward Mark Yelovich.
Five players were selected to the OVC All-Newcomer Team, which was comprised of first-year players (freshman and transfers) in the league. Included in the selections was SEMO's Stone and UT Martin's Myles Taylor, the OVC Freshman of the Year. The other selections were Eastern Kentucky redshirt junior guard Mike DiNunno, SIUE junior forward Jerome Jones and Tennessee State redshirt junior Kellen Thornton.
Murray State coach Steve Prohm was named OVC Coach of the Year while Racer guard Jewaun Long was named Defensive Player of the Year.