Nashville, TN – Students from Clarksville Montgomery School System joined approximately 400 of their high school peers in Nashville on March 9th to express their views on public education in Tennessee at the Tennessee School Boards Association (TSBA) Student Congress on Policies in Education (SCOPE).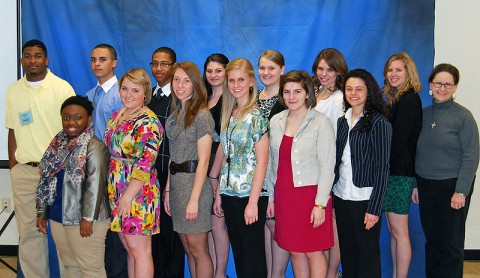 The event took place on the Avon Williams Campus of Tennessee State University. This year's event kicked-off with an anti-bullying performance by the harmonic vocal group, The Standards. The Standards have been hailed as one of the most sought after harmony vocal groups of today, and have enjoyed success worldwide for their unique approach to vocal entertainment.
Even with a demanding schedule, The Standards still find time to offer advice to the youth across America through their "Music with a Message" program.
Now in its 30th year, SCOPE is designed to give students a voice where public education issues are concerned and to involve young people in finding solutions to the topics that are discussed. Attendees participated in mock school board sessions, where they assumed the roles of school board members, school officials, parents, students and concerned citizens.
The sessions were led by actual school board members from across the state. This year, students were encouraged to bring personal electronic devices to develop video footage, take event photos, participate in online survey voting and spread the word through social media.
Students then chose speakers to represent each of their 16 small groups who went on to take part in full-scale debates on current education issues.
This year's four debate topics and results from the poll were:
All Tennessee high schools shall offer the same curriculum. (Agree: 48% Disagree 52%)
Vouchers for attending private schools shall be awarded from public school funds. (Agree: 37% Disagree 63%)
Students shall be required to take one online course in order to graduate. (Agree: 49% Disagree 51%)
Students shall be required to wear uniforms to school. (Agree: 41% Disagree 59%)
SCOPE delegates elected 2013 SCOPE officers from those underclassmen that took part in the debates.
The 2013 SCOPE officers are:
President: Tucker Cowden, Merrol Hyde Magnet School, Sumner County
1st Vice President: Emalie McMahon, Jefferson County High School, Jefferson County
2nd Vice President: Avery Field, Beech Sr. High School, Sumner County
The Tennessee School Boards Association was organized in 1939 to provide a united voice in education for local public school boards. In 1953, the State Legislature officially recognized TSBA as the "organization and representative agency of the members of school boards in Tennessee."
The Tennessee School Boards Association is a service organization to all the state's school boards. It serves as an advocate for the interests of Tennessee's public school students and school districts and provides in-service training and assistance for the state's 945 board of education members.