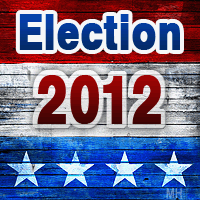 Clarksville, TN – Visit a local festival like the Third Annual Hilltop Barbecue Cook-off and you'll find politicians getting their message out. I ran into two of the Democrats who were working the crowd on Saturday and both had a lot to say about what is going on in Tennessee and what needs to be changed.
First, I talked with Credo Amouzouvik who is running for against Republican Representative Marsha Blackburn in the Seventh Congressional District of Tennessee. Credo is a combat-wounded Iraq war veteran and is medically retired. He immigrated and became a U.S. Citizen from the West African nation of Togo.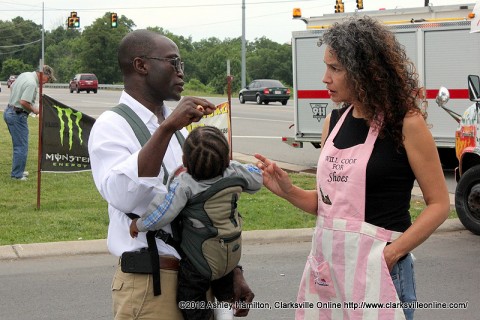 When asked why he had decided to run, he said, "As a veteran, I am angry and dissatisfied that our current 'representative' is not representing the citizens of Tennessee the way they need to be represented. She voted against the Medicare Prescription Drug Price Negotiation Act of 2007; this law would have allowed the government to negotiate for the best prescription drug prices for seniors.
"She voted against the Flood Insurance Reform Priorities Act that sought to extend the availability of Flood Insurance to citizens in flood-prone areas; that was in spite of the fact that a vast majority of both Republican and Democratic members of Congress – fully 329 of them – voted YES. This demonstrates a continued disdain for her constituents in times of crisis and disaster.
"She voted against laws to help veterans go to school. Since 2008, 500,000 veterans have taken advantage of the G.I. Bill, a major help to those of us coming home from war.
"Like other Republicans, she continues to support laws that take collective bargaining away from the working people of the State of Tennessee. The unions are responsible for the fact that my nine-year-old does not have to go to work at this tender age. The unions are responsible for helping workers feel safe and secure that they have a job to go to the next day. Why kill this system?
"Our 'representative' continues to vote against our teachers and to support the legislation that took collective bargaining away from them.
"Our citizens are being given not the healthy food and warm milk dinner they deserve but a cold expired frozen dinner in the current political climate.
"I want to make the positive change we need now. I will fight for teachers' rights, for women's rights, and support the unions. I support seniors and the kind of Medicare legislation that makes life better for those who have given their working lives to make our country greater."
"That's why I want to be the Congressional Representative for the Seventh District. I realize that my name is not a household word like that of our current office holder, but I feel that my platform is one that will truly represent the people of Tennessee and their best interests."
Credo Amouzouvik was able to make his position perfectly clear!
A second Democrat who was actually one of the barbecue judges was Representative John C. Tidwell, who has served in the Tennessee Legislature from the 100th through 107th General Assemblies. Residing in New Johnsonville, he represents District 74 containing Houston, Humphreys, Perry and parts of Hickman and Maury Counties.
He received his Bachelor of Science degree in Civil Engineering from the University of Tennessee in 1966.
Especially proud of his contributions on the "Stop Work" legislation, Rep. Tidwell was fired up about the state of education in Tennessee in addition to other issues. "Our Republican friends have been robbing the public school system. The focus is to shift money to charter, computer and private schools in Tennessee. If you have a child in your county who goes to another to participate in a computer school there, your county immediately has to send money to that school, whether or not the child even finishes the course—and if he leaves before the term is out, your county doesn't get back a dime," he insisted.
He also hinted that many parents who are claiming to home school children are managing to reduce $7,000 a year from the public school accounts.
"The 'gateway' sex law that was passed is stupid. My son is a school principal. I asked him, "How many points the gateway sex discussion is going to raise your TCAP score?'—and the answer is none!" Rep. Tidwell said. "All this does is to increase texting and other activities; this system doesn't change teenage sexual activity one bit."
"My job since I entered the Legislature has been to take care of everybody, especially in rural issues. My grandfather ran a sawmill," he continued.
About that time, Rep. Tidwell was called away to judge the barbecue. Before he left he said, "I'm disappointed and ashamed of current conditions in our state created by many areas of legislation in Tennessee—and I'm extremely vocal!"
Obviously the barbecue wasn't the only thing fired up at the Hilltop Barbecue Cook-off this year!