Nashville, TN – In the rural South, picking wild blackberries is a rite of summer but it isn't always easy. Getting to the thorny blackberry bushes often involves making your way through briars, brambles and a hoard of chiggers.
Sometimes it hardly seems worth the trouble until you see the delectable blackberry cobbler coming out of the oven or a row of jars filled with blackberry preserves cooling on the counter.
Thankfully, cultivated varieties now make blackberries easily available in the summer and frozen ones are available year round.
A traditional dessert, like blackberry cobbler, is the perfect thing to take to a family reunion or summer gathering because it is not only delicious, but will also generate lots of memories and conversation about good family cooks and favorite recipes.
"There are almost as many ways to make blackberry cobbler as there are cooks who add their personal touches to them," says Martha White® baking expert Linda Carman. "The most traditional versions of this iconic dessert are made with a sweet biscuit topping or with pie crust. But there are many delicious quick and easy versions, too," she added.
Lazy Days Blackberry Cobbler is made with a self-rising flour batter poured over melted butter and layered with berries and sugar. The batter rises to the top and bakes up crisp and golden brown. All you need is a scoop of ice cream, whipped cream or a splash of heavy cream to complete the revered summer blackberry cobbler experience.
For more summer cobbler recipes, go to www.marthawhite.com and click on the Recipes link.
Lazy Days Blackberry Cobbler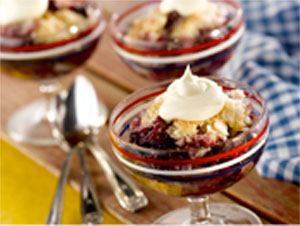 Ingredients
1/2 cup butter
1 cup Martha White Self-Rising Flour
1 1/3 cup sugar, divided
3/4 cup milk
3 cups fresh blackberries
1/2 cup water
Ice cream, whipped cream or heavy cream
Directions
1. Heat oven to 350° F. Melt butter in oven in a 2 ½ to 3-quart baking dish.
2. Stir together flour, 1 cup sugar and milk in medium bowl. Pour over butter in baking dish. Sprinkle berries over batter. Sprinkle 1/3 cup sugar over berries. Pour water over sugar. Do not stir.
3. Bake for 40 to 45 minutes or until golden brown and crisp. Serve warm or cool with ice cream, whipped cream or heavy cream, if desired.
Makes 8 servings