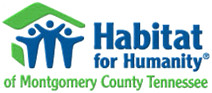 Clarksville, TN – The Women Build 2012 Committee of the Habitat for Humanity of Montgomery County Tennessee announces their partnership with the Habitat for Humanity ReStore. The ReStore is donating a portion of their sales through May and June 2012 to the Women Build 2012 project.
The women involved with Women Build 2012 are building a 2-bedroom house for a Habitat partner family at 127 Brooks Alley. Carolyn, a single, retired, disabled mother of adult children living outside the home, is excited to be the recipient of the Women Build house.
"We are pleased to support the Women Build house. Carolyn is a dedicated volunteer in the ReStore and we wanted to support her house build in a unique way. We have pink tags throughout the ReStore to let customers know a portion of their purchase will go towards the Women Build home," noted Kathryn Norbeck-Dayley, the ReStore Manager.
Work has already begun on the lot. Volunteers will be asked to sign-up for certain shifts depending on their interests – framing, electrical, siding, insulation, drywall, interior trim, painting, cabinets, hardware, and landscaping. We anticipate volunteer work on the house to begin June 13th. Individual and group volunteers are welcome to register for Women Build at www.habitatmctn.org "Get Involved."
"We are excited to see the house build start and to announce the collaboration with ReStore. The partnership between the ReStore and the Women Build project is a new and exciting way to raise awareness and funds towards our goal," explained Shelby Logsdon, Executive Director.
The Women Build Committee is a group of about 20 women who have assumed the challenge to fundraise, organize construction and special events, and recruit volunteers. They are they have raised over 50 percent of their funding goal and registered over 100 volunteers. The Women Build Committee has received major sponsorships from Budweiser, Clarksville Home Builders Association, F&M Bank, Fast Train Property Management, Freedom Title Services, Keller Williams Realty, Robert Chaney, Target Leadership and an anonymous donor in the building industry along with many other donations and pledges from several more businesses and individuals to provide lunch for volunteers and contractors on Saturdays throughout the build.
"We want to thank the businesses and individuals who have donated to Women Build to date. We also want to thank all the contractors who have agreed to donate labor, supplies and services to the Women Build project. This house could not be built without the generous support from everyone coming together to provide the opportunity for Carolyn and her family to have a new and affordable home," noted Liz Vatovec, Women Build Construction Manager and owner of NV Homes. Sponsorship opportunities are available by contacting the Affiliate at (931) 645-4222.
Habitat for Humanity ReStore
The ReStore is a discount home improvement store that sells donated building materials at reduced prices to the general public. 100% of the profits support habitat for Humanity of Montgomery County, a nonprofit Christian housing organization that works with people from all faiths and all walks of life to eliminate substandard housing and homelessness by working in partnership with the people, businesses, and governmental organizations of Clarksville and Montgomery County


About Habitat for Humanity of Montgomery County, TN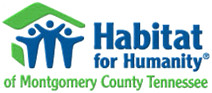 Since 1992, Habitat for Humanity of Montgomery County, TN has partnered with 78 qualified families who invest sweat equity into building simple, decent and affordable housing to achieve homeownership through a twenty-year, zero-interest mortgage. Habitat collaborates with faith, civic, and business organizations who envision neighborhood revitalization through new home construction.
We are dedicated to eliminating substandard housing and homelessness.  We envision a community in which everyone has a decent place to live and we're motivated through God's grace to bring people together to build decent homes and communities by putting faith into action.   Since 1992, Habitat for Humanity has partnered with 78 qualified low-income families and their 190 children to revitalize 15 neighborhoods in Clarksville and Montgomery County through new home construction.
About Women Build
The mission of HFHI's Women Build program is to enable U.S. and international affiliates to recruit, educate and nurture women to build—and advocate for—simple, decent and affordable houses in their communities. 
Women Build brings together women from all walks of life to address the housing crisis facing millions of women and children worldwide. Women Build events have helped to construct more than 1,900 houses.
About Lowe's
Lowe's is a major sponsor and underwriter of Women Build. Lowe's sponsors National Women Build Week each year, provides competitive grant opportunities and offers free how-to clinics for U.S. Women Build affiliates. Lowe's committed more than $1.3 million to National Women Build Week 2011. They are also providing $5,000 Lowe's store gift cards and event support materials to more than 250 Habitat affiliates.