APSU Sports: Austin Peay Women's Basketball

Clarksville, TN – David Midlick, an Austin Peay State University assistant women's basketball coach the past three seasons has resigned his position to become the head women's basketball coach at Division II Delta State.
Midlick will replace Sandra Rushing, who left the Lady Statesmen to take the head coaching position at Division I Central Arkansas in May.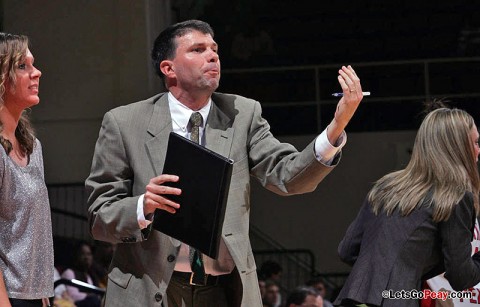 "I am happy that David is getting the opportunity to become a head coach," said Lady Govs head coach Carrie Daniels. "It is something he has wanted to do and this position also gives him a chance to return home, which is a win-win for him."
It will be the first head coaching job for Midlick, who had two stints at Austin Peay. He was a volunteer assistant for the men's basketball team from 2003-06 before accepting an assistant coaching position with the Tennessee State women's basketball team.
Midlick joined the Lady Govs in 2010-11 and helped the program develop a successful crop of post players, including Dalila Thomas, Jasmine Rayner and Meghan Bussabarger.
"David accomplished much in his time with the Lady Govs," said Daniels. "He had a huge hand in our recruiting the past three seasons and has been our go-to person when it came to developing our post players. David had that ability to connect with the players and help them understand what we wanted from them on the court."
Taking over the Lady Statesmen's helm will be a return home for Midlick, who played for Mississippi under then head coach Ed Murphy. He led the Rebels in free-throw and three-point percentage in 1989. In fact, he helped beat the Govs, 83-80, in 1990 by hitting a late shot in Dave Loos' first season.
Midlick was a three-time Academic All-SEC selection (1989-91) and was a 1991 SEC Male Scholar-Athlete and a finalist for Scholar-Athlete of the Year.