APSU Sports: Austin Peay Football

Clarksville, TN – Austin Peay State University head coach Rick Christophel can only hope his Governors are just as aggressive in full pads as they were in just shoulder pads, Wednesday.
The Governors will be in full-pad, full-contact mode, 9:00am, Friday morning when they hit Governors Stadium. Christophel has been enthused with what he has seen so far in the first week.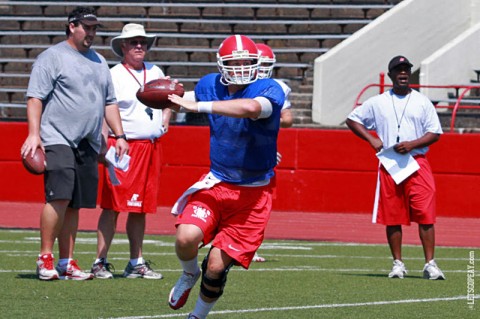 "Wednesday was real aggressive-they might as well been in full pads instead of shoulder pads," Christophel said. "They are definitely enthusiastic and I am excited about what they are trying to get done out there. I believe they are trying to do what we ask them.
"If they can continue to be up-tempo and if we can continue to make progress on techniques I think we are going to be all right."
After shifting of personnel along the line and linebackers-with players like defensive end Iosua Siliva moving inside and former linebackers Zac Burkhart and Zach Lane moving to defensive end , Christophel has liked what has seen so far from his defense.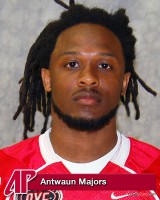 "On the defensive side of the ball they are trying to set the temperament, trying to establish the line of scrimmage, trying to be more aggressive up front-those are the type things I have liked so far," Christophel said. "They have more experience on that side of the football so I am excited about that."
Senior safety Antwaun Majors, just named preseason All-Ohio Valley Conference by the Phil Steele Preseason Magazine, has escaped the shadows of former co-cohort Amius Smith, an All-OVC selection last fall. As APSU's leading tackler last season, Majors has become the defensive leader.
"Here is a fifth-year guy who started as a walk-on and has made himself into a good football player," Christophel said. "He has gained the respect of the players…and it is not just what he does on the football field.
"He carries himself so well. He has graduated already. He works hard in the weight room. When Antwaun speaks, they listen-he is not the type guy who is going to waste a lot of words."
As a junior, Siliva also has asserted his leadership skills while on offense quarterback Jake Ryan came back to campus in the best shape of his career. Senior wideout Devin Stark, who had 53 catches a year ago, leads more by example.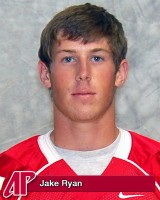 "On the offensive side we are doing a better job of getting the ball into our playmakers hands-we have to continue that into the fall," Christophel said. "We have guys who are starting to better understand their roles and what we need from them."
After Saturday's heavy practice load the Governors will back off Sunday with just a kicking practice. Then on Monday morning the Govs will scrimmage for the first time.
"We have more bodies out there than we have ever had," Christophel said. "It is going to be interesting to see how the young guys handle (Saturday). We know they are going to be a little leg weary-that is why we will go in shorts Saturday afternoon and hopefully they will get their legs back on Sunday when just have a kicking practice.
"But when you put (full) pads on that is when it really gets exciting. I am looking forward to it, seeing how this develops."