Tennessee Titans (0-2) vs. Detroit Lions (1-1)
Sunday, Sept. 23rd, 2012 • Noon CDT • LP Field • Nashville, Tn • TV: FOX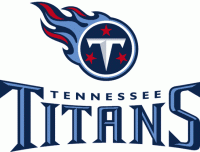 Nashville, TN – The Tennessee Titans (0-2) return home this week to face the Detroit Lions (1-1) at LP Field (capacity 69,143). Kickoff is scheduled for noon CDT on Sunday, September 23rd.
This week's game will be televised regionally on FOX, including Nashville affiliate WZTV FOX-17. Ron Pitts will handle play-by-play duties while Mike Martz provides analysis. Kristina Pink is the sideline reporter.
The Titans Radio Network, including Nashville flagship 104.5 The Zone, will broadcast the game across the Mid-South with the "Voice of the Titans" Mike Keith, color commentator Frank Wycheck, sideline reporter Cody Allison and gameday host Larry Stone.
The game can be heard locally on 1400 AM WJZM.
Last Week
The Titans lost their second consecutive game to begin the season last week, falling to the Chargers in San Diego by a final score of 38-10.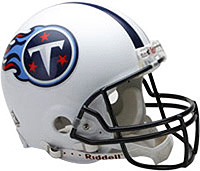 Rookie Kendall Wright, the 20th overall selection in the 2012 NFL Draft, picked up his first career touchdown on a 15-yard strike from Jake Locker. Rob Bironas provided the team's other score with a 23- yard field goal.
Locker made his second career start despite battling a left shoulder injury suffered in the opener. He completed 15 of 30 passes for 174 yards, one touchdown and one interception.
Meanwhile, the Lions traveled to San Francisco last week to appear on Sunday Night Football. They battled the 49ers to the wire only to come up short in a 27-19 loss.
Lions quarterback Matthew Stafford passed for 230 yards in the loss, while wide receiver Calvin Johnson caught eight passes for 94 yards. Jason Hanson provided the majority of Detroit's scoring with four field goals.
Lions Led By Familiar Face
For the first time, the Titans will face a Lions team led by Jim Schwartz, a Titans assistant coach for 10 seasons (1999–2008) before becoming Detroit's head coach in 2009.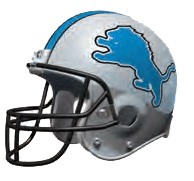 From 2001 through 2008, Schwartz served as the team's defensive coordinator. He helped the Titans make four playoff appearances during that time, including a pair of AFC South titles (2002 and 2008). Over the course of his tenure, the Titans ranked fifth in the NFL rushing defense (103.5 yards per game) and sixth in third-down defense (36.1 percent).
There are other members of Schwartz's staff with ties to the Titans: defensive coordinator Gunther Cunningham coached the Titans linebackers from 2001–2003; defensive assistant/secondary Marcus Robertson played for the Titans from 1991–2000 and spent an additional nine years in the front office and on the coaching staff (2003–2011); linebackers coach Matt Burke was with the Titans from 2004–2008, the final three seasons as a defensive assistant/quality control coach; defensive line coach Kris Kocurek was with the Titans as a player in 2001 and 2002.
Additionally, Detroit's 2012 defensive captains are both former Titans players: linebacker Stephen Tulloch and defensive end Kyle Vanden Bosch.
Playing The NFC
The Titans hope to continue their recent success against NFC foes with four games against the NFC North in 2012.
Since divisional realignment in 2002, the Titans are 28-12 against the NFC, including a 6-2 combined mark against the Lions, Green Bay Packers, Chicago Bears and Minnesota Vikings. The Titans' .700 interconference winning percentage ranks third in the NFL over that timespan, trailing only the New England Patriots and Pittsburgh Steelers.
LP Pencil Box School Supply Drive
At the game this Sunday, fans are encouraged to participate in the LP PENCIL Box School Supply Drive. LP PENCIL Box, a collaborative non-profit venture between PENCIL Foundation and LP Building Products, offers Nashville Metro teachers the opportunity to acquire school supplies for the city's most inneed children.
Collection locations will be positioned outside of LP Field to collect items from erasers and pencil boxes to hand sanitizers, colored pencils, pens and rulers.
Titans-Lions Series At A Glance
Overall series (regular & postseason): Titans lead 7-3
Regular Season Series: Titans lead 7-3
Postseason Series: None
Total Points: Titans 245, Lions 209
Current streak: Three wins by Titans
Titans at home vs. Lions: 4-2
Titans on the road vs. Lions: 3-1
Longest Winning Streak by Titans: 3 (2001-08)
Longest Losing Streak by Titans: 1 (three times)
Titans vs. Lions at LP Field: 1-0
Last Time at LP Field: Lions 19 at TITANS 24 (1/2/05)
Titans vs. Lions at Ford Field: 1-0
Last Time at Ford Field: TITANS 47 at Lions 10 (11/27/08)
First Time: LIONS 31 at Houston Oilers 7 (10/17/71)
Mike Munchak's Record vs. Lions: 0-0
Jim Schwartz's Record vs. Titans: 0-0
Mike Munchak's Record vs. Jim Schwartz: 0-0
A Titans Victory Would
Give the Titans their fourth consecutive victory against the Lions.
Improve the Titans' all-time record at LP Field in the regular season to 66-39.
Improve Mike Munchak's career record as a head coach to 10-9.
Give Jake Locker his first career victory as a starting quarterback.
What To Look For This Week
K Rob Bironas has made 18 consecutive field goals dating back to last season, tied (Al Del Greco, 1995-96) for the fifth-best streak in franchise history. Bironas is two field goals shy of tying the franchise mark of 20, shared by Bironas (twice, 2010 and 2007-08) and Al Del Greco (1998-99).
K Rob Bironas has made a field goal in 12 consecutive games. A 13-game streak would give him the third-best mark in franchise history.
RB Chris Johnson can record the 29th 100-yard rushing game of his career.
T Michael Roos can notch is 115th consecutive start.
WR Nate Washington can extend his streak of consecutive games with at least one reception to 65 (51 games with the Titans).
WR Nate Washington is scheduled to play in his 100th career regular season game.
Titans-Lions Series History
This week's Titans-Lions matchup is the 11th all-time meeting between the clubs and just the second at LP Field. In the 10 previous bouts with the Lions, the Titans hold a 7-3 record. The Titans have won the last three, including victories in the 2004 season finale, in Week 6 of 2001, and on Thanksgiving in 2008.
The 2008 contest marked the Titans' first appearance at Ford Field, which opened in 2002. The Titans rushed for 292 yards—the third-highest total in franchise history—and won by a final score of 47-10. Running backs Chris Johnson (125 yards) and LenDale White (106 yards) combined for 231 of the club's yards on the ground.
With the 2008 victory, the Titans moved to 2-0 in all-time Thanksgiving meetings with the Lions. Prior to 2008, the Oilers earned a 24-21 victory on November 26th, 1992.
In the 2004 finale, linebacker Keith Bulluck returned a fumble 39 yards for a touchdown, and running back Antowain Smith rushed for 89 yards and a touchdown in a 24-19 win at LP Field.
In their 2001 game, a 46-yard field goal by Joe Nedney with five seconds remaining gave the Titans a 27-24 victory at the Pontiac Silverdome. Earlier in the game Donald Mitchell became the fourth player in franchise history to return a blocked field goal for a touchdown (69 yards).
The Oilers first encountered the Lions one season after the 1970 merger between the American Football League and the National Football League. The Lions prevailed at the Astrodome by a final score of 31-7 on October 17th, 1971.
The Last Meeting
Tennessee Titans 47 at Detroit Lions 10
Thursday, November 27th, 2008
Ford Field, Detroit, MI
| | | | | | |
| --- | --- | --- | --- | --- | --- |
| | 1 | 2 | 3 | 4 | Final |
| Tennessee Titans | 21 | 14 | 6 | 6 | 47 |
| Detroit Lions | 3 | 7 | 0 | 0 | 10 |
In their first Thanksgiving game since 1997, the Titans wasted little time in getting a lead against the Detroit Lions and pulled away for a 47-10 victory.
The Titans' 47 points were the most since a 48-27 win at Green Bay on October 11th, 2004, and the 37-point margin of victory was the club's highest since 1990 (44 points vs. Cleveland Browns on December 9th, 1990). There have been just seven games in franchise history in which the Titans won by a larger margin.
Relying largely on their ground attack, the Titans rushed 46 times for 292 yards, the third-highest rushing total in team annals at the time. Chris Johnson led the way with 125 yards on 16 carries, while LenDale White
provided 106 yards on 23 attempts. It was the seventh time in team history – and the second in 2008 – in which two players topped 100 yards for the club. Johnson and White each scored two touchdowns.
On the second play from scrimmage of the game, Titans safety Michael Griffin knocked the ball loose from the grasp of Lions receiver Shaun McDonald, and defensive end Kyle Vanden Bosch was there for the recovery. Two plays later, after a 28-yard gain on a reverse by Brandon Jones, Johnson scampered six yards into the end zone. It was the first of eight scoring drives in 12 possessions, not including drives at the end of each half in which they let the clock expire.
The Lions responded with a 45-yard drive that ended with a 53-yard field goal by Jason Hanson.
Then, on a third-and-five from the Tennessee 42, Johnson took a handoff 58 yards for his second touchdown. With less than seven minutes elapsed in the game, the Titans had a 14-3 lead.
After an exchange of punts, the Lions were backed up in their own territory when defensive end Dave Ball intercepted a Daunte Culpepper pass intended for running back Kevin Smith. Ball went 15 yards untouched into the end zone for his first career touchdown.
A 13-yard punt by the Lions on their next possession gave the Titans possession at Detroit's 31-yard line. A 20-yard pass from Kerry Collins to Justin McCareins on third down set up a six-yard touchdown run by White on the third play of the second quarter.