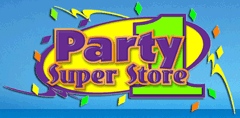 Clarksville, TN – In addition to breezy weather, October also brings 20% off of all Halloween items at Party 1 Superstore in Clarksville, TN.
Mike Fuqua is the president and owner of the store, which is renowned for its balloon center, rentals, costumes, party supplies, wedding department, and wildly popular inflatables. Because of this, Party 1 is the number-one party store in the city.
According to Fuqua, it was not difficult to begin his business. "It wasn't hard because I'd been doing retail for years," he explained. "I helped open the Office Depot stores. I worked there when it was only 25 stores. When I left, it was 500 stores." 12 years ago, Fuqua used his retail experience to open his own store.
It is no accident that Party 1 is not like traditional party stores. "The previous party stores had party supplies, balloons, and different retails. I thought it would be more successful if we went into the party-line of merchandise and focused on parties. We wanted to have an upscale party store where you can get everything under one roof. You can rent your equipment from us." In total, there are three Party 1 Superstore locations. "We have two stores in Bowling Green, KY, and one in Clarksville. We're possibly thinking about another Clarksville location in the near future," said Fuqua. At the moment, another Party 1 Superstore is in the works for Bowling Green that will be located on Scottsville Road.
When customers browse through the store, they are often quite surprised. At Party 1, there is always potential for the unexpected. "During Halloween, we carry costumes like everybody else does. But how many Halloween shops or mass merchandisers carry a gorilla suit in colors of white, yellow, red, lime, blue, purple or pink? That's how many different colors we carry. When customers shop here, they find us very unique with what we have," explained Fuqua.
Party 1 is also special for being one of the few stores to maintain helium. According to Fuqua, helium suppliers may soon ban helium in the United States with the exception of hospitals. "When the earth runs out, we'll never get it back," he said.
With the holidays approaching, the store has several events lined up.
"We are having a magic show on Saturday, October 13th featuring magician Russ Nowack," said Lena Brown, bridal department manager. "There will be cotton candy and popcorn for everyone attending the show."
The employees are planning on revamping Party 1's Wedding section. They will be adding more dresses and merchandise to the bridal shop. "We'll match or beat anybody's rental price by 10%. We do invitations, napkins, tuxedos, and all of that," said Brown.
Fuqua is proud of his store, and has been sufficiently impressed by the Clarksville crowd. "We're very greatful to Clarksville, TN. It's a nice place." With Party 1 in town, people do not have to go to different stores to get balloons, inflatables, decorations, or party supplies; all of these items are available at Party 1 Superstore, located at 2817 Wilma Rudolph Boulevard.
For more information, visit www.party1superstore.com
Video