Written by Sgt. Kimberly Menzies
4th Brigade Combat Team, 101st Airborne Division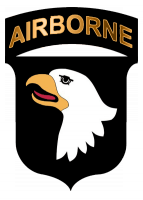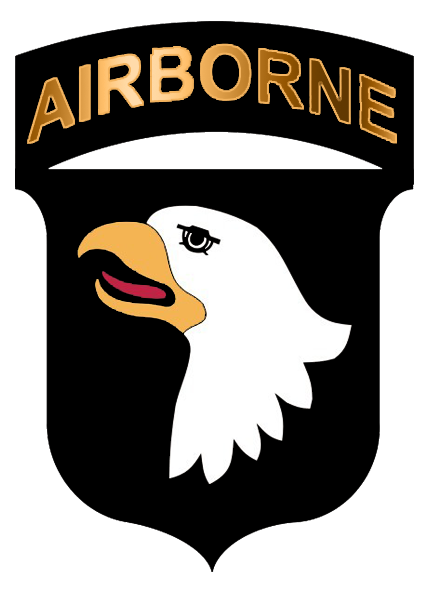 Fort Campbell, KY – The 4th Brigade Combat Team Dining Facility was awarded the 101st Airborne Division Commanding General's Best Dining Facility or "Best Mess" of the Quarter for the second quarter in-a-row, October 17th, 2012, at Fort Campbell, KY.
The dining facilities on the entire installation are inspected and graded on criteria to include food preparation, food safety, customer service and cleanliness of each facility.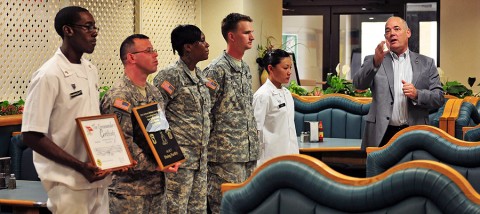 "Whichever dining facility receives the highest score for the quarter, receives the award," explains Sgt. 1st Class Cassandra Carter, the 4th Brigade Combat Team Dining Facility manager from Headquarters and Headquarters Company, 801st Brigade Support Battalion, 4th BCT, 101st Abn. Div.
"This is an example of the dedication of Currahee soldiers to do their best and exceed the standards every day to take care of their fellow Currahee," said Col. Val C. Keaveny, Jr., the commander of the 4th BCT, 101st Abn. Div. "I couldn't be more proud of our food service team, their commitment and their accomplishments."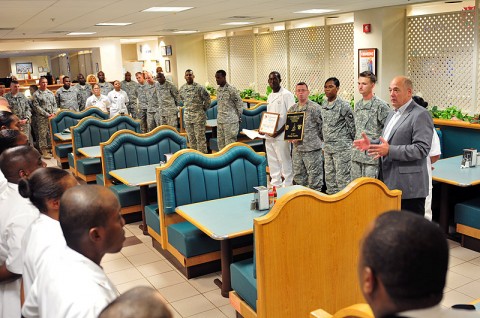 With the official recognition of their hard work and determination brightening their day, Command Sgt. Maj. Alonzo J. Smith, the command sergeant major of the 101st Abn. Div., and Fort Campbell, offered his sentiment on the DFAC's achievement.
"Your job is as critical as any other person in the military, whether you are a mechanic or a human resource specialist or a medic," said Smith. "This is a very important job that you have and I do not take it lightly. I personally appreciate what you do as Soldiers."
"I really had no idea everything that goes into your job, let alone the hours," shared Smith. "At Fort Drum, I said I am going to go ahead and one morning and I am going to serve alongside a food service specialist. So I was there at like 3:30 in the morning, standing to, having my finger nails inspected and getting my briefing. They had me on meats; I burnt three trays of bacon because I didn't understand the fine art of draining the grease. Food service specialists, that is what you are, everything you do is a specialty."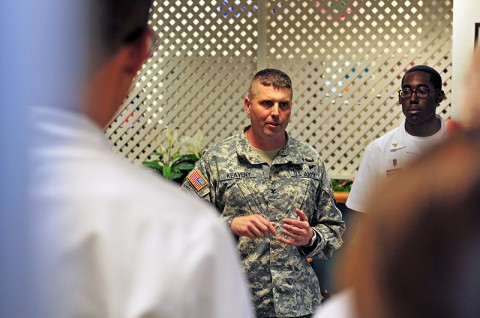 With this being the second time back-to-back that the Currahee DFAC has earned the award, Smith reiterated the significance of the achievement.
"I have to tell you, pound-for-pound this award is no joke," said Smith. "I have eaten in every DFAC on this post several times and consistently there are very few standards that fall off here."
"Let it be known this award is no check-the-box type award; this is truly competitive and you have earned it and you should be proud of that."
Though receiving the award is not a new experience for the soldiers, it still holds importance for them.
"Winning this award makes me feel proud to be part of a team that consistently raises the bar for food service," said Carter. "I think that past Currahees would be very proud of how the current Currahees are representing them and it is important that we continue to pave the way for those that will follow."
With this two-time win behind them, the soldiers at the Currahee DFAC are not finished with their planned demonstrations of excellence.
"Our goal for next quarter is for our dining facility to be considered for the Phillip A. Connelly Award, competing in the Large Garrision category," shares Carter. "Our other goal is to ensure that the 4th Brigade Dining Facility continues to improve as a whole for our soldiers and their families."
Though the soldiers are proud of earning the award, their leadership has a clear view of these Currahees' stamp on the pursuit of exceeding the standard.
"This shows that Currahees, in their heart, do not believe that good is okay," said Keaveny. "It shows that they are striving for greatness, every single day."