Nashville, TN – One of the most important gifts of the holiday season is the time spent with family – coming together to share traditions that stay true generation after generation.

For bluegrass music sensation Rhonda Vincent, the holidays provide a much anticipated break allowing her to enjoy an extended stay with her family in northern Missouri. And, as with many families, sharing meals with family and friends has always been the centerpiece of the holidays.

"It seems there's always a recipe attached to a special family memory," Vincent said. "Everyone looks forward to going to my parents' home for homemade cinnamon rolls. My mom, Carolyn, makes the ultimate cinnamon roll. After Christmas dinner, we enjoy her cinnamon rolls as dessert – and again for breakfast the next morning."

Swirled with cinnamon, sugar and butter, Carolyn's Holiday Cinnamon Rolls bake up soft and oozing with goodness. Fast acting yeast and a no-knead method simplify the preparation of this classic American favorite.

With Vincent's daughters – Tensel and Sally – now carrying on the family's tradition of music as artists in their own right, being able to spend time together during the holidays carries special meaning. For them, a family favorite has always been the chocolate roll. They enjoy making it together and then delivering the special delight to their family and friends. "Our early attempts were not exactly picture-perfect, but they were definitely delicious," the girls said.

"Cake rolls are popular holiday desserts traditionally fill with whipped cream," said Linda Carman, Martha White baking expert. "For a holiday version, we've filled this chocolate cake roll with peppermint whipped cream and covered it with chocolate cream cheese frosting. Be sure to read through the recipe before you start because the cake must be rolled up while it is still hot out of oven."

And while Vincent has always focused on making traditional family recipes, baking mixes have become more and more a part of her life as her tour schedule becomes increasingly demanding. "Muffin mixes are a great answer for us on the road," Vincent said, "because they are so quick and easy to make."

And these same mixes are now making an appearance during the holidays. Bake Shop Cranberry Banana Muffins are quick and easy to make with a Martha White® Banana Nut Muffin Mix. The addition of dried cranberries and a buttery brown sugar topping transforms the mix into a holiday treat destined to become another family tradition.

"Baking has always been such important part of the holidays," Rhonda said. "We always look forward to our time together in the kitchen – and then sharing what we create with family and friends. It makes the holidays so special for all of us."
Holiday Cinnamon Rolls
Rolls
2 cups lukewarm water
2 (3/4 oz.) pkgs. fast-acting yeast
1/2 cup granulated sugar
1/4 cup Crisco® All Vegetable Shortening
1 teaspoon salt
About 5 cups Martha White® All-Purpose Flour
Crisco® Original No-Stick Cooking Spray
Filling
1/2 cup melted butter or margarine
1/2 cup firmly packed brown sugar
1/2 cup granulated sugar
2 teaspoons cinnamon
Glaze
2 tablespoons melted butter or margarine
1 cup confectioners' sugar
1 tablespoon milk
1/2 teaspoon vanilla extract
Directions
1. Sprinkle yeast over warm water; stir until dissolved. Add 1/2 cup granulated sugar, shortening and salt; stir until sugar is dissolved. Stir in enough flour to make a soft dough. Cover and let rise in a warm place until dough has doubled in bulk, about 45 minutes. Punch down dough.
2. Heat oven to 350° F. Spray two 9-inch cake pans with no-stick cooking spray. Combine brown sugar, 1/2 cup granulated sugar and cinnamon in a small bowl. Divide dough in half. On floured surface, roll dough into a rectangular shape about 1/4-inch thick and about 12-inches long. Brush with 1/4 cup melted butter; sprinkle with half the cinnamon sugar mixture.
3. Beginning with long side, roll up dough jelly-roll style. Pinch seam together. Cut into 1-inch slices; place cut side in prepared pan. Repeat with remaining dough. Cover; let rise until doubled in bulk, about 30 minutes. Bake for 20 for 25 minutes or until golden brown. Remove to serving plate, if desired.
4. Combine all glaze ingredients in small bowl. Spoon over hot rolls. Serve warm.
24 rolls
Peppermint and Chocolate Cake Roll
Cake Roll
Crisco® Original No-Stick Cooking Spray
3/4 cup Martha White® Self-Rising Flour
1/4 cup unsweetened cocoa
3 eggs
1 cup sugar
1/3 cup water
1 teaspoon vanilla extract
Confectioners' sugar
Filling
1 cup heavy whipping cream
3 tablespoons crushed peppermint candy
Frosting
1 (8 oz.) pkg. cream cheese
1/4 cup butter, at room temperature
2 cups sifted confectioners' sugar
1/4 cup unsweetened cocoa
1/2 teaspoon vanilla extract
Directions
1. Heat oven to 375° F. Line bottom of 15x10x1-inch jelly-roll pan with aluminum foil or parchment paper; spray with no-stick cooking spray. Stir together flour and cocoa.
2. Beat eggs on high speed about 5 minutes or until very thick and lemon colored. Gradually beat in sugar. Blend in water and vanilla on low speed. Gradually add flour mixture, beating just until smooth. Pour into prepared pan, spreading evenly.
3. Bake 12 to 15 minutes or until wooden pick inserted in middle comes out clean. Loosen from edges of pan; turn out onto towel sprinkled generously with confectioners' sugar. Carefully remove foil; trim off crisp edges, if necessary. While hot, roll cake and towel from narrow end. Cool on wire rack.
4. For filling, whip cream until soft peaks form. Fold in candy. For frosting, beat cream cheese and butter together in large bowl. Add confectioners' sugar; blend on low until blended. Add cocoa and vanilla; beat until blended.
5. Unroll cake; remove towel. Spread peppermint whipped cream over cake; roll up. Frost with chocolate cream cheese frosting. Chill before serving.
10 servings
Bake Shop Cranberry Banana Muffins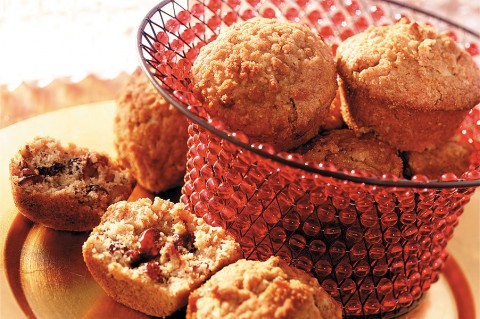 Crisco® Original No-Stick Cooking Spray (optional)
Topping
1/4 cup firmly packed brown sugar
2 tablespoons Martha White® All-Purpose Flour
1 tablespoon butter or margarine, softened
Muffins
2 (7.6 oz.) pkgs. Martha White® Banana Nut Muffin Mix
1 1/2 cups sweetened dried cranberries, coarsely chopped
1 cup milk
1 large egg, beaten
Directions
1. Heat oven to 450° F. (425° F. for dark pan). Line 16 muffin cups with paper baking cups or spray bottom of muffin cups with no-stick cooking spray. Combine topping ingredients in small bowl; mix well with fork. Set aside.
2. Combine muffin mix and cranberries in medium bowl; mix well. Add milk, egg and 1/4 cup butter; stir just until moistened. Fill muffin cups about 3/4 full.
3. Sprinkle topping evenly over muffins. Bake 11 to 14 minutes or until toothpick inserted in center comes out clean.
16 muffins
---
Crisco is a registered trademark of The J.M. Smucker Company.
Sections
Arts and Leisure
Topics
Bluegrass Music, Crisco, J.M. Smucker Company, Linda Carman, Martha White, Missouri, Nashville TN, recipe