Eastern Illinois Panthers vs. Austin Peay Lady Govs
Saturday, January 19th, 2013 | 5:15pm (CT)
Clarksville, TN | Dunn Center (7,257)

Clarksville, TN – Austin Peay Women's Basketball team hosts what has become its biggest rival in recent seasons when Eastern Illinois visits for a 5:15pm, Saturday contest at the Dunn Center.
The two teams have met 10 times in the last four seasons.
The Panthers hold a 6-4 overall edge in those 10 games but three of Lady Govs' wins have occurred during the OVC Tournament.
Austin Peay seeks an end a four-game losing streak that has led to its worst OVC start in two decades. Eastern Illinois has won five of its last six games and has scored more than 70 points in those five wins.
Lady Govs Ledger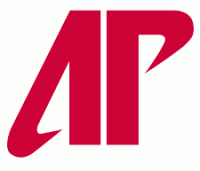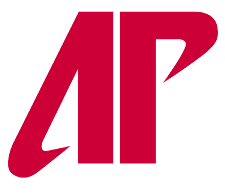 Austin Peay has a 4-3 mark at the Dunn Center this season where it is scoring nearly 17 more points per game (71.1) versus road contests (54.8) this season. However, Austin Peay's defense has struggled in the team's 0-4 OVC start, allowing each of its four opponents to score more than 70 points (77.2 ppg) and shoot a combined 48.5 percent from the floor.
The Lady Govs have won the turnover battle in 10 games this season and own a plus-1.6 turnover margin. Senior Leslie Martinez (12.5 ppg, 10.3 rpg) is one of two players (EKU's Jade Barber is the other) averaging a double-double in OVC play.
Seven APSU players have played in every contest. Each of those seven players are averaging five or more points per game, with two averaging double figures (Meghan Bussabarger and Leslie Martinez at 12.3 and 10.8 points per game, respectively).
Panthers Production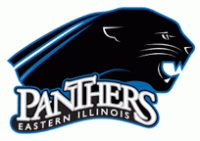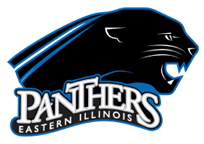 Eastern Illinois will be playing its first West Division contest this season after racking up its 4-1 start against East Division squads. EIU has yet to face Belmont to wrap up its East Division slate.
The Panthers have averaged 76.2 points per game in OVC action thanks to impressive shooting percentages overall (44.4) and behind the three-point line (39.2). In OVC play, three Panthers players are averaging double-digits in scoring.
Senior Ta'Kenya Nixon has made 56.6 percent of her shots and is averaging a team-best 16 points per game. Senior Mariah King follows her in both field-goal percentage (.518) and scoring average (15.0 ppg). Senior Kelsey Wyss was averaging 7.6 points per game in non-conference action but has boosted that average to 11.4 points per outing in OVC play.
An Austin Peay Win Would
End its four-game losing streak… be its first OVC win this season… be its fifth win at the Dunn Center (5-3)… make it 1-4 in January… improve Daniels' record to 78-127 overall and 51-63 in OVC play… make the Lady Govs 431-600 overall since 1976-77.
An Austin Peay Loss Would
Be its fifth-straight loss… be its first 0-5 OVC start under head coach Carrie Daniels and first since 1990-91… make it 0-5 in January… drop Daniels' record to 77-128 overall and 50-64 in OVC play… make the Lady Govs 430-601 overall since 1976-77.
Notes and Notables from Last Outing
Austin Peay Lady Govs vs. Morehead State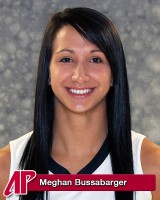 Sophomore Kristen Stainback scored a career-high 17 points, making 6-of-12 from the floor. Senior Meghan Bussabarger scored a team-best 22 points on 9-of-16 shooting. It was her fourth 20-point game this season and eighth of her career.
Austin Peay cut the lead to two points twice in the contest. Morehead State junior Allie Turner answered the call each time, converting three free-throws at the 6:43 mark and hitting a three-pointer with the 47 seconds left to forestall the Lady Govs come-back effort.
Senior Leslie Martinez finished with 13 points and eight rebounds. It was the 10th time in 16 games she has recorded at least seven rebounds.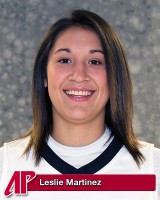 The Austin Peay loss ended a two game win streak against Morehead State. It also was the first time the Lady Govs had lost a home contest to the Eagles since January 31st, 2010. It was the fifth time the Lady Govs had scored more than 70 points in a game at home this season and the second time they have lost when doing so.
Austin Peay shot a season best 85.3 percent from the free throw line. Austin Peay starts 0-4 in conference play for the first time since the 1991-92 season. Morehead State set season highs in scoring (77), field-goal percentage (52.8) and assists (18). It is the fourth-straight contest the Lady Govs gave up at least 70 points in a game.
Previous Meeting Against Eastern Illinois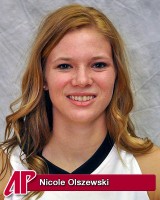 For 12 minutes Austin Peay State University women's basketball team kept pace with Ohio Valley Conference leading Eastern Illinois, but it was the final 28 minutes that proved its demise en route to an 80-46 loss, Saturday night, at Lantz Arena.
Austin Peay (5-15, 2-5 OVC) led 26-22 after Nicole Olszewski's three pointer. At that point, the Lady Govs were shooting 47.8 percent (11-of-23) from the floor and had committed just two turnovers.
However, the Lady Govs closed the half making one of their final 12 shots and committing seven turnovers in the final 7:40. Eastern Illinois (14-4, 5-0 OVC) used that drop off to close the period on a 21-2 run and took a 43-28 lead into halftime.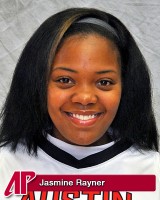 Austin Peay was unable to recover from the poor end to its first half and had a lackluster second half. The Lady Govs suffered through a shooting drought of over six minutes and the Panthers expanded their lead to 32 points with a 13-0 run that put the game out of reach. Austin Peay made only 22.2 percent (6-of-27) of its shots in the second frame.
Jasmine Rayner led the Lady Govs with 13 points. Whitney Hanley added 11 points – none in the second half. Nicole Olszewski added nine points and added team highs in rebounds (five) and assists (four). No other Lady Govs player had more than three points.
Jordyne Crunk led Eastern Illinois with a game-best 19 points. Ta'Kenya Nixon added 12 points.
Last Time Out
Austin Peay Falls to Morehead State
Clarksville, TN – Austin Peay State University women's basketball team got off to a good start but could not hold on to the early lead in a 77-71 Ohio Valley Conference loss to Morehead State, Monday night at the Dunn Center.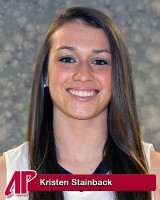 Austin Peay (5-11, 0-4 OVC) rode hot-shooting sophomore Kristen Stainback to a 16-9 lead in the opening 4:30. Stainback scored 10 points, including two three pointers, to help the Lady Govs out to their fast start.
Morehead State (6-12, 2-2 OVC) did not wilt under the early onslaught and responded right at the first half's midpoint with an 11-2 run to take a 26-23 lead. Almesha Jones scored nine points during the lead-taking burst, including a pair of conventional three-point plays. The Eagles would push their lead to 10 points late in the first half, but the Lady Govs scored the half's final four points and trailed 40-34 entering the break.
Morehead State would maintain the lead between five and 10 points in the second half's opening seven minutes. Austin Peay would use a 10-2 run around the half's midpoint to cut the lead to two points, 58-56 with 7:18 left.
However, the Lady Govs fouled Allie Turner who in turn hit all three free throws to stop the APSU run.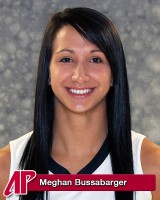 Austin Peay made another run at the lead late in the half and again got within two points on a Stainback jumper. However, the Lady Govs surrendered a three-pointer to Turner that effectively iced the contest. Morehead State would make four of its five free throws to salt the game away.
Bussabarger led Austin Peay with a 22-point, eight-rebound performance. Stainback finished with 17 points while senior Leslie Martinez chipped 13 points, eight rebounds and six assists.
Jones led all scorers with 24 points and tallied six assists. Turner added 17 points, including a perfect 6-f-6 performance at the free-throw line. The Eagles posted a season-high 77 points on a season-best 52.8 percent shooting.
Media Center
Radio: Governors Sports Network (David Loos, play-by-play and Van Stokes, analyst)
Live Stats: www.LetsGoPeay.com
Live Audio: www.LetsGoPeay.com
ipTV: www.OVCDigitalNetwork.com
Head Coaches
Austin Peay – Carrie Daniels (Austin Peay, 1996) is 77-127 (.377) in her seventh season as a head coach at Austin Peay.
Eastern Illinois – Lee Buchanan (Murray State, 1983) is 10-7 (.588) in his first season at the school and as a head coach.
Series
APSU leads, 21-14 (APSU leads 9-6 in Clarksville) | Streak: EIU, one win | Daniels vs. EIU: 5-8