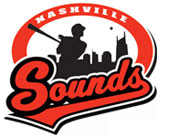 Nashville, TN – The Nashville Sounds' losing streak reached eight on Saturday evening at The Dell Diamond, where Nashville lost, 8-6, to the Round Rock Express.
Second baseman Scooter Gennett went 2-for-4 for the Sounds to raise his average to .366. He has reached base safely in all 23 of his games this season. First baseman Hunter Morris contributed a 2-for-3 effort and third baseman Stephen Parker extended Nashville's longest active hitting streak to seven games with a single in the defeat.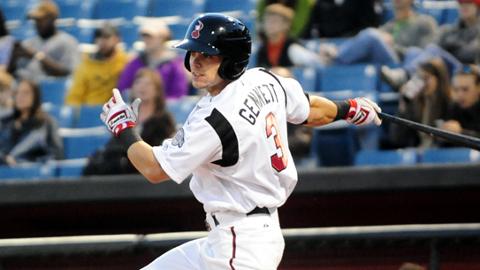 Express left-hander Brad Mills twirled a quality start against the Sounds and Yangervis Solarte paced a 13-hit Round Rock offensive attack with a 3-for-4 effort.
The Express struck first with a pair of runs in the bottom of the second inning against Sounds starter Frankie De La Cruz.
Catcher Robinson Chirinos connected for a solo homer to left to lead off frame, the backstop's second of the year. Solarte knocked a one-out single and stole second before advancing to third on Greg Miclat's comebacker to De La Cruz. On the play, the Nashville hurler threw to third and would have had Solarte out easily but his throw was high and pulled Parker into the air to allow Solarte to slide under the tag. Jose Felix followed with a run-scoring groundout to double the Express lead to 2-0.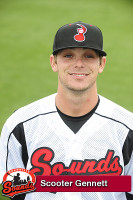 Round Rock tacked on three more runs in the fifth against De La Cruz to extend its advantage to 5-0.
The Sounds right-hander issued consecutive one-out walks before Jurickson Profar stole third base to put runners on the corners. After Chirinos plated Profar with a groundout to third, Aaron Cunningham lined an RBI single to left to chase De La Cruz from the contest. Donovan Hand took over on the hill for the Sounds and was greeted by a two-out Solarte run-scoring double to center that pushed the Express lead to five.
De La Cruz (1-4) suffered a loss for the fourth consecutive start after allowing five runs on six hits over 4 2/3 innings of work, walking four batters and striking out four.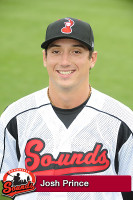 After being held to only one hit through the game's first five innings, Nashville finally got onto the board against Mills in the top of the sixth. Josh Prince led off with a single to shallow left and came around to score when Gennett grounded an RBI double all the way to the wall in left-center to cut the deficit to 5-1.
Mills (4-0) earned the victory with his quality start for Round Rock, holding the Sounds to two runs on four hits in 6 2/3 frames.
Round Rock answered the Sounds' run with one of their own in unearned fashion in the bottom of the sixth. Alex Buchholz reached on a throwing error by Parker and later scored on a two-out Chris McGuiness single off Hand to make it a 6-1 contest. Parker's misfire snapped a 54-inning errorless stretch for Nashville fielders.
Hunter Morris scored the second Nashville run of the night in the seventh when he doubled and later crossed home on catcher Dayton Buller's two-out RBI single off Express reliever Yoshinori Tateyama.
The Express closed out their scoring with two runs in the seventh off reliever Johnnie Lowe, netting three straight two-out hits in the frame to stretch the lead to 8-2.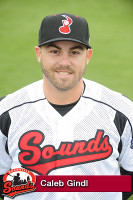 Caleb Gindl and Morris netted back-to-back, two-out RBI singles off reliever Nate Robertson in the top of the eighth inning to pull the Sounds back within 8-4.
The Sounds didn't go down without a fight in the ninth, adding two more runs without the benefit of a hit against Robertson. Gennett and Khris Davis contributed a pair of sacrifice flies in the frame.
Veteran reliever Tim Dillard, signed earlier in the day from the independent Atlantic League, made his first appearance of the season for the Sounds and worked a scoreless eighth inning.
The teams continue the series with a 1:05 p.m. matinee on Sunday afternoon. Right-hander Johnny Hellweg (1-3, 3.38) will man the bump for the Sounds and face Express right-hander Ross Wolf (0-1, 1.62).
Box Score
Round Rock Express (17-12) 8, Nashville Sounds (7-20) 6
May 4th, 2013
| Final | 1 | 2 | 3 | 4 | 5 | 6 | 7 | 8 | 9 | | R | H | E |
| --- | --- | --- | --- | --- | --- | --- | --- | --- | --- | --- | --- | --- | --- |
| Nashville Sounds | 0 | 0 | 0 | 0 | 0 | 1 | 1 | 2 | 2 | | 6 | 9 | 1 |
| Round Rock Express | 0 | 2 | 0 | 0 | 3 | 1 | 2 | 0 | X | | 8 | 13 | 1 |
BATTING
2B: Gennett (4, Mills), Morris, H (5, Mills).
TB: Prince; Buller; Halton; Parker, S; Gennett 3; Morris, H 3; Gindl.
RBI: Gennett 2 (7), Buller (3), Gindl (13), Morris, H (12), Davis, K (3).
2-out RBI: Buller; Gindl; Morris, H.
Runners left in scoring position, 2 out: Garner 2; Halton.
SF: Gennett; Davis, K.
Team RISP: 3-for-10.
Team LOB: 7.FIELDING
E: Parker, S (3, throw).
DP: 3 (Gennett-Morris, H, Prince-Gennett-Morris, H, Parker, S-Gennett-Morris, H).
BATTING
2B: Solarte (5, Hand, D).
HR: Chirinos (2, 2nd inning off De La Cruz, F, 0 on, 0 out).
TB: McGuiness; Felix, J; Solarte 4; Cunningham, A 2; Chirinos 4; Beltre 3; Buchholz; Profar.
RBI: Chirinos 2 (13), Felix, J 2 (5), Cunningham, A (10), Solarte (15), McGuiness (17), Beltre (7).
2-out RBI: Cunningham, A; Solarte; McGuiness; Felix, J; Beltre.
Runners left in scoring position, 2 out: Buchholz; Cunningham, A; Miclat; Chirinos; Profar.
GIDP: Buchholz, Cunningham, A.
Team RISP: 5-for-18.
Team LOB: 9.BASERUNNING
SB: Solarte (1, 2nd base off De La Cruz, F/Buller), Beltre (10, 2nd base off De La Cruz, F/Buller), Profar (4, 3rd base off De La Cruz, F/Buller), Cunningham, A (2, 2nd base off Lowe/Buller).FIELDING
E: Miclat (5, fielding).
Outfield assists: Beltre (Halton at 2nd base).
WP: De La Cruz, F.
HBP: Garner (by Mills).
Pitches-strikes: De La Cruz, F 88-47, Hand, D 26-20, Lowe 36-23, Dillard 10-6, Mills 97-53, Tateyama 32-22, Robertson, N 21-15.
Groundouts-flyouts: De La Cruz, F 7-1, Hand, D 1-0, Lowe 0-1, Dillard 1-0, Mills 3-8, Tateyama 0-1, Robertson, N 0-3.
Batters faced: De La Cruz, F 23, Hand, D 8, Lowe 7, Dillard 3, Mills 26, Tateyama 6, Robertson, N 8.
Inherited runners-scored: Hand, D 1-1, Tateyama 1-1, Robertson, N 2-2.
Umpires: HP: Stephen Barga. 1B: Scott Mahoney. 2B: Blake Davis. 3B: D.J. Reyburn.
Weather: 80 degrees, partly cloudy.
Wind: 12 mph, Out to RF.
T: 3:23.
Att: 8,772.