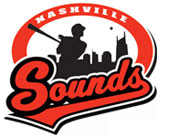 Nashville, TN – The Nashville Sounds bats came alive late in Tuesday night's contest at Greer Stadium, but the home team was unable to top the Round Rock Express, losing by a 6-3 margin.
Trailing 6-1, Nashville started the ninth with three consecutive hits. Outfielder Caleb Gindl, 2-for-4, hit a single to right field to begin the rally. First baseman Hunter Morris, 2-for-4, and Khris Davis followed with run-scoring doubles. Unfortunately for the Sounds, that is where the rally ended.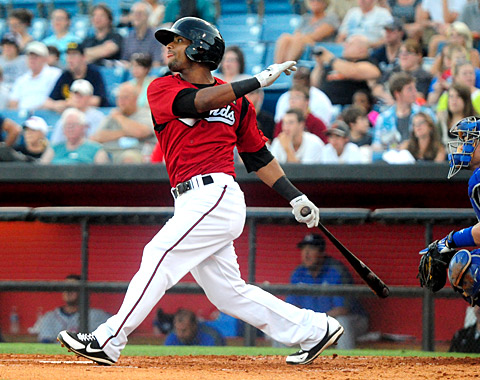 The Sounds fell behind early, allowing four runs over the first two innings. Round Rock picked up their first run via infielder Yangervis Solarte's single to right field, scoring Joey Butler in the first inning. Butler had reached base on a ground rule double.
In the second, the Express added three more runs on one swing from designated hitter Mike Bianucci, touching Sounds starter Hiram Burgos (1-3) for a home run to the corner in left-field. Mike Olt and Jim Adduci had singles to lead off the frame and scored on the homer.
Burgos finished with five innings of work for Nashville, taking the loss after allowing four runs on five hits. He fanned two batters and walked one, throwing 76 pitches and 50 for strikes before Travis Webb entered in relief.
Webb had two outs and a runner on first when Round Rock rattled off four singles in the sixth inning to take a 6-0 lead. Bianucci and catcher Eli Whiteside had the two RBI knocks of the inning.
The lefty remained in the game to strike out the side in the seventh and pitch a 1-2-3 eighth. He finished with two walks and six strikeouts. Tim Dillard finished the game for Nashville with a scoreless ninth inning.
Jake Brigham (2-1) received the win for Round Rock, limiting the Sounds to three hits over 6 2/3 innings. His one run allowed came in the seventh, when Sounds catcher Blake Lalli got the home team on the board with his two-out single through the infield. Lalli's hit, against reliever Joseph Ortiz, scored Caleb Gindl, who was Brigham's responsibility.
The Sounds conclude their homestand Wednesday at Greer Stadium, looking to win the three-game series with the Express. Throwing for Nashville will be RHP Jimmy Nelson (0-2, 2.66) against Round Rock's lefty Brad Mills (7-2, 3.78).
The game will be followed by a festive Independence Day Fireworks Celebration, presented by Nashville International Airport. The first 1,500 fans through the gates will receive red, white, and blue Sounds t-shirts courtesy of Something Inked.
Box Score
Round Rock Express (49-37) 6, Nashville Sounds (30-56) 3
July 2nd, 2013
1
2
3
4
5
6
7
8
9
R
H
E
Round Rock Express
1
3
0
0
0
2
0
0
0
6
9
0
Nashville Sounds
0
0
0
0
0
0
1
0
2
3
9
0
BATTING
2B: Butler, Jy (18, Burgos, H).
HR: Bianucci (5, 2nd inning off Burgos, H, 2 on, 0 out).
TB: Whiteside; Bianucci 5; Adduci 2; Solarte; Garcia, L; Butler, Jy 2; Olt.
RBI: Solarte (55), Bianucci 4 (21), Whiteside (20).
2-out RBI: Solarte; Bianucci; Whiteside.
Runners left in scoring position, 2 out: Hoying; Cunningham, A 2.
Team RISP: 5-for-7.
Team LOB: 7.FIELDING
DP: (Garcia, L-Solarte-Adduci).
BATTING
2B: Morris, H (17, Yan), Davis, Kh (10, Yan).
TB: Lalli; Davis, B 2; Gennett; Davis, Kh 2; Gindl 2; Morris, H 3.
RBI: Lalli (16), Morris, H (39), Davis, Kh (26).
2-out RBI: Lalli.
Runners left in scoring position, 2 out: De La Rosa, A.
GIDP: Prince.
Team RISP: 2-for-6.
Team LOB: 5.
Round Rock Express
Player
IP
H
R
ER
BB
SO
HR
ERA
Jake Brigham (W, 2-1)
6.2
3
1
1
0
4
0
4.88
Joseph Ortiz
1.1
3
0
0
0
1
0
4.26
Johan Yan
1.0
3
2
2
0
1
0
4.35
Totals
9.0
9
3
3
0
6
0
4.00
Nashville Sounds
Player
IP
H
R
ER
BB
SO
HR
ERA
Hiram Burgos (L, 1-3)
5.0
5
4
4
1
4
1
2.93
Travis Webb
3.0
4
2
2
2
6
0
6.31
Tim Dillard
1.0
0
0
0
0
0
0
2.05
Totals
9.0
9
6
6
3
10
1
4.38
HBP: Butler, Jy (by Dillard).
Pitches-strikes: Brigham 82-58, Ortiz 27-17, Yan 23-13, Burgos, H 76-50, Webb 62-38, Dillard 9-6.
Groundouts-flyouts: Brigham 8-5, Ortiz 1-0, Yan 2-0, Burgos, H 3-7, Webb 0-0, Dillard 3-0.
Batters faced: Brigham 23, Ortiz 6, Yan 6, Burgos, H 21, Webb 15, Dillard 4.
Inherited runners-scored: Ortiz 1-1.
Umpires: HP: Shaun Lampe. 1B: Stu Scheurwater. 2B: Kellen Levy. 3B: D.J. Reyburn.
Weather: 82 degrees, partly cloudy.
Wind: 4 mph, R to L.
T: 2:46.
Att: 3,074.
Venue: Herschel Greer Stadium.
July 2, 2013