Nashville, TN – Senior offensive tackle Ben Stansfield was a preseason all-conference selection and Austin Peay State University was picked ninth in the Ohio Valley Conference at by a vote of the conference coaches and sports information directors announced July 22nd at the annual OVC Media Day.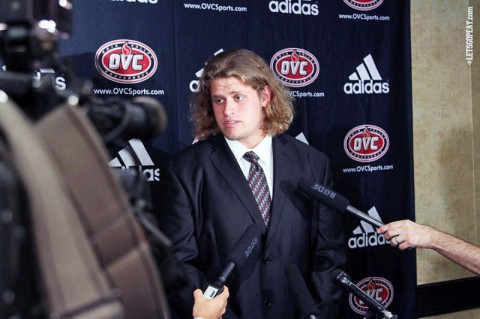 Eastern Illinois University totaled 122 points to top the poll for the first time since 2007 and the fifth time since joining the OVC in 1996. Eastern Kentucky University picked up four first-place votes and was second with 114 points while Tennessee State University picked up the final two first-place nods and was third with 90 points.
Jacksonville State University was picked fourth (87 points) and was followed closely by UT Martin (78). Murray State University and Tennessee Tech University each received 53 points to tie for sixth while Southeast Missouri State University (35) and Austin Peay (16) rounded out the poll.
For the third season in a row, the Govs were picked to finish last in the OVC. Fifty-eight lettermen and 18 starters return to Clarksville, TN for head coach Kirby Cannon's first season at the helm.
"Preseason polls and predictions are just that: preseason," Cannon said. "My main concern is where we're going to be at the end of the season. We hope to establish a reputation as a team that's going to be dangerous immediately."
Stansfield became Austin Peay's first preseason All-OVC selection along the offensive line since Tim Schmid was tabbed prior to the 2011 season. He leads a veteran offensive line that returns four starters after leading the OVC and ranking 10th nationally in sacks allowed per game in 2012.
Senior defensive lineman Iosua Siliva, who was named first-team All-OVC in Phil Steele Magazine's Preseason College Football Preview, was left off by the coaches and SID's.
Stansfield and junior wide receiver Darryl Clack were the Govs player representatives at OVC Media Days. Clack will be charged with replacing the bulk of the production Austin Peay's offense lost with the graduation of Devin Stark, who caught 67 passes for 774 yards and 10 touchdowns as a senior.
"You hope that your kids that are deserving get their recognition," Cannon said. "I think Ben and Darryl both deserved to be here and represent us. Iosua is also a great player, and I know what effect his recognition has had on him. He's a very good young man and one of our stars academically."
Eastern Illinois wide receiver Erik Lora was named preseason Offensive Player of the Year, while Tennessee State cornerback Steven Godbolt III was tabbed with Defensive Player of the Year honors.
The Govs begin the regular season with a daunting road slate, opening with five consecutive road games at the University of Tennessee (August 31st), Vanderbilt University (September 7th), University of Chattanooga (September 14th), Ohio University (September 21st) and Eastern Kentucky (October 5th) before opening the home schedule against OVC preseason top pick Eastern Illinois (October 10th).
All Austin Peay home games and OVC contests can be viewed on the OVC Digital Network.