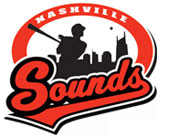 Nashville, TN- The Round Rock Express rallied from a mid-game four-run deficit to eventually hang an 8-6, 10-inning defeat on the Nashville Sounds on Sunday evening at Greer Stadium.
Nashville (51-78), which led 5-1 entering the sixth inning, fell to 1-7 in extra-inning play this season (0-4 at home).
In the decisive tenth frame, Round Rock loaded the bases with no outs on a walk sandwiched by a pair of singles against Travis Webb. Engel Beltre delivered a go-ahead RBI single to center before Alex Buchholz chased Webb with an RBI groundout that gave the Express an 8-6 lead.
Express closer Cory Burns worked into and out of a jam in the bottom of the tenth to close out the victory. Caleb Gindl drew a leadoff walk and moved to third when Robinzon Diaz followed with a double, putting the potential tying run at second with no outs.
Burns recovered to strike out Hunter Morris and Hainley Statia in succession before retiring Blake Lalli on a game-ending groundout to nail down his 19th save of the year.
Ben Rowan (2-1) was awarded the victory for Round Rock despite suffering a blown save in the contest. Webb (2-5) drew the loss for Nashville after allowing the go-ahead scores in his two innings of action.
Right-hander Alfredo Figaro made his Sounds debut and turned in a good effort. He worked four-plus innings, allowing one run on five hits with three walks issued and four strikeouts while throwing 72 pitches in the outing.
Round Rock took a 1-0 lead in the top of the third inning against Figaro. Former Brewers farmhand Guilder Rodriguez doubled and scored on Jim Adduci's two-out single to center.
Second baseman Eugenio Velez powered the Sounds to a 2-1 lead in the home half of the frame when he drilled his first home run as a member of the team, a two-out, two-run drive to right off Josh Lindblom. Kentrail Davis, who drew a two-out walk preceding Velez, also scored on the blast.
Velez has reached base in 21 straight contests, hitting .382 (29-for-76) over that span.
Gindl kept the one-run lead intact in the fourth when he threw out Joey Butler at the plate as he attempted to score from second on Mike Bianucci's one-out single to right. It was Gindl's team-leading eighth outfield assist of the year and fifth at the plate.
Gindl continued his strong night in the fifth when he upped the Nashville lead to 5-1 with a three-run homer to right off Lindblom. Josh Prince (2-for-4) and Stephen Parker, who had each singled earlier in the frame, also scored on the two-out blast, Gindl's 11th big fly of the season. The roundtripper extended his longest hitting streak of the season to nine games (14-for-37, .378).
Round Rock got a pair of runs back in the sixth against reliever Zach Kroenke to pull within 5-3. Bianucci ripped an RBI single and Jared Hoying laced a run-scoring double to right during the frame.
The Express rallied to grab a 6-5 lead in the eighth by plating four runs off Johnnie Lowe. Catcher Zach Zaneski, batting .071 entering the at-bat, delivered the game-tying blow, a bases-loaded two-run single to center. After an intentional walk reloaded the bags, Webb took over on the hill for the Sounds and was greeted by a go-ahead sacrifice fly to center off the bat of Beltre. Two of the three runs in the inning, including the go-ahead score, were unearned following a fielding error by Prince at shortstop.
The back-and-forth affair continued in the bottom of the eighth as the Sounds squared the contest at six all on Statia's two-out RBI double into the left field corner off Rowen, which plated Diaz.
The team continue their series with a 7:05pm contest on Monday night. Left-hander Aaron Laffey (6-6, 5.53) will make the start for the Sounds and face Round Rock right-hander Evan Meek (5-7, 3.79).
Box Score
Round Rock Express (67-62) 8, Nashville Sounds (51-78) 6
August 18th, 2013
1
2
3
4
5
6
7
8
9
10
R
H
E
Round Rock Express
0
0
1
0
0
2
0
3
0
2
8
14
3
Nashville Sounds
0
0
2
0
3
0
0
1
0
0
6
9
4
BATTING
2B: Rodriguez, G (1, Figaro), McGuiness (25, Kroenke), Hoying (5, Kroenke).
TB: McGuiness 3; Bianucci 3; Adduci 3; Zaneski; Rodriguez, G 3; Beltre, E; Butler, Jy 2; Hoying 2.
RBI: Adduci (55), Bianucci (36), Hoying (24), Zaneski 2 (3), Beltre, E 2 (23), Buchholz (17).
2-out RBI: Adduci.
Runners left in scoring position, 2 out: Hoying; Zaneski 2; Butler, Jy; Buchholz; McGuiness.
SF: Beltre, E.
GIDP: McGuiness, Beltre, E.
Team RISP: 7-for-20.
Team LOB: 12.BASERUNNING
SB: Adduci (31, 2nd base off Lowe/Diaz, R).FIELDING
E: Rodriguez, G (2, throw), Buchholz (9, fielding), Bianucci (5, fielding).
Pickoffs: Lindblom (Davis, Ke at 1st base).
BATTING
2B: Statia (8, Rowen), Diaz, R (7, Burns).
HR: Velez (1, 3rd inning off Lindblom, 1 on, 2 out), Gindl (11, 5th inning off Lindblom, 2 on, 2 out).
TB: Velez 4; Prince 2; Diaz, R 3; Parker, S; Gindl 4; Statia 3.
RBI: Velez 2 (12), Gindl 3 (49), Statia (22).
2-out RBI: Velez 2; Gindl 3; Statia.
Runners left in scoring position, 2 out: Diaz, R; Velez; Lalli 3.
Team RISP: 3-for-12.
Team LOB: 7.BASERUNNING
SB: Davis, Ke (7, 2nd base off Lindblom/Zaneski).
CS: Davis, Ke (4, 2nd base by Lindblom/Zaneski), Statia (5, 2nd base by Lindblom/Zaneski).
PO: Davis, Ke (1st base by Lindblom).FIELDING
E: Diaz, R (8, throw), Prince (14, fielding), Davis, Ke (3, throw).
PB: Diaz, R (1).
Outfield assists: Gindl (Butler, Jy at home).
DP: 2 (Velez-Prince-Morris, H, Parker, S-Velez-Morris, H).
Round Rock Express
Player
IP
H
R
ER
BB
SO
HR
ERA
Josh Lindblom
6.0
5
5
5
2
3
2
2.74
Joseph Ortiz
1.0
1
0
0
0
1
0
3.04
Ben Rowen (BS, 2)(W, 2-1)
2.0
2
1
1
0
1
0
0.69
Cory Burns (S, 19)
1.0
1
0
0
1
2
0
1.82
Totals
10.0
9
6
6
3
7
2
4.03
Figaro pitched to 2 batters in the 5th.
WP: Figaro, Lowe 2.
IBB: Adduci (by Lowe).
Pitches-strikes: Lindblom 89-58, Ortiz 15-10, Rowen 25-18, Burns 19-11, Figaro 72-46, Kroenke 41-25, Lowe 32-15, Webb 35-22, Molleken 9-6.
Groundouts-flyouts: Lindblom 9-2, Ortiz 2-0, Rowen 5-1, Burns 1-0, Figaro 3-1, Kroenke 1-6, Lowe 1-0, Webb 2-2, Molleken 1-0.
Batters faced: Lindblom 25, Ortiz 4, Rowen 9, Burns 5, Figaro 18, Kroenke 12, Lowe 7, Webb 11, Molleken 2.
Inherited runners-scored: Kroenke 2-0, Lowe 1-0, Webb 3-1, Molleken 2-0.
Umpires: HP: Pat Hoberg. 1B: Brandon Misun. 3B: Spencer Flynn.
Weather: 76 degrees, overcast.
Wind: 1 mph, Varies.
T: 3:28.
Att: 3,143.
Venue: Herschel Greer Stadium.
August 18, 2013