Clarksville, TN – Junior midfielder Frankie Carbajal, of Austin Peay State University women's soccer team, has been named a Primetime Performer by College Soccer 360 for her work in last week's matches against UT Martin and Southeast Missouri.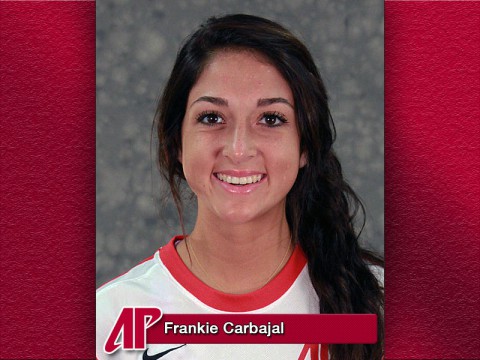 Carbajal's first career goal was the game winner against UT Martin, Friday, helping the Lady Govs earn their first Ohio Valley Conference win and avenge a loss to the Skyhawks in last season's OVC Championship match.
Making just her second career start, Carbajal played a pivotal role in limiting the Skyhawk offense and netted her 63rd minute goal off a corner kick from junior Claire Pultz.
Sunday, Carbajal made another start and played 82 minutes in Austin Peay's double-overtime draw against Southeast Missouri, playing as part of a midfield trio that helped limit the Redhawks to just two shots over the final 65 minutes of play.
"I really think Frankie is one of our breakout players this season," said head coach Kelley Guth. "She's one of our more composed players on the field and she's getting better each game. With a lack of midfield depth this weekend, she stepped up and did a great job."
Not based solely on raw stats, the CS360 weekly awards are based on criteria such as performing at a high level in a game that could be key to a team's postseason qualification, exhibiting strong leadership or clutch performances and contribution to team success against a quality opponent. Carbajal is the first OVC athlete honored by the website in 2013.