Morehead, KY – Junior Jada Stotts tied her season high with 21 kills to lead Austin Peay State University's volleyball team past Southeast Missouri in four sets (25-23, 19-25, 25-15, 25-23) in an opening day lower seeds have dominated at the Ohio Valley Conference's Volleyball Championships, Thursday, at Wetherby Gymnasium.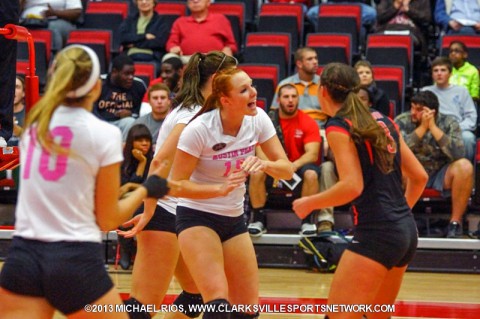 Stotts entered Thursday's match battling through a rare slump which saw her fail to record double-digit kills in five consecutive matches. She quickly made a statement with five kills in the opening set.
After battling through a difficult second set, that saw her post three kills and three errors, Stotts charged back with another five-kill performance in the third set. She saved her best for the final set with an impressive eight-kill tally.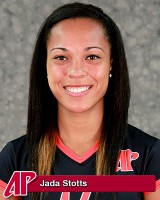 "Jada came to life tonight," said Lady Govs head coach Taylor Mott. "It's been a tough month for her but she showed her potential. But I'm proud of the whole team. We made big plays at crucial times throughout the match. We also stuck together, especially after a difficult second set, and battled the whole match."
The match's opening set was the most entertaining of the quartet with Austin Peay and Southeast Missouri battling through 12 ties and six lead changes. After the Lady Govs opened with a 6-2 run, the Redhawks responded with a 6-2 run of their own to tie the set. Neither team would lead by more than three points the rest of the set, Austin Peay got to set point first, 24-21, but needed three tries and an kill by sophomore Aubrey Marsellis to win the set, 25-23.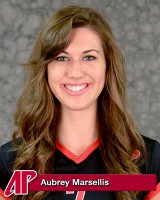 Southeast Missouri (17-16) roared back in the second set, leading wire-to-wire. The Redhawks opened with six straight points and built a 9-1 lead. The Lady Govs battled back to within three points, 16-13, but could get no closer as Southeast Missouri posted a 25-19 victory.
Austin Peay (13-21) rallied out of the break with a four-point run and a five-point run to build a 10-3 lead. The Lady Govs tacked on an 8-2 run later in the set to push their advantage to 11 points, 19-8, and didn't look back. Austin Peay scored 19 kills in the set – five each by Stotts and Marsellis – to post a 25-15 win.
The Redhawks attempted to rally in the fourth set, scoring four straight points to lead 5-3 early. However, Austin Peay scored seven of the next eight to take a 10-6 lead it would not relinquish. The Lady Govs got to match point at 24-20, but the Redhawks staved off three points until senior Lauren Henderson ended the match with a kill for the 25-23 win.
While Stotts' match-best 21 kill performance dominated the storyline, the Lady Govs got strong performances throughout its lineup. Marsellis finished with 12 kills and redshirt freshman Sammie Ebright chipped in an 11-kill effort.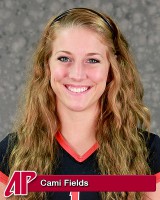 Marsellis again shared setting duties with junior Cami Fields and the duo helped Austin Peay post 63 kills in the set, including 19 kills in both the third and fourth frames, at a .242 attack percentage.
Colleen Yarber led Southeast Missouri with 20 kills, but was the only hitter to reach double-digit kill territory. The Redhawks were held to 52 kills and a .196 attack percentage in the match.
Austin Peay will face the winner of top-seeded Morehead State or eighth-seeded Tennessee State in a 6:00pm (CT), Friday contest. That game will be available nationwide on ipTV through ESPN3.
Box Score
Austin Peay vs Southeast Missouri
November 21st, 2013 | Morehead, KY
Austin Peay
ATTACK
SET
SERVE
SRV
DEF
BLOCK
GEN
##
Player
SP
K
E
TA
PCT
A
SA
SE
RE
DIG
BS
BA
BE
BHE
Points

1

FIELDS, Cami

4

1

1

3

.000

21

1

2

0

11

0

0

0

1

2.0

7

MARSELLIS, Aubrey

4

12

7

28

.179

30

0

1

0

5

0

1

0

0

12.5

10

STROTHER, Samantha

4

5

0

13

.385

1

0

0

0

4

0

0

0

0

5.0

12

HENDERSON, Lauren

4

7

4

23

.130

3

1

1

0

2

0

3

0

0

9.5

14

STOTTS, Jada

4

21

8

52

.250

2

0

0

0

16

0

3

0

0

22.5

15

PLYBON, Hillary

4

5

2

12

.250

1

0

0

0

5

0

2

0

0

6.0

3

ADAMS, April

1

0

0

0

.000

0

0

0

0

0

0

0

0

0

0.0

4

EBRIGHT, Sammie

4

11

2

27

.333

0

0

0

0

1

0

1

0

0

11.5

5

BALES, Lizzy

4

0

0

1

.000

1

0

0

2

10

0

0

0

0

0.0

8

LANDON, Liz

1

0

0

0

.000

0

0

0

0

0

0

0

0

0

0.0

13

LITCHFIELD, Syd

4

1

0

2

.500

2

0

0

1

13

0

0

0

0

1.0

TEAM

1

Totals

4

63

24

161

.242

61

2

4

4

67

0

10

0

1

70.0

TOTAL TEAM BLOCKS: 5.0
TEAM ATTACK BY SET
Set
K
E
TA
Pct
Sideout
Pct

1

16

6

36

.278

13-22

59%

2

9

6

40

.075

13-25

51%

3

19

6

43

.302

10-15

66%

4

19

6

42

.310

13-24

54%

49-86

56%

SET SCORES
1
2
3
4
TEAM RECORDS

Austin Peay

(3)

25

19

25

25

13-21

Southeast Missouri

(1)

23

25

15

23

17-16
Southeast Missouri
ATTACK
SET
SERVE
SRV
DEF
BLOCK
GEN
##
Player
SP
K
E
TA
PCT
A
SA
SE
RE
DIG
BS
BA
BE
BHE
Points

1

ROHLFING, Alexandra

4

7

5

24

.083

1

0

0

0

1

0

0

0

0

7.0

5

COON, Emily

4

9

4

22

.227

2

0

0

0

1

1

2

0

0

11.0

6

SHIVES, Julie

4

6

0

11

.545

37

0

0

0

10

0

2

0

1

7.0

9

MASTERSON, Taylor

4

5

3

14

.143

1

0

0

0

1

4

2

1

0

10.0

12

YARBER, Colleen

4

20

9

67

.164

0

0

1

0

5

0

1

2

0

20.5

13

KEEVE, Kelsey

4

5

1

11

.364

0

0

0

0

3

1

1

0

0

6.5

2

BAYLIN, Andrea

4

0

0

2

.000

1

2

2

1

10

0

0

0

0

2.0

8

STRANGES, Meredith

4

0

0

0

.000

0

0

0

0

3

0

0

0

0

0.0

11

IDEL, Berkley

4

0

0

1

.000

4

0

0

0

15

0

0

0

0

0.0

15

MORTIMER, Jade

4

0

0

0

.000

3

2

1

1

12

0

0

0

0

2.0

Totals

4

52

22

153

.196

49

4

4

2

61

6

8

3

1

66.0

TOTAL TEAM BLOCKS: 10.0
TEAM ATTACK BY SET
Set
K
E
TA
Pct
Sideout
Pct

1

15

4

37

.297

15-25

60%

2

19

6

42

.310

13-19

68%

3

5

6

36

-.028

10-25

40%

4

13

6

38

.184

12-24

50%

50-93

53%

Site: Morehead, Ky. (Wetherby Gym)
Date: Nov 21, 2013 Attend: 145 Time: 1:49
Referees: Ken Gilkey, Bob Bayless


| | | | | | |
| --- | --- | --- | --- | --- | --- |
| | 1 | 2 | 3 | 4 | Total |
| Tie scores | 12 | 0 | 2 | 3 | 17 |
| Lead changes | 6 | 0 | 2 | 2 | 10 |