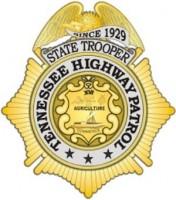 Nashville, TN – Colonel Tracy Trott announced today that the Tennessee Highway Patrol (THP) has partnered with Mothers Against Drunk Driving (MADD) to help raise awareness about the importance of designating a non-drinking driver during holiday celebrations.
Colonel Trott was joined by representatives from MADD to announce the patrol's participation in the "Tie One On For Safety" red ribbon campaign, which is the organization's signature nationwide public awareness program.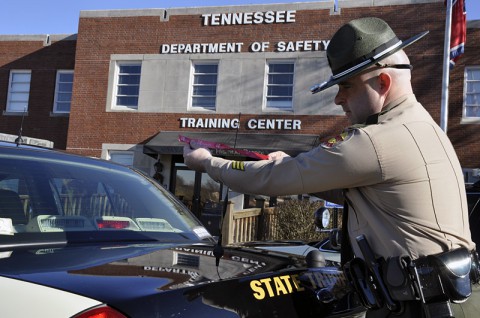 Troopers statewide will display the "Tie One On For Safety" red ribbons on all patrol cars.
Now in its 27th year, the campaign urges drivers across the country to display MADD red ribbons on their vehicles as a reminder to plan ahead and designate a non-drinking driver before they go out.
"We hope as motorists travel across Tennessee this holiday season, they will see the red ribbons on THP patrol cars and be reminded of our continuous efforts to reduce the number of impaired drivers on our roads," Trott said.  "Though we want to encourage this practice every day of the year, we're here today because drunk driving deaths typically rise over the holidays."
Between Thanksgiving and New Year's Eve in 2011 (the most recent year for which we have national data), 931 people were killed in drunk driving crashes nationwide, according to the National Highway Traffic Safety Administration. That number includes the 28 people who were killed in Tennessee in alcohol-impaired crashes during the 2011 holiday time period.
Preliminary data show that 198 people have died in alcohol-impaired crashes in Tennessee this year through December 9th. In 2012, a total of 295 people lost their lives in alcohol-impaired crashes; and in 2011 that number was 259.
A recent national survey released last month by MADD shows that 73.4 percent of people asked said they had been at an event and witnessed someone try to drive home after drinking too much.
The "Tie One On For Safety" red ribbons also signify support for law enforcement officers, who will be out in force as part of the national "Drive Sober or Get Pulled Over" campaign.
Citizens who would like red ribbons may contact MADD Tennessee at www.maddtn.org .
About the Tennessee Department of Safety and Homeland Security
The Tennessee Department of Safety and Homeland Security's (www.TN.Gov/safety) mission is to ensure that our state is a safe, secure place in which to live, work and travel; enforce the law with integrity; and provide customer-focused services professionally and efficiently.