Austin Peay Governors vs. Vanderbilt Commodores
Tuesday, December 17th, 2013 | 8:00pm CT
Nashville, TN | Memorial Gymnasium

Clarksville, TN – Austin Peay State University Men's Basketball will head to Vanderbilt to play the Commodores for the first time since the 2007-08 season opener, an 81-67 Governors defeat, November 10th, 2007.

APSU is 1-13 all-time against Vandy.

The Governors will be seeking their second road win this season. APSU won at Youngstown State. 88-86, November 30th.

This is Vanderbilt's first game since December 5th, when the Commodores defeated Marshall, 69-67, in Memorial Gymnasium. After the 12-day layoff, this is the second of a five-game homestand for Vandy.

When point guard Damarius Smith dished out 12 assists against Liberty it was the second time he had recorded double-digit assists this season. He is the first Gov to record multiple single-season double-digit assist games since Derek Wright tallied three in the 2007-08 season.

Vandy comes in at 5-3 but hasn't played since downing Marshall, 69-67, December 5th.

Tulsa transfer point guard Eric McClellan leads the Commodores in scoring at 16.5 ppg. Power forward Rod Odom surprisingly leads the team in three-point shooting, connecting on 23 of 48 shots while averaging 13 ppg.

Austin Peay sophomore center Chris Horton was named OVC Player of the Week after tallying 21 points, 11 rebounds and four blocks against Liberty. It was Horton's fifth double-double this season and the 21 points represented his season's second 20-point outing.

This is Austin Peay's first game against a Southeastern Conference foe since downing Tennessee, 74-70, December 10th, 2011.
Deeper Meanings
What A Win Would Mean
It would make the Governors 6-5. It would be APSU's second straight win. It would be APSU's second December win, improving it to 2-2. It would give the Govs their second road win of 2013-14. It would improve the Govs to 2-13 all-time against the Commodores. It would improved head coach Dave Loos to 1-2 against Vanderbilt coach Kevin Stallings. It would improve the Govs to 4-49 against current SEC members.
What A Loss Would Mean
The Govs would drop to one game below the .500 mark at 5-6. It would be APSU's second straight road defeat. APSU would drop to 1-3 in December. It would drop Dave Loos to 0-8 all-time against Vanderbilt. Loos would drop to 458-392 overall and 376-339 as the Governors head coach.
Double Double
Sophomore center Chris Horton put together his season's fifth double-double with 21 points, going 8-of-10 from the floor, and grabbing 11 rebounds against Liberty. Horton also blocked four shots.
It was good enough to help the 6-8, 205-pound Decatur, GA, his first Ohio Valley Conference Player of the Week Honor. Horton was OVC Freshman of the Year a year ago in blocking 100 shots.
Board Work
With his 11 rebounds against Liberty, Chris Horton has led or been the Govs' co-leader in rebounds in all 10 games this season. He is averaging 10.1 rpg for the season.
Dime Delivery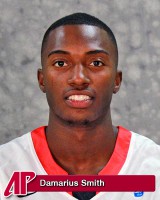 For the second time this season, junior guard Damarius Smith posted a double digit assist total, with a career-high 12 against Liberty.
It was the highest total posted by a Gov since Derek Wright had 12 assists at UT Martin, January 3rd, 2008.
20-20
Travis Betran's 23 points and Chris Horton's 21 against Liberty marked the first time two Govs scored 20 since Will Triggs and Travis Betran had 20 each against Morehead State, January 9th, 2013.
Four Square
When Travis Betran had 23 points, Chris Horton 21, Will Triggs 12 and Ed Dyson 10, it was the second time this season the Govs placed four players in double figures–the first time coming at Central Michigan.
Opening Tip
Austin Peay and Chris Horton has won the tip 10 out of 11 times this season, including overtimes, this season. The only tip he lost was the opening one against Memphis.
Bee-Train Rolling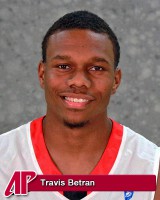 When senior guard Travis Betran scored 23 points against Liberty it was the 14th time—three times this season—in 41 career games the Harlem, NY native has scored 20 or more points.
He connected on 4-of-6 three pointers–the four three pointers tied his individual best this season.
Sections
Sports
Topics
APSU, APSU Athletics, APSU Basketball, APSU Men's Basketball, APSU Sports, Austin Peay State University, Central Michigan, Chris Horton, Clarksville, Clarksville TN, Damarius Smith, Dave Loos, Decatur GA, Derek Wright, Ed Dyson, Governors, Govs, Harlem NY, Kevin Stallings, Liberty, Marshall, Memorial Gymnasium, Memphis, Morehead State, Nashville TN, Ohio Valley Conference, OVC, SEC, Southeastern Conference, Tennessee, Travis Betran, UT-Martin, Vanderbilt Commodores, Will Triggs, Youngstown State