Clarksville, TN – Austin Peay State University women's basketball team broke a second-half tie with 18 unanswered points en route to a 79-70 Ohio Valley Conference victory against Tennessee Tech, Saturday afternoon at the Dunn Center.

Austin Peay (7-13, 4-3 OVC) extended its win streak to four games, its longest win streak since February 17th, 2011.

The Lady Govs also won a home conference game for the first time since the end of the 2011-12 campaign, ending a 10-game home OVC losing streak.

The Lady Govs led 37-36 to start the second half and pushed the lead to three points on freshman Beth Rates layup. Tennessee Tech bounced back with the game's next five points and led 41-39 with 18:12 remaining.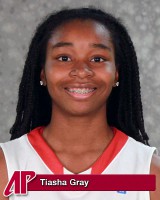 However, Austin Peay would score the game's next 18 points in a five-minute span. Five different Lady Govs scored during the run, sophomore Tiasha Gray and junior Kristen Stainback leading the charge with six points each. Tennessee Tech did hit a free throw to end the run, but Banks hit a layup at the other end to give APSU a 59-42 lead with 12:48 left.
Tennessee Tech (7-13, 4-3 OVC) did not disappear and put together a pair of runs to narrow the deficit. The Golden Eagles first used a 10-4 run, with Molly Heady supplying five points, to trim the APSU lead to 10 points, 67-57, with six minutes left.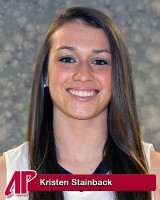 The lead remained near 10 points for the next four minutes. Tennessee Tech put forth its last charge in the final two minutes, an 8-2 burst in which Diamond Henderson scored all eight TTU points. Her three-pointer with 30 seconds left cut the APSU lead to five points, 75-70.

However, Austin Peay would make all four of its free throws down the stretch to set the final margin.

The first half was a see-saw affair with nine lead changes and four ties. Tennessee Tech scored the game's first six points for its largest lead of the contest, 6-0, just 2:08 into the contest.

Austin Peay used a 10-1 run around the midway point to build its largest lead of the frame, 24-16 with 8:36 left. Gray and Henderson traded shots in the final two minutes to set the halftime score.

Gray and Stainback each finished with 20 points to pace the Austin Peay offense. Banks recorded her third double-double with a 13-point, 13-rebound performance in which she was a perfect 6-of-6 from the floor. Senior Nicole Olszewski finished with 10 points and a game-best six assists.
Austin Peay made 50 percent (28-of-56) of its field goals, including a season-best 63.6 percent (7-of-11) from three-point range. The Lady Govs also owned a dominating 45-39 rebounding edge.
Henderson led Tennessee Tech with 25 points, including 16 in the first half. Candace Parson posted a 14-point, 10-rebound double-double outing while Heady finished with 11 points.
Austin Peay continues its three-game homestand when it hosts Jacksonville State in a 7:00pm, Monday contest.
Sections
News
Topics
@APSUBaseball, APSU, APSU Basketball, APSU Dunn Center, APSU Lady Govs, APSU Sports, Austin Peay, Austin Peay Basketball, Austin Peay State University, basketball, Beth Rates, Candace Parson, Clarksville, Clarksville Tennessee, Clarksville TN, Diamond Henderson, Dunn Center, Golden Eagles, Jacksonville State, Kristen Stainback, Lady Govs, Molly Heady, Nicole Olszewski, Ohio Valley Conference, OVC, Tennessee, Tennessee Tech, Tennessee Tech Golden Eagles, Tiasha Gray, TTU