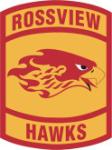 Clarksville, TN – The District 10-AAA baseball tournament continued Monday, May 5th with a pitching duel between Rossview's Brett Wilson and Northeast's Ben Wilford. Despite the Eagles best efforts, the game was decided early.
The Rossview Hawks plated two runs in the first inning and it turned out to be all they needed for the win.
Wilson earned the complete game shutout. He allowed just three hits and struck out eight in the game. Backed up with some great defensive plays, Wilson retired 12 straight Eagle batters, three up and three down, in the last four innings.
Wilford was equally impressive in the late innings of the game, but trouble in the first inning is what allowed the Hawks to score and eventually win the game.
Wilford allowed two runs from two hits, struck out eight and walked eight Eagles batter. He walked four of the eight in the first inning, setting up the Hawks scores.
Wilford walked the first two Hawks' batters. Then, Truman Brown hit a single up the middle to bring in the Hawks' first run.
After Wilford walked a third Hawks' batter to load the bases, Bradley Wilson hit a grounder to third base setting up a fielder's choice. However, the third baseman made the out at first instead of going home, allowing the second run to score.
Brown and Wilson hit the only RBIs for the Hawks. Brown batted 2-for-3 with an RBI single and a double.
Despite walking four more batters in the game. Wilford was able to pitch his way out of jams and keep the Hawks from scoring again.
Ironically, the Eagles best scoring opportunity came in the first inning as well when they generated two of their total three hits.
Lead off batter, Landon Dennis was struck by a pitch and then advanced to second on a single hit by Clayton Caskey. Next, however, Wilford hit a line drive caught by the Hawks shortstop just a couple of feet from second base, who picked off Dennis before he could get back for the double-play. Later, Wilson struck out Devin Runkle to close the first inning.
The Hawks' continued to make great defensive plays in the bottom of the seventh to win the game. Kyle Primising was the lead off batter for the Eagles in their last at bat. Primising hit a line drive to shallow center field which was caught by a diving Collin Baber.
After the next Eagles batter struck out, Hawks' second baseman Dillon Johnson made a leaped and snagged a line drive hit by Canaan Tucker to end the game.
With the win, the Hawks will wait to play the winner of Northeast vs. Springfield at home, 7:00pm Tuesday, May 6th.
Box Score
| | | | | | | | | | | |
| --- | --- | --- | --- | --- | --- | --- | --- | --- | --- | --- |
| | 1 | 2 | 3 | 4 | 5 | 6 | 7 | R | H | E |
| Northeast Eagles | 0 | 0 | 0 | 0 | 0 | 0 | 0 | 0 | 3 | 1 |
| Rossview Hawks | 2 | 0 | 0 | 0 | 0 | 0 | x | 2 | 2 | 0 |