Written by Maj. Brandon Bissell
5th Special Forces Group (Airborne)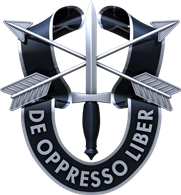 Fort Campbell, KY – A member of the 5th Special Forces Group (Airborne) family was recognized recently as the unit recipient of the Colonel Maggie Raye Volunteer Award.
The award was presented to Mrs. Winnie Tillinghast, a family readiness group (FRG) volunteer for 1st Battalion, 5th SFG (A) and spouse of Command Sgt. Maj. Adam Tillinghast, by Col. John Brennan, 5th SFG (A) commander, during a ceremony May 7th, at the 5th SFG (A) headquarters.
The "COL Maggie" Raye award honors the legacy of an entertainer who selflessly gave of her time and energy to visit troops in some of the most difficult locations during World War II, the Korean War, and Vietnam. Ms. Raye never complained and gave her assistance wherever it was needed; in conversation, playing card games, assisting doctors, or providing comfort to the wounded.
In that same vein, Tillinghast was recognized for her exemplary leadership and support to volunteer efforts benefitting military families, as well as the local community for more than 20 years.
Her dedication to Soldiers and Families extended well beyond just the 5th SFG (A). Over the years she has contributed to the well-being of those in the 3rd SFG (A) and the 1st Special Warfare Training Group (Airborne), both based out of Fort Bragg, N.C.; the Department of Defense Education Activity (or DoDEA), through Mahaffey Middle School and Fort Campbell High School; as well as the Armed Services YMCA Baby Bundle program, the Fort Campbell Club Beyond Ministry, and the Morale Welfare Recreation (MWR) Youth Sports program at Fort Campbell, Ky.
"She is the ultimate volunteer," stated Catherine James, former FRG leader for 1st Battalion, 5th SFG (A). "As a career military spouse, mother, friend, and citizen, she is involved wherever there is a need with her whole heart until the end."
Whether preparing food for a family in need, leading a major FRG event, or serving in a leadership role within a community organization, Ms. Tillinghast's unwavering commitment to others has left an indelible mark within the Regiment and in each of the communities in which she has served.
"It was a tremendous relief to the administration to know that they only need to ask for help and Winnie will coordinate with others to see that the need is met," said Lauren Bolen, Parent Teacher Organization (PTO) President for Fort Campbell High School. "It is not very often a volunteer of Winnie's caliber comes along."
Lieutenant Col. David Diamond, battalion commander of 1st Bn., 5th SFG (A), commented on the impact Tillinghast has had on the Soldiers and Families of the unit.
"Winnie's contributions to the Family Readiness Group and spouses of 1st Battalion cannot truly be measured," stated Diamond. "From exceptional ideas during the planning phase for family events to being available always to set up, execute, and clean up after every function. I give my heartfelt thank you to her for all she has sacrificed and provided for 1st Battalion."
As she has for 20 years, though, Winnie Tillinghast will continue to embody the spirit with which "Col. Maggie" Raye lived and remain dedicated to the Soldiers, Families, and community surrounding her.