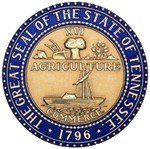 Nashville, TN – Speaker Beth Harwell (R-Nashville) announced the appointment of Speaker Pro Tempore Curtis Johnson (R-Clarksville) to chair a newly created legislative task force on veterans' affairs.
In light of problems facing the federal Department of Veterans Affairs, Johnson and the task force will evaluate how veterans are being affected and make recommendations on what can be done through state government to provide necessary support.
"Representative Johnson has the right skill set and experience to evaluate how Tennessee's veterans are receiving certain services from state government, and how we can provide our department with further support to ensure what is happening on the federal level doesn't happen here,"  Speaker Harwell stated. "He served in the Navy, and continues to serve his country as a state representative. Representative Johnson's business and legislative experience along with his passion for service make him uniquely qualified to evaluate how our veterans can be best served."
Recent news reports indicate that veterans in Tennessee face the longest delays in the nation for seeing a doctor at VA Hospitals and clinics. According to data from the U.S. Department of Veterans Affairs obtained by USA Today, veterans face an average wait of 65 days to see a physician in VA facilities in Nashville and Murfreesboro, far exceeding the national goal of 14 days.
"Although these recent veterans issues are federal in nature, these are Tennessee citizens who are being affected by the problems," said Representative Johnson. "Tennessee is known as the Volunteer state because our citizens have always heeded the call to defend and serve our nation. As a state, we must do everything we can to ensure they receive care, honor, and the respect they deserve. I am honored to be appointed by Speaker Harwell to lead this task force."
Specifically, the task force will examine how veterans in our state are being harmed and make recommendations to the legislature and to our federal officials. In addition, the task force will examine how our legislature can best ensure our veterans receive the care they deserve.
Other members of the task force will include Representative Curtis Halford (R-Dyer), Representative John Ragan (R-Oak Ridge), Representative John Forgety (R-Athens) and Representative Karen Camper (D-Memphis). The Tennessee House of Representatives has 25 veterans among its members.